Cash or Crash
Craps Live
Crazy Time
Deal Or No Deal Live
Dream Catcher
Lightning Roulette
MONOPOLY Live
The Legality of Live Casino Game Shows in India
In India, each individual state is responsible for regulating gambling on all levels, be it online or land-based.
The states of Goa, Sikkim and Daman, are so far the online states that license land-based casinos. However, the law does not mention offshore online casinos in any way, making it neither legal nor illegal to gamble online.
This is not the case for the provinces of Andhra Pradesh, Telangana and Tamil Nadu, which prohibited all kinds of gambling, even online, back in 2020.
The bottom line is, game shows are illegal if you reside in the states of Andhra Pradesh, Telangana or Tamil Nadu.
On the other hand, if you're located in Goa, Sikkim, Daman or any other province, it is not illegal to enjoy game shows with an offshore gambling platform.
The important thing to keep in mind is to always choose an online casino that is licensed by a reputable offshore operator such as the UK Gambling Commission or the Malta Gaming Authority.
These two licensing bodies are amongst the strictest in the world and ensure that each platform is highly secure and fair.
Is Playing Live Casino Game Shows Safe?
As we have already mentioned, playing with a licensed casino is a must if you value safety and fairness.
Licensed casinos are required to use SSL encryption technology to protect their personal data and financial information.
Furthermore, all games would be provided by licensed developers, who make use of a Random Number Generator (RNG) computer and are audited by third-party companies like eCogra.
Since live game shows are hosted by an actual person, you can count on the croupier to be vetted, highly trained and in possession of a licence too.
Game Shows – The New Live Casino Sensation
Live casino game shows can be any kind of game that is adapted for the live casino studio.
Game shows are managed by a professional host, who is employed by the provider and has access to various equipment, depending on the game in question.
The participants, however, will be the players sitting before their computer or mobile phone, who place their wagers digitally through their online casino account!
The games take place in real-time and are streamed to players' devices through multiple-camera angles to provide an immersive and transparent gaming experience.
The ease by which you can participate has made them extraordinarily popular with online casino goers. Furthermore, they offer something different from the usual casino games, taking up the entertainment factor a notch or two. Some of the most popular game shows are Dream Catcher, Lightning Roulette and Deal or No Deal.
Learn more about Live Casino India.
Most Popular Live Casino Game Shows in India
Live Casino provider Evolution Gaming is indisputably the industry leader when it comes to game shows right now.
Its version of the Wheel of Fortune, called Live Dream Catcher, was the first game show to be launched, and following its success, Evolution came up with other kinds of games, all of them being games of chance inspired by a specific game or actual TV show.
Below, we'll take a look at the best casino live game shows by Evolution that you can play at the moment.
Deal or No Deal Live
Monopoly Live
Dream Catcher
Lightning Roulette
Live Craps
Monopoly Live
Crazy Time
Mega Ball
Gonzo's Treasure Hunt
Lightning Dice
Live Dream Catcher
Dream Catcher is a simple game of chance, inspired by the traditional money wheel, but managed by a host who spins the wheel from a state-of-the-art studio.
To play Dream Catcher, all you need to do is bet on a number that you think the wheel will stop at. This wheel comes with 52 segments, and the host will spin it in real-time after players have placed their bets.
If you bet on the right number, you get the payout assigned to it. The Dream Catcher wheel also comes with exciting 2x and 7x multiplier segments, which can offer the best payouts.
If you get really lucky as you play Dream Catcher, you can win up to the equivalent of $500.000!
It is extremely easy to find a live casino offering Dream Catcher these days since almost all online casinos that have partnered with Evolution gaming also offer this game.
Lightning Roulette
Lightning Roulette is an innovative game that gives the classic casino Roulette an exhilarating twist. Lightning Roulette rules are similar to the original game and involve the same wheel and usual Roulette bets, with some very exciting extras!
The main highlight of this game is the fact that at each game round, between one and five numbers, called Lucky Numbers, are randomly struck by lightning and assigned random multipliers of between 50x and 500x.
If a player has made a straight-up bet on any of those numbers, he will get the multiplier applied to his win, which can lead to extremely high rewards!
You can play Lightning Roulette at most live casinos powered by Evolution Gaming, including LeoVegas Casino.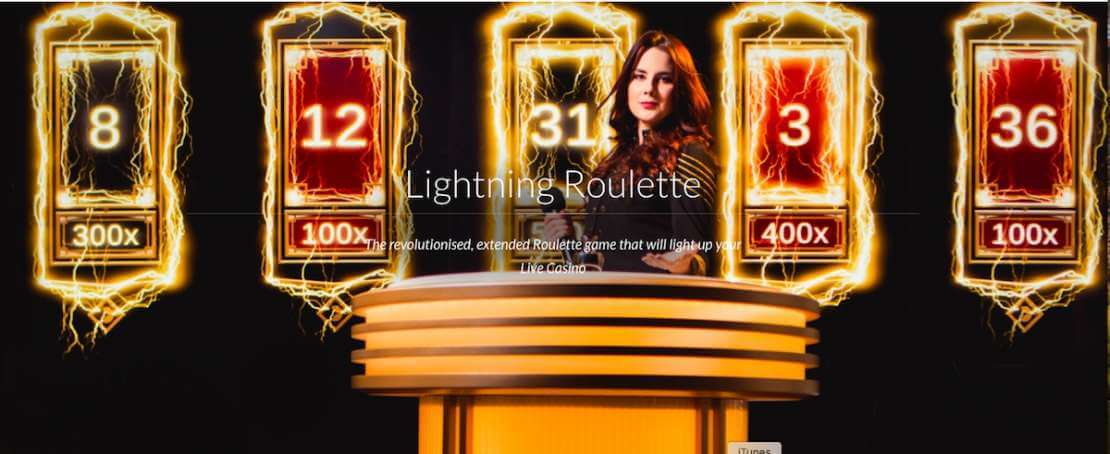 Lightning Dice
Following Lightning Roulette's popularity, Evolution went on to release a second game show in the 'lightning' series, called Lightning Dice.
This involves a straightforward dice game whereby players bet on a total of 3 dice. Lightning Dice comes with additional multipliers of up to 1000x, which are applied to certain numbers which are randomly hit by lightning!
Live Deal or No Deal
Live Casino Deal or No Deal was inspired by the original British TV show. The game permits an unlimited number of players simultaneously its elements will remind you of a popular show, with some very important differences.
The first round in Deal or No Deal Live consists of a qualification round, where players spin a wheel to gain entry to the next round.
If they don't manage to qualify, another round will start automatically. In the second round, players select 1 of 16 briefcases and spin another wheel with multiplier values ranging from 5x to 50x.
These values increase the value of their chosen briefcase (for example if they bet $0.50 and the multiplier is 50x, then they will get an increased value of $25).
Finally, the game progresses to the briefcases game, which is similar to the original Deal or No Deal game. This consists of 4 rounds and involves 16 briefcases that may contain a good prize or a very poor value.
With each briefcase opened, players will have to choose whether to take a proposed sum of money in exchange for the sum inside the player's own briefcase.
At the end of the 4 rounds, you'll have just 2 briefcases left – yours and another one – and you'll get the final opportunity to swap yours for the other. Playing Deal or No Deal is a real gamble, but can involve fantastic prizes for lucky players!
Monopoly Live
Inspired by the classic board game and created in partnership with Hasbro, Monopoly Live takes the form of another special Wheel of Fortune, with huge rewards in store!
As they play Monopoly Live, players have to bet on the number or segment the wheel will stop on. Besides the numbers, the game comes with '2Rolls' and '4Rolls' segments.
These segments will trigger an immersive 3D bonus game where you'll accompany Mr Monopoly on his adventures to collect multipliers and other cool prizes!
Monopoly Live also comes with the famous 'CHANCE' segment, where players get a card that can reveal a random cash prize or a multiplier bonus on the winnings from the next spin!
Mega Ball
The latest live casino game show by Evolution, Live Mega Ball is a Bingo-style game played with a ball drawing machine containing 51 numbered balls.
20 balls are automatically drawn and crossed off from players' cards if they correspond to them, in a similar way to Bingo.
When the last ball is drawn, this triggers a Mega Ball multiplier of between 5x and 100x, and if this Mega Ball completes a player's line, his winnings will be multiplied by this value, which leads to a win potential of 1,000,000x the original bet!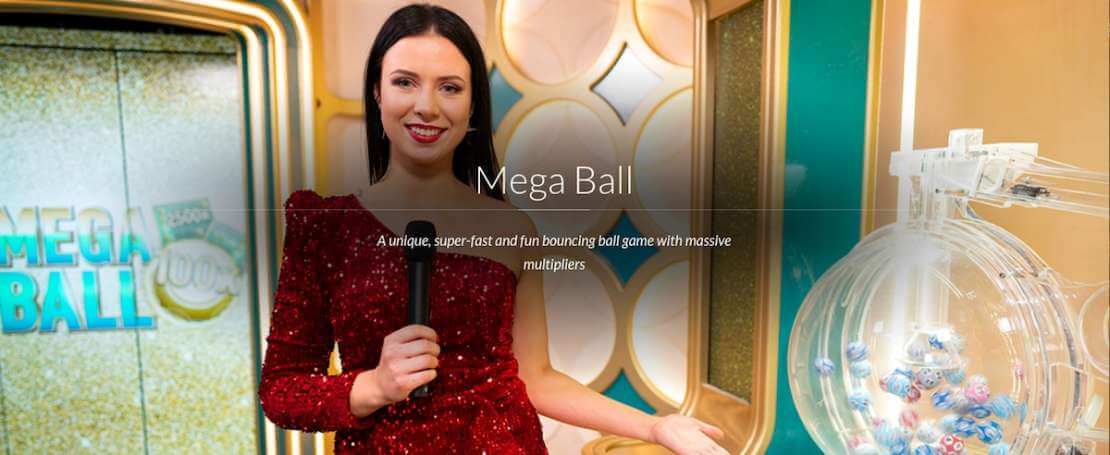 Did you know?
When playing live casino game shows you don't need to learn a strategy. All you need is some cash, a planned gaming session and a safe casino to play with!
How do Live Game Shows Work?
Live casino game shows may follow different styles, but in each case, they have been created to look and feel like TV-style game shows.
What characterizes all live casino game shows is the friendly host that welcomes you and manages the game, as well as the attractive lighting, visual effects and studio equipment that make these games so immersive and genuine.
That said, the gameplay is usually much simpler compared to a traditional game show (for instance, if you play Live Deal or No Deal, the process is much shorter).
Game Shows are a new development in the live casino industry and are not casino games strictly speaking.
Unlike table games like Blackjack and Baccarat, there is no strategy that can help you win Live Game shows.
Instead of a dealer or croupier, you will have a host managing the game, who acts very much like a TV presenter by explaining the game and commenting on what's taking place to create suspense and excitement!
Most Live Game Shows are games of chance that work based on a Random Number Generator that produces game outcomes at random.
This RNG is similar to the program you have behind online slots and table games and ensures that each outcome is always unpredictable and totally random from previous ones. Each game comes with its own odds and every single outcome will pay out in a specific way.
Visit one of our recommended casinos and play Game Shows online.
Types of Game Shows
In essence, live game shows are games adapted for the live casein studio, which fall into various categories; traditional casino games or board games or even reality TV shows.
But, let's see together what the differences are and what makes them different from other live casino games!
Casino Game Shows based on Traditional Casino Games
As we have already mentioned, certain game shows are inspired by traditional games, like Roulette and Baccarat.
In this scenario, an RNG is added, relinquishing the croupier to the post of the TV show host, there to guide you, and drive the excitement instead of the action.
The studio design and equipment are designed to look and feel like a TV show, complete with light and sound effects.
You'll find plenty of game shows based on traditional casino staples, such as:
Super Sic Bo
Lightning Dice
Lightning Baccarat
Lightning Roulette
Casino Game Shows based on popular tv shows
Popular TV shows have also served as inspiration here, like in the case of Deal or No Deal Live.
The gist of the game is more or less the same, however, TV shows adapted to the live casino, tend to move faster and do not require participants to be shortlisted.
Game shows based on actual TV shows include:
Deal or No Deal Live
Mega Ball
Dream Catcher
Crazy Time
Other Game Shows
And finally, there are board games, like Monopoly, which received a make-over to suit the live casino genre.
So far, it is the only board game adapted for the live casino, however, with innovation being at the forefront of the industry, we will probably see more popular board games making it to online casinos!
Did you know?
In most cases, live casino game shows are made of different games, blended together to create something truly unique!
How to Play Live Casino Game Shows in India
You can play live casino game shows in the same way as you'd play any other casino game – by creating an account with an online casino that accepts players from India and wagering money on specific outcomes.
You do not need to send in an application and neither do you need to go for an interview or wait to be shortlisted.
Sitting at a casino game show is truly as easy as 1-2-3.
All game shows have their own betting range, requiring players to wager at least the minimum bet to participate.
Register with an Indian Online Casino
Before you start, you need to find an online casino that accepts players from your region and that also offers live casino game shows. If a bonus is available, even better!
Since there are many online casino platforms accepting players from India today, and who have partnered up with a live game show provider, this is becoming easier.
Find a game and place your bet
Most live game shows don't run all the time, so first, you have to check if the game you'd like to play is open for participants at the time that you wish to play.
That said, some games, like Dream Catcher and Deal or No Deal, run 24/7, so you can play at any time.
To join a live game show, you need to have some money in your casino account, since these games cannot be played for free.
Most live casinos display the minimum bet allowed underneath each game, allowing you to view this before you join the game.
The great thing about live game shows is that they're accessible for all budgets, and most betting ranges start at around 10 rupees.
Did you know?
Live casino game shows make it possible for everyone to participate without having to attend an audition to be shortlisted.
Live Casino Game Shows on Mobile
Evolution's live game shows have been created to also work perfectly on most mobile devices and make use of a similar UI as their desktop counterparts.
Below is a list of iOS and Android devices on which you can play live casino game shows:
iPad, iPad Air and iPad mini (all generations)
Android tablets (Samsung, Google Nexus, Sony)
iPhone (all generations)
Android smartphones (Samsung Galaxy, HTC, Google Nexus, LG, Sony).
Your time to play Live Casino Game Shows in India!
Discover these exciting games for yourself!
Join an Indian online casino from the ones we recommend on this page to play live casino game shows with a reliable operator and let the host guide you through an entertaining gaming experience from the comfort of your own home!
Visit one of our recommended casinos and play Game Shows online.
Frequently asked questions
No! Live game shows make use of an RNG computer to ensure all results are random. This, together with the equipment is checked regularly for fairness.
Evolution Gaming is the best game show, provider! Other developers are only just now starting to release game shows.
Live casino game shows can be traditional casino games, TV shows or board games, adapted for the live casino genre, with additional features, and a studio, with lights and sounds, to make them look and feel exactly like a TV show.
Most online casinos today offer live casino games and game shows. Some of our top recommendations include BetIndi, BetShah, Twin, PlayOJO, Wazamba, Casumo, and JeetCity. You can check more casinos on our Casino Reviews page.