The term Responsible Gambling was born out of tight regulation and the recognition to have safeguards in place for the protection of vulnerable players.
There are various aspects of Responsible Gambling and in this article, we shall explore the broader meaning of Responsible Gambling and how casinos apply related legislation to their services and marketing.
And since Responsible Gambling is all about the players, we will go into detail about the help available for Indian players, how to recognize a problem, how to help a friend, how to protect minors, and what tools are available to help you set boundaries!

What is Responsible Gambling?
The concept of Responsible Gambling consists of several policies and measures applicable to various gambling stakeholders.
The idea behind the legislation is to implement a series of safety measures for a safer user experience and maintain high standards all the time.
The Responsible Gambling framework encourages players to pursue gambling only as a recreational activity, where only affordable funds are spent.
On the other hand, it discourages players from pursuing gambling with the sole aim of making an income or as a substitute for a full-time job.
Most gamblers play for recreational reasons, however, others might fall victim to the addictivity of the activity.
To help players establish healthy boundaries with their gambling, online casino operators, have adopted several practices aimed towards protecting their players.
There are 7 areas of Responsible Gambling that are deemed of high importance, particularly in the iGaming industry:
Underage gambling prevention
Vulnerable players protection
Personal data privacy
Safe environment
Payment security
Ethical and responsible marketing
Safety checks against criminal activity
To make sure players have all the support they need, online casinos provide a Responsible Gambling page within their platform.
The page is meant as a point of reference and provides a lot of important information like tips on how to maintain gambling boundaries, signs of problem gambling, information about underage gambling and how to protect minors, tools to help you set limits, a self-assessment questionnaire and a list of gambling support organizations.
Do you have a potential gambling addiction?
Do you think you are developing a gambling problem? Ask yourself the below questions and if you answer 'yes', we recommend you take a look at the list of support organizations at the end of this article.
Do you feel guilty when you think about the amount of money you've spent gambling?
Do you find it harder to stop gambling after a loss?
Are feelings of excitement felt only when you gamble with large amounts of money?
Is gambling taking a toll on your relationships, your job or studies?
Are you and your family experiencing financial problems because of gambling?
When you are not gambling, do you feel restless?
Is gambling affecting your health and causing stress and anxiety?
Do you think you might have a gambling problem?
Helping someone with a Gambling Addiction
Acknowledging and helping someone with destructive gambling behavior is not easy, especially if it is a loved one. Knowing the first signs of problem gambling can help you detect the problem early and seek help before things progress to have serious consequences.
The first signs are usually linked to a person's financial situation, moody and unusual behavior and they change the way they spend their time.
There are a lot of clues tied with each of these telltale signs and we shall go into more detail to help you recognize the problem better.
Financial signs
If someone is gambling in access they will likely start to feel it in their finances. They might always seem to be out of cash even though they hold a full-time job and earn a good salary.
Their wallets always seem to be empty and there are missing funds from their accounts.
Life savings might even disappear. They are always borrowing money and they might even have multiple loans at once.
At home, household items and valuables are missing, there is a lack of food in the cupboards and a pile of unpaid bills. Upon questioned about missing money or financial records, they might become secretive and even angry.
Mood and Behavioural signs
Apart from financial signs, addictive gamblers might undergo some personality changes and become withdrawn from their family and friends.
Their work performance becomes suddenly quite poor and they always appear worried or agitated for no apparent reason. They could become manipulative and might even resort to lies and threats.
Another sign of problem gambling is depression and apparent frustration.
Time Signs
Someone who has never taken a sick day might all of a sudden start taking many at once together with a lot of off days.
Simple tasks take them ages to complete, and whether it is for work or some other commitment, they are suddenly always late. Another sign is unexplained absences and long hours of gambling without pause.
Approaching the gambler and seeking help
As an onlooker, it is not easy to acknowledge that someone you love might be experiencing something so destructive and it might be difficult to deal with your own emotions while trying to understand the other person enough to take some important decisions.
There is also the factor that the gambler might be hiding his feelings and might even react with anger when questioned about his behaviour.
Under the circumstances, it is normal to feel a mixture of emotions that might oscillate from guilt and blame to anger, betrayal and hurt.
Dealing with all of this while trying to understand the gambler and what he might be going through is not easy.
However, feeling understood instead of judged, is more likely to incite cooperation and openness that might lead to more beneficial results.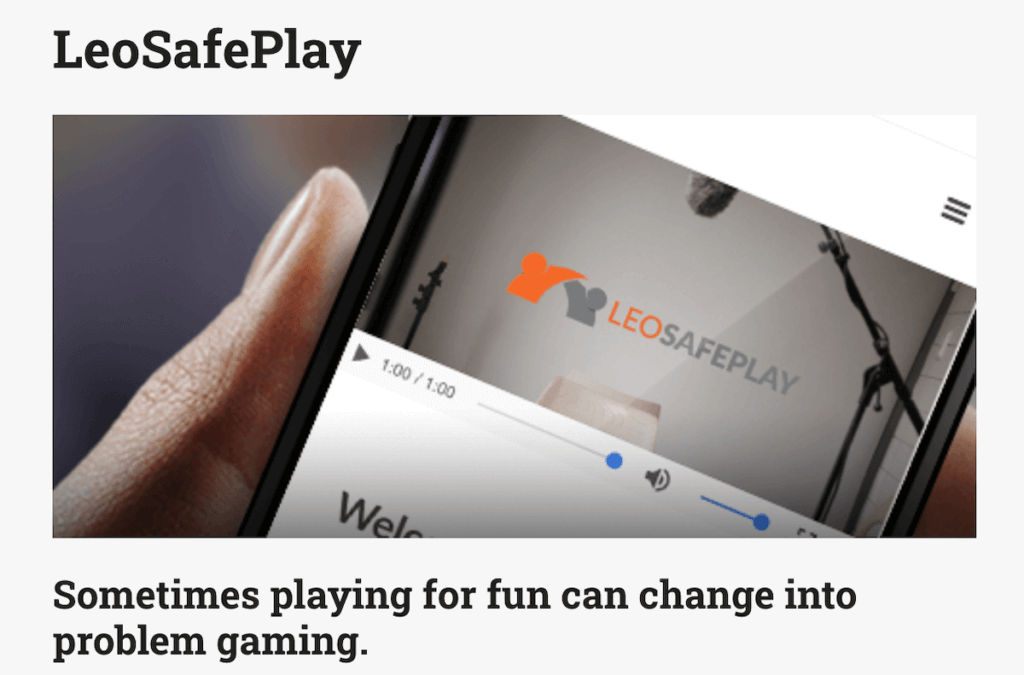 Legal age for gambling and Protecting Minors
Responsible Gambling is a framework aimed at the protection of vulnerable players and this includes the protection of minors and children from gambling for real money.
One of the safety measures includes the establishment of a legal gambling age which in India is 18 years old.
Online casinos are obliged by their regulators to carry out checks to make sure that no one under the age of 18 accesses the platform.
The first of these checks take place during registration, where players are required to input their date of birth.
Further checks are done when a player requests a withdrawal. Part of the process requires players to provide verification documents to have their identity and age confirmed.
But the responsibility of protecting minors does not lie solely with the operators. Gamblers with minors sharing the same household are obliged to exercise caution and take all the necessary precautions to make sure they are not exposed to gambling.
They are a few precautions one can take like educating children from an early age about the pitfalls of gambling and the legal gambling age, keeping login details for gambling sites out of reach, not saving passwords on the computer especially if it is shared, using parental control software, and installing website blocking software.
There are various choices of website blocking software, and they can be useful to block gambling websites and advertisements while your kids are using your electronic devices. Some well-established software options are CYBER PATROL, GamBan, GamBlock, BetFilter, Net Nanny and CYBERsitter.
Responsible Gambling Tools
These days online casinos have put together a series of tools to help their players manage their gambling more responsibly.
These tools are meant to be used by the players to establish limits for themselves and track their gambling activities to have a clear idea of how much they are spending and how long they are playing.
These tools are usually part of the player account and below we shall take a look at what they consist of and the benefits.
Deposit Limit
The deposit limit is a clever little button that helps you limit the amount of money you can deposit in your account on a daily, weekly or monthly basis.
Once the limit has been reached, the player won't be able to place any more deposits and will have to wait for some time to elapse before he can deposit again.
The deposit limit is a great tool to control how much you are spending on gambling and can be especially handy to those players who already feel they are spending more than they should.
Loss Limit
The loss limit option gives you control over how much you can lose over a specific period. Once the limit is reached, you will be unable to place any more bets, regardless if you still have funds in your player's account.
You can start betting again only when the limit has been reset automatically.
The loss limit button is a great option to have especially if you can't afford to lose too much.
Session Limit
This particular tool focuses on time and helps you decide beforehand how long your sessions are. The limit can be set per session, per day, per week or month.
Once the time available expires, you will be automatically logged out of your account and can log in again only when a certain amount of time has elapsed.
Limiting how much time you can spend gambling is a great way to minimize losses while at the same time dedicating to gambling only recreational time.
Wagering Limit
The wagering limit helps you set a limit on how much money you can bet.
If you feel you are betting more than you should, this tool can help you bring it under control as once the limit has been reached, the online casino site won't allow you to place any more bets for a certain time.
Transaction History
Rather than a tool, the transaction history button keeps track of everything that has been going on in your account. The transaction history stores important information about deposits, withdrawals, bets, and results.
Players are advised to check out their transaction history regularly for that reality check that will give them a clear picture of where they are with their gambling.
Self Exclusion
Players who are becoming addicted to gambling are always encouraged to take breaks and one tool to help you do just that is the self-exclusion button. With this option, you can choose to close your account either for some time or else indefinitely.
Once you reach out to customer care to start the process, even if you give up on temptation, you won't be able to log into your account or create a new account.
Self-Assessment
The self-assessment consists of a series of statements and questions to help players get a general idea of their gambling profile.
Once the assessment is completed they will be presented by a summary that brings into focus negatively affected parts of their lives and offers advice on which tools in the player's account could be used for better control.
Time Alert
The time alert is more of a notification system, rather than a button, and it comes up every now and then to remind you of the length of your sessions and if any changes took place in your balance.
It is meant to deliver a reality check and remind players to regulate themselves if they are betting too much or playing for too long.
Organizations that can help and provide counselling
Gambling addiction can be a very serious problem that might have negative consequences both on the gambler and his loved ones.
These days there are a number of non-profit, independent organizations that offer professional services like counseling, debt-advise, forums, support groups, and helpful information.
Indian players can reach out to various gambling support organizations and below we have listed some agencies that have an excellent reputation for helping players breaking out of an addiction.
Gambling Therapy
Gambling Therapy is a well-respected agency where players can find a safe environment that offers online groups, a resource database, forums, email support.
The organization offers a multilingual char service, online therapy groups, 24/7 therapy support groups, individual email support.
Gamblers Anonymous
Rather than an organization, Gamblers Anonymous is made up of men and women who have experienced the negative side of gambling. The Gamblers Anonymous platform allows them to share their experiences, hopes, strengths and creates a place where similar people can help each other out.
The website is equipped with a forum, information, chat room and meeting finder.
Gambling Addiction Help Worldwide
USA – The National Council on Problem Gambling
USA – Substance Abuse and Mental Health Services Administration (SAMHSA)
Argentina – Juego Responsable – 0800-333-0333, WhatsApp 011-1524416058
België – VAD – 02 423 03 33
Brasil – Jogadores Anônimos – (11) 3229-1023
Canada – ProblemGambling – 1-866-531-2600
Chile – Psicólogos Ludopatía Chile – 9 222 3860
Deutschland – Spielen mit Verantwortung: Glücksspielsucht – 0800-1 37 27 00
España – FEJAR – 900 200 225
France – IFAC – + 33 (0)2 40 84 76 20
Italia – TVNGA – 800 55 88 22
Nederland – AGOG – 0900-2177721 (€ 0.10 per minute)
Norge – Hjelpelinjen – 800 800 40
Österreich – Spielsuchthilfe – (1) 544 13 57
Portugal – Jogo Responsável – 213 950 911 (SICAD – Serviço de Intervenção nos Comportamentos Aditivos e nas Dependências)
Schweiz – Sucht Schweiz – 021 321 29 11
Sverige – Stödlinjen – 020-819 100 (09:00 to 21:00)
Helpful Resources: