Fast-paced gameplay that makes for an excellent alternative to table games
Option to interact with a professional live host and other players
Easy to play game show that is ideal for live casino newbies
This Dream Catcher Review will show you why this might be the perfect alternative to traditional live tables and share some Dream Catcher game strategy tips. You'll find out how it works, as well as how to play Dream Catcher from India.
Dream Catcher Game Overview
Game Name
Dream Catcher
Provider
Evolution Gaming
RTP
96.58%
Features
52 wheel segments
Bonus spin multiplier
Min Bet
10
Max Bet
500,000
Top Win
x40 with x7 multiplier
Where to Play Dream Catcher from India
Once you've understood the appeal of this live casino title, you'll be wondering where you can play Dream Catcher. It's a game that you can access in many countries, and several operators in India have made it available as part of their live casino games.
Look for casinos that have Evolution Gaming as one of their providers. You'll find this title in the live dealer section. It's often listed under the 'Game Show' category.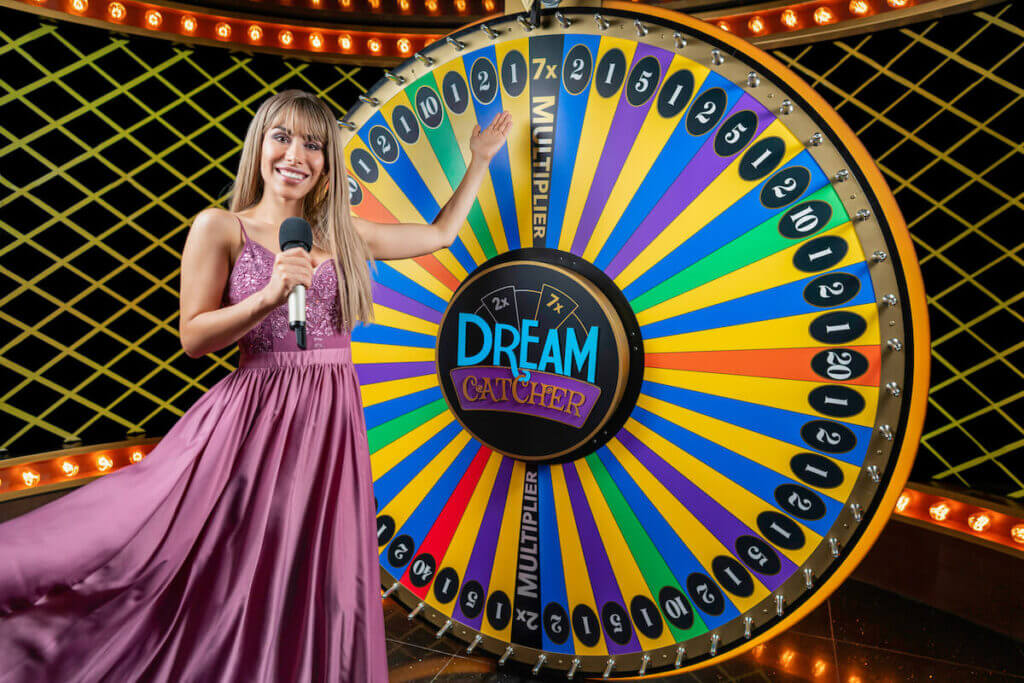 What is Dream Catcher?
Dream Catcher is very similar to the TV show Wheel of Fortune or Khulja Sim Sim. The closest thing in a casino to compare it to is live roulette. Instead of a croupier, you'll interact with a host. They spin the wheel but also add a social aspect to the game, with jokes, comments, and conversation.
You'll see a live stream that displays the wheel and the presenter. As part of the immersive experience, there's also a chat box to talk to other players. Information on the previous results is displayed on your screen too.
How to play Dream Catcher
The aim of Dream Catcher is to bet on the winning number. You play using a wheel with 54 segments. The numbers 1, 2, 5, 10, 20 and 40 appear on 52 of those. The remaining two spaces are for one 2x and a 7x multiplier.
This list shows how many times each number appears on the wheel:
Number 40 – x1
Number 20 – x2
Number 10 – x4
Number 5 – x7
Number 2 – x15
Number 1 – x23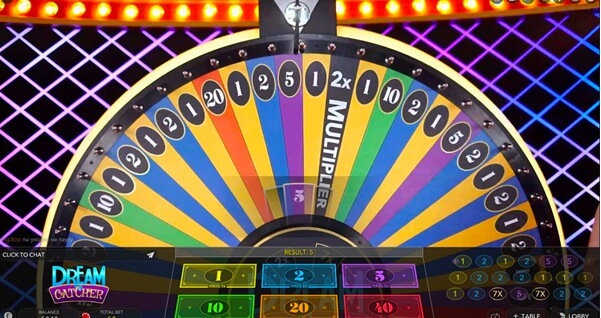 You can choose more than one value and can cover all the possibilities with several bets if you want. To make a wager, you pick a chip amount and then click on the coloured rectangle for the number you want. The bar turns green to show you that betting is open.
It turns yellow as a warning that bets are closing, as you have to complete your wager before the presenter starts to turn the wheel. It's a fast-paced game, so you need to decide quite quickly. Once you've placed your chips on the numbers you want, the host accepts the bets, and they begin to spin.
The winning number is indicated by the pointer which stops in the segment at the top of the wheel. The camera gives you a close-up shot so that you can see the result. If you've chosen the right one, you see your winnings added to your balance.
Dream Catcher Payouts
The Dream Catcher RTP ranges from 90.57 to 96.58%. It's easy to remember the payouts, as it's the same as your number. For example, if you bet on 10 and win, you get x10 your stake.
The only time you'll get a different amount is if a multiplier is in play. When the wheel lands on one of these segments, you'll get either 2x or 7x the figure, such as 2 x 10 = x20. The wheel spins again with all bets remaining until the pointer lands on a number.
Dream Catcher Casino Game Strategy
This is a game of chance, so there' isn't a way to make winning a certainty. However, you can use these tips to improve your experience when playing.
Understand the odds – knowing how many times a number appears on the wheel, and how much each pays out, can help you to use your budget wisely.
High rollers will want to cover more numbers, especially the high-value ones. However, if you prefer to play slow and steady to enjoy the game, it's better to spread your bets on the lower options 1 and 2.
Don't get distracted by the last figure to win. You can see which numbers came up on the previous spins, but remember this is a random game. Looking for patterns won't give you consistent results.
Graphics & Sounds
The set, the camera angles and the host add to the game show feel of this live casino favourite. There are bright colours and lights, which remind you of the casino floor. The sound effects are subtle, including the spinning wheel and some music for when the result appears. Overall, they help to build tension.
The main sound comes from the interaction with the presenter. They offer help, congratulate winners, and make jokes. Most casinos offer the game through an HD stream, so you can expect a quality image and connection. For those with a smaller bandwidth, you can adjust to different angles and displays that are less demanding.
Other Game Shows to play if you like Dream Catcher
If you enjoy the wheel of fortune game style, then there are some other fantastic titles that are similar. Look out for Monopoly Live and Crazy Time, which are both innovative variations of the original Dream Catcher wheel. Anyone who likes a game show feel, but prefers a different setup, could also try Deal or No Deal Live, a game which involves loads of excitement and interaction with the host!
Dream Catcher Review – Our Verdict
Dream Catcher is a game of chance that is an exceptionally easy game to play. If it's your first time at a live casino, this is a brilliant option to get you started, even though it's worth thinking about your betting strategy so as to stand the best chances of winning.