Are you looking for the best online new slots in India?
With many slots being released all the time it can be easy for players to miss out on something. If you were wondering about the best new online slots in India right now, you came to the right place. Our team has compiled this list, with some of the major new titles for 2023, so read on below. 
1. Lost City of the Djinn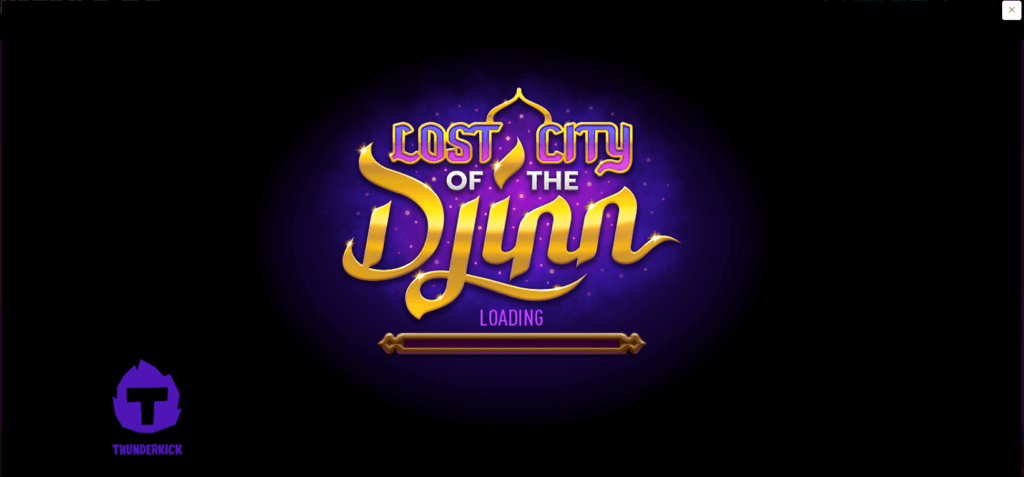 For high rollers and serial bankroll risk-ers, Thunderkick has the perfect new slot fresh off the boat – Lost City of the Djinn. With its middle-eastern charm and Arabian Night-style visuals, Lost City of the Djinn takes you across the scorching sands.
If you are a fan of Aladdin and his magic lamp, then you should definitely check out Thunderkick's latest offering. P.S. on a lucky day, you might win up to 25000x your stake.
2. Money Train 3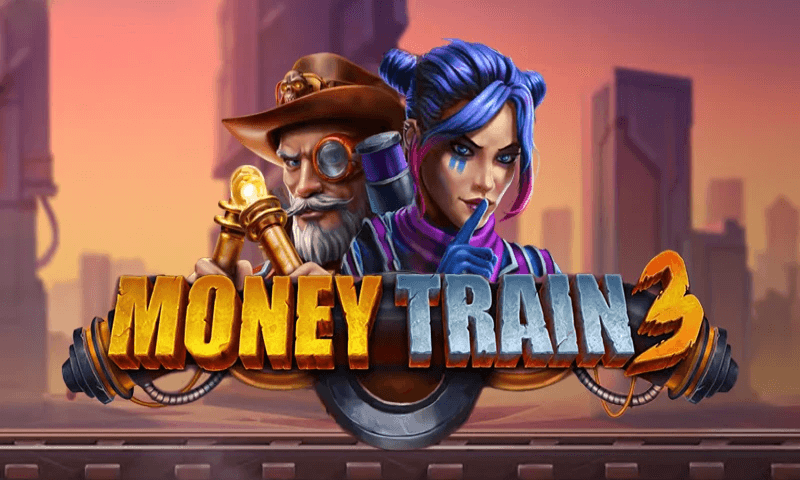 Relax Gaming is best known for its Wild West-themed slots like Money Cart and Money Train. Following the success of both the slot series, the provider came up with Money Train 3. The new slot is all set to exceed all your expectations and take you on an action-packed reel-ed adventure.
Money Train 3 is fresh out of the oven – it was rolled out on September 22. You can check out the new slot right away!
3. Sakura Fortune 2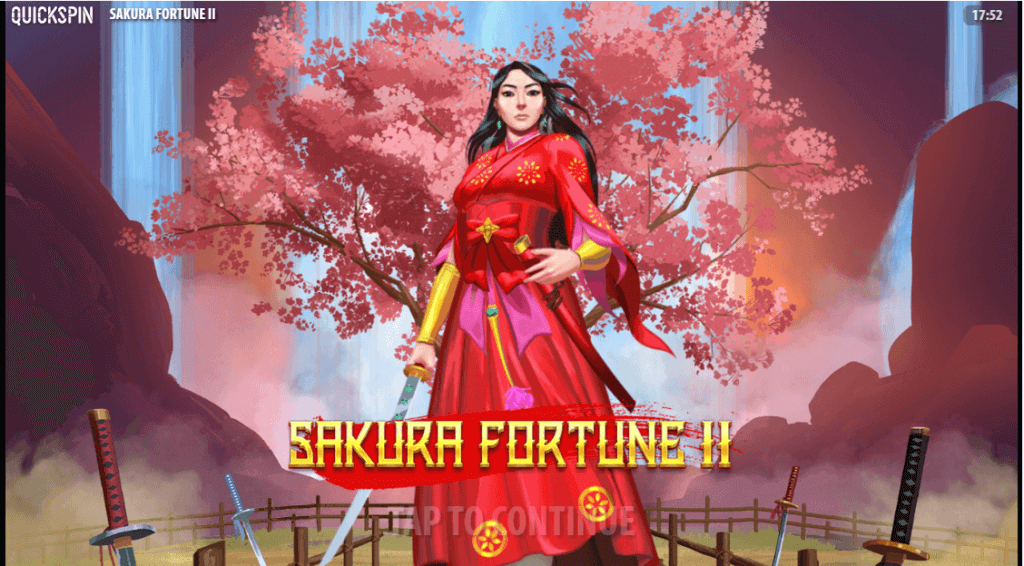 iGamers, especially the slot fanatics, will remember the famous Sakura Fortune slot by Quickspin. For the longest time, players were anticipating a sequel, and the developer launched Sakura Fortune 2 in April 2022.
Sakura Fortune 2 has the same Japanese style symbols and pleasing cherry blossoms showering the reels. Thankfully, Quickspin decided to retain everything players loved about the original game. Despite the original feel, Sakura Fortune 2 is an upgrade with smoother UI, tweaked visuals, and added features.
4. Money Cart 2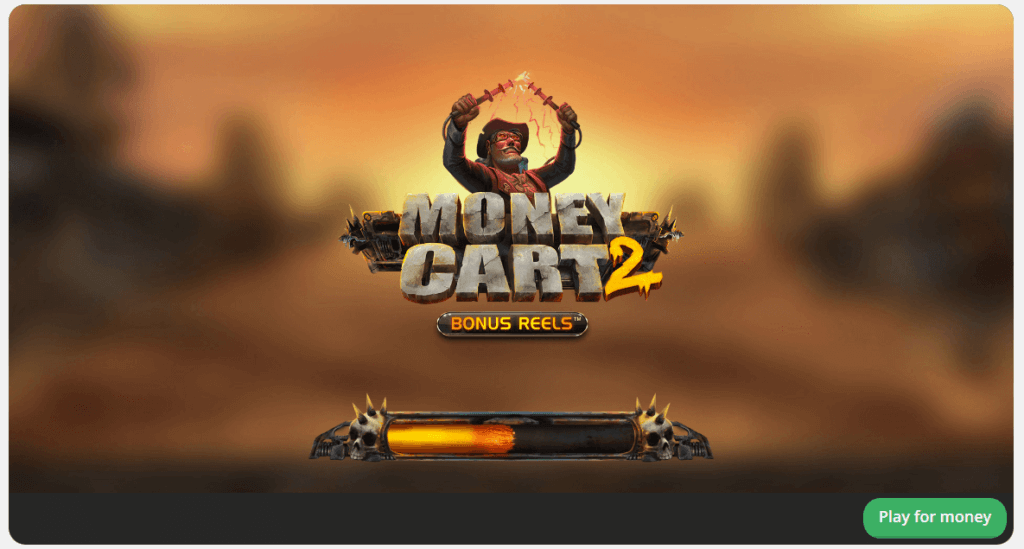 Money Cart and Money Train are the two best wild west-themed slot series from Relax Gaming. Released in 2021, Money Cart 2 is one of the best games from the provider. To begin with, Money Cart 2 nails the wild wild west theme and gets the visuals right.
You check out our detailed Money Cart 2 review to know more about the game.
Further, the Hold and Win slot is very action-packed with multipliers and respins. But the Bonus Feature is what steals the show. The bonus keeps adding multipliers, which might lead to big wins.
5. Fire Blaze Blue Wizard Megaways

The Blue Wizard slot was a classic, fan-favourite slot from Playtech, a notable name in the iGaming industry. Rarestone, a subsidiary of Playtech, re-released the slot in 2019. And then in 2021, Playtech gave the Blue Wizard slot a Megaways overhaul.
To know how the slot game works, check out our detailed Fire Blaze Blue Wizard Megaways review.
Even though Fire Blaze Blue Wizard Megaways is not exactly a new title, it's a new take on a classic game. The new Megaways version keeps the iconic game as it is and adds thousands of new ways to win!
Did You Know?
A lot of older slots have been getting upgrades and released as new games. Starburst XXXtreme is an excellent example of an update on an old classic. Another great example would be the classic Blue Wizard slot getting a Megaways overhaul.
Upcoming Slots in India
While there are many great games already released, let's look at what you can look forward to. Here are some of the online new slots which we are eagerly anticipating. Please note that the release dates may be subject to change and are provided by the slot developers.
Here are all the new slots:
| Slot | Provider | Release Date |
| --- | --- | --- |
| John Hunter and the Book of Tut Respin | Pragmatic Play | October 3, 2022 |
| Spinions Game Day | Quickspin | October 4, 2022 |
| Dropz | Elk | October 4, 2022 |
| 9 Skulls of Gold | Microgaming | October 5, 2022 |
| Dream Drop Diamonds | Relax | October 5, 2022 |
| Dio Killing the Dragon | Play'N GO | October 6, 2022 |
| Pirate Golden Age | Pragmatic Play | October 6, 2022 |
| Firebird Spirit | Pragmatic Play | October 10, 2022 |
| Huntress Wild Vengeance | Print Studios | October 11, 2022 |
| Little Bighorn | No Limit City | October 11, 2022 |
| Muertos Multiplier Megaways | Pragmatic Play | October 13, 2022 |
| Rags to Witches | Betsoft | October 13, 2022 |
| Boat Bonanza Slot | Play'N GO | October 13, 2022 |
| Euphoria Megaways | iSoftBet | October 15, 2022 |
| Castle of Terror | Big Time Gaming | October 19, 2022 |
| Blood Suckers Megaways | Red Tiger Gaming | October 23, 2022 |
| Florageddon | Yggdrasil | October 24, 2022 |
| Propaganda | Elk | October 25, 2022 |
| Primal Spirits | Quickspin | October 25, 2022 |
| Space Stacks | Push Gaming | October 26, 2022 |
| Count Jokula | Play' N GO | October 27, 2022 |
| Templar Tumble 2 Dream Drop | Relax | November 2, 2022 |
| Canine Carnage | Play' N GO | November 3, 2022 |
| Raven Rising | Quickspin | November 8, 2022 |
| Mystery to the Moon | Push Gaming | November 9, 2022 |
| Rise of Olympus 100 | Play'N GO | November 10, 2022 |
| Hot Rod Racers | Relax | November 16, 2022 |
| Outlaw | Big Time Gaming | November 16, 2022 |
| USA Flip | Play'N GO | November 17, 2022 |
| Wild Yield | Relax | November 23, 2022 |
| Retro Tapes Cluster Links | Push Gaming | November 23, 2022 |
| Clash of Camelot | Play' N GO | November 24, 2022 |
| Santas Stack Dream Drop | Relax | December 1, 2022 |
| Athena Ascending | Play' N GO | December 1, 2022 |
| Net Gains | Relax | December 6, 2022 |
| Generous Jack | Push Gaming | December 12, 2022 |
| Eastern Emeralds Megaways | Quickspin | December 15, 2022 |
| Bubble Pop | Pragmatic Play | December 30, 2022 |
| Rise of Samurai Megaways | Pragmatic Play | December 30, 2022 |
| The Tweety House | Pragmatic Play | December 30, 2022 |
| Golden Ox | Pragmatic Play | December 30, 2022 |
| Aztec Fire | Booongo | December 30, 2022 |
| Thunderstruck Megaways | Microgaming | December 30, 2022 |
| The Immortal Captain Rizk | Microgaming | December 30, 2022 |
| Aztec King Megaways | Pragmatic Play | December 30, 2022 |
| Hockey Attack | Pragmatic Play | December 30, 2022 |
| Disco Lady | Pragmatic Play | December 30, 2022 |
| Pyramid Bonanza | Pragmatic Play | December 30, 2022 |
| Bonanza Gold | Pragmatic Play | December 30, 2022 |
| Captain Flynt | Wazdan | December 30, 2022 |
| Dead or Alive Megaways | NetEnt | December 30, 2022 |
| Jungle Mega Moolah | Microgaming | December 30, 2022 |
| Tornado Fruits | BGaming | December 31, 2022 |
Note: Release Dates are subject to change. If any changes occur, we'll update you right away!
New vs Popular! What Should You Choose?
Deciding if you want to play one of the exciting new slots online or an old fan favourite can be challenging. There are several factors to think about when making your decision. Check out our table below, where we summarize the main pros and cons of both old and new slots.
New Slots Online
Popular Slots
Pros
– New slots may present new and innovative bonuses

– A new game can be more exciting to play

– Technology and safety of games is improved

– New, better visuals and backgrounds

– New currencies and payment methods may be available

– Gameplay gets more exciting and varied with newer titles

– Mobile compatibility is improved compared to old slots

– With improvements in technology, bigger and better games are possible
– Games have a long proven track record of fun and reliability

– For an old game to still be a favourite among newer slots, it must be exceptionally great

– Generally, there's something unique about the game that newer slots haven't replicated

– Many people still prefer the classic slot look


Cons
– Little player feedback on the game

– New games are still largely unproven
– Older games may not be mobile compatible

– Graphics may feel dated or bland
Pros and cons of playing new casino slots
While new slots online can bring new mechanics and excitement, the classics still deserve a look. It's no different from video games, where titles even from the SNES continue to be enjoyed by players.
Often these older slots captured something unique that new games haven't been able to replicate. Cleopatra, Starburst, Gonzo's Quest and Bonanza are a few examples of slots still widely admired by players and critics alike.
How to Choose Your New Slot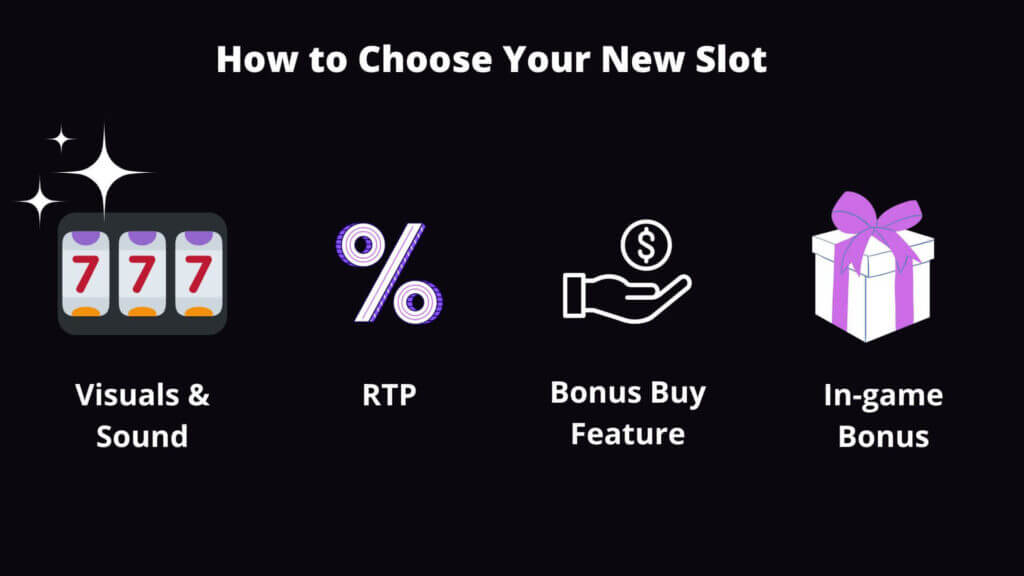 One of the common questions we hear from players is how to choose which slots to play? It's not always a simple answer to say what makes a good game. We'll cover some of the main features of slots below.
The Theme, Graphics, Sounds & Overall Feeling
Graphics have greatly improved since the early days of slots, and many slots have a video game quality to them. While graphics are far from the most important factor, no one can deny great visuals add an enhanced element of enjoyment to the game.
RTP
RTP, which stands for return to player, estimates how much you'll earn back throughout the game. With 96% being an average value, players should look for games with RTP above 96%.
Bonus Buy Feature
A game's bonus features are triggered by pure luck, usually by a certain number of symbols appearing on the reels together. Some slots, however, allow you to unlock the bonus feature by paying for it through the bonus buy feature.
Available Bonus
The bonuses in the game are what allow you to win even more. Games with more features tend to be more appealing, and there's a greater potential for bigger payouts.
Did You Know?
While improvements in technology have generally led to better-looking and more innovative slots, the classic slots continue to be enjoyed by many players.
New Slot Trends, Bonuses and Features in 2023
Here is where we'll go over some of the new and innovative features in more detail. We're amazed by some of this stuff, and we think players will be too. Developers have, in some cases, taken even basic bonus features like the wild symbol and made it even better.
More Than Just a Wild Symbol
Wild symbols are a staple of any slot game. They're considered almost a universal bonus feature. A wild is a special symbol that substitutes for other paying symbols to create a winning payline.
Lately, we've begun to see variations of the basic wild, which make it even more exciting. Some games use what's called a "sticky wild". Usually, wild symbols only help on the spin they appear on and then disappear with the other symbols. Sticky wilds, however, can stick around for more than one spin and therefore offer more rewards.
Wilds have also appeared as multipliers in some games. In Halloween Jack, wild symbols offer a 3x multiplier for any win they take part in.
The final variation of wild symbols is the expanding wild. With this feature, a single wild symbol expands to cover an entire reel. This adds far more opportunities for wins. It's exciting to see how developers have taken a once simple feature and made it even more exciting.
Megaways
Almost everyone has heard of Megaways, the mechanics that took the slots world by storm. Most people would agree Bonanza is the game that popularized these mechanics and made players and critics take note.
Megaways offer far more paylines than games previously had. A regular slot would have somewhere between 15-40 paylines. With Megaways, this number is in the thousands.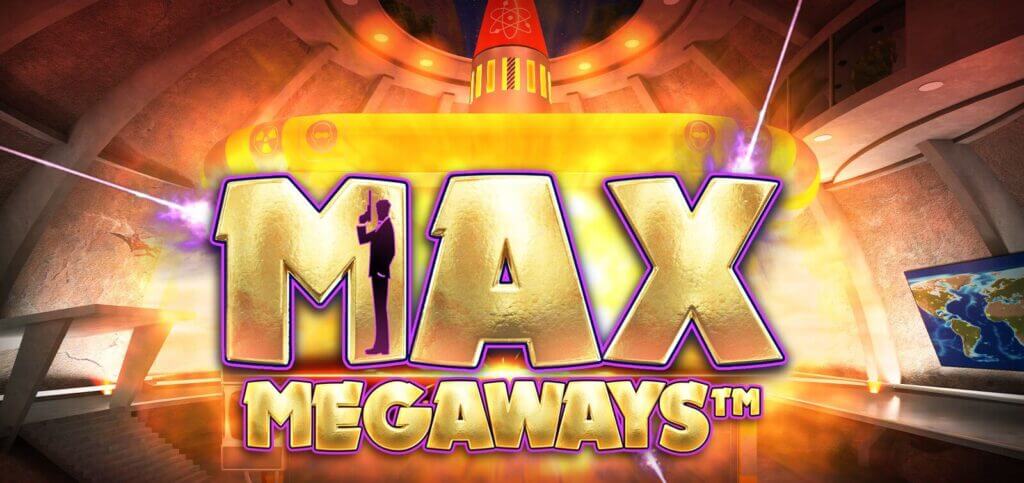 Over time, it has gained in popularity so much that even older slot games are now getting remade with Megaways. This trend has been increasing in 2021, and we expect it'll continue into the following year. Megaways have proven to be one of the most popular mechanics of all time.
The Gamble Feature: Will You Risk Your Free Spins for More?
The gamble feature has been making waves, particularly among titles from Pragmatic Play. Typically, when you unlock free spins in a game, they occur right after. However, the gambling mechanic adds another layer of risk and reward.
Before the free spins take place, you're asked if you want to gamble your spins. You have the option to spin a wheel (in-game) and potentially multiply the free spins even further. However, at the same time, you could lose them all.
Fill Up a Meter and Get a Prize
The meter mechanics is another one that's been gaining some traction. While it's still not very widespread, we think it could be used in many interesting ways.
As you fulfil specific requirements, a meter on the screen continues to fill up. When it finally fills to the top, it unlocks a big prize. Commonly, this can be free spins or perhaps a bonus game.
Did You Know?
Slot games are always innovating. Often, developers will take older mechanics and add a twist to make it exciting again. The different versions of wild symbols are a good example.
Bet, Spin, and Win!
For ages, slots have been a 'must-have' in a casino – both online and offline. The simple gameplay and attractive visuals make slots addictive. To top it off, providers frequently release new slots every few months. While you cannot try all the new slots online that launch, you can try a few for free before you bet real money.
Try new free slots online at our top-rated online casinos:
Frequently asked questions
No, slot games and online casinos are highly regulated industries. All slot developers have to adhere to strict standards with their games.
New free slots are being released all the time, with many games having a play-for-fun option. You can enjoy the games without spending any money, though you can't win anything either.
With 96% being an average RTP value, we encourage players to look for games with values above that. Check out our new casino slot reviews for the RTP.