What Are the Best Online Dice Games Casinos in 2023?
Be it slot fanatics or serious table gamers, dice games can be fun. If you want to roll some dice on Craps, Jhandi Mundi, Keno, or other games, here are our top recommendations:
Did You Know?
India has been playing Dice games in one form or another for thousands of years. Dice games have helped bind villages and communities together for centuries. In the 21st century, India is still rolling the dice – more popularity through online casinos.
Most Popular Dice Games in India
In India, most players would be familiar with the game Jhandi Munda (also known as Langur Burja). However, with the increasing popularity of online casinos, desi players are also trying their hands at Craps, and other dice games.
1. Jhandi Munda
A proud Indian original, Jhandi Munda comes from Arunachal Pradesh and is popular nationwide. The game is played with six dice, each of which features a symbol instead of a numerical representation (pips). These include diamonds, clubs, spades, hearts, flags and faces. Dice featuring crowns and anchors rather than flags and faces may also be used.
A simple game to learn, players bet on which symbol will turn up the most among the six dice when they are thrown. Jhandi Munda is a famous Indian export known as Langur Burja in Nepal and Crown and Anchor in many other countries.
2. Craps
Craps is a Dice game that has grown in worldwide popularity thanks to its availability to play at online casinos. Long a staple table game in the North American casinos, Many Crap variations – such as Live Craps – of the traditional game are now enjoyed by players around the globe.
The objective of the game is to bet on the number combination that results when a pair of dice is thrown. Learning the wide variety of betting options is usually the most difficult part of the game for players.
3. Sic Bo
With a long ancestry in the Orient, Sic Bo is the most popular Dice game and 2nd most popular game overall at the Macau casinos. Using three dice, Sic Bo players bet on the numerical result. Basic wagers are placed on Small (dice value totalling 4-10 inclusive) or Big (dice value totalling 11-17 inclusive) results.
Three of a kind beats both of these bets. Individual number bets and variation wagers are slightly more complicated yet easy to learn with the help of a Sic Bo betting chart.

4. Hazard
This British standard is the precursor of Craps and is reputed to have been played as early as the Crusades. Apart from the terminology, Hazard is a Dice game that will be immediately familiar to Craps players.
Played with two dice, a "Shooter" or "Caster" begins rolling while other players place bets on the potential result. Look for it online and at casinos however, it shouldn't be confused with Grand Hazard (another name for Sic Bo).
5. Crown and Anchor
For all intents and purposes, Crown and Anchor are Jhandi Munda by another name. Players in India instantly recognize the game and have made it popular due to its wider availability at international online casinos.
Adopted by British seamen who visited India in the 18th century, Crown and Anchor use the same diamond, spade, club and heart symbols on the dice together with a crown and an anchor that replace the traditional Jhandi Munda face and flag. Players bet on the result of six dice thrown.
Did You Know?
The name "Sic Bo" is derived from a Chinese term that means "Dice Pair".
Is it Safe to Play Dice Games?
Yes, it is safe to play Jhandi Munda and other dice at LICENCED online casinos. In fact, as the online games run on Random Number Generator (RNG) software, it is impossible for the casino or the user to rig the games.
Further, online casinos also undergo frequent audits from eCOGRA, TST, and other entities who check the fairness of games on a site.
Are Dice Games Legal to Play in India?
Technically, the laws in India do not explicitly restrict players from playing dice games (or other casino games for that matter) at online casinos. This is because the current gambling law does not cover online gambling.
Recently, there has been some development – the MEITY has drafted regulatory laws for online gambling, and the draft is under review. The power to determine the legality of gambling still lies with the states – and Chhattisgarh and Tamil Nadu have banned it.
With that being said, you can play at overseas online casinos – just make sure that gambling is legal in your state of residence.
Play responsibly! Learn more about Responsible Gambling and self-exclusion tools.
What are Dice Games?
Dice games are based on random chance where the resulting combination of a dice throw cannot be predicted. The modern dice games played today evolved from age-old pastimes enjoyed in just about every civilization for millennia.
Apart from the pure enjoyment the game offers, Jhandi Munda has long been associated with bringing the local community together to share village news and gossip over a friendly game. In this sense, dice games reflect a cultural aspect of India that has been welcomed by the world.
Why Play Dice Games Online?
Here we are enlisting the perks of Online Dice games vs Dice games in Land-based Casino
| | Online Dice games | Dice games in Land-based Casino |
| --- | --- | --- |
| Play from your home | ✅ | ❌ |
| Bonuses | ✅ | ❌ |
| Promotions | ✅ | ❌ |
| Live Online Casino | ✅ | ❌ |
1. You can play from home
Online casinos offer players the convenience of playing the dice gabling games from home or from wherever they have an internet or data connection. Online casinos are open 24/7 and provide a wider range of Dice game choices than land-based casinos
2. Entitled to good bonuses
Players who join online casinos are often rewarded with good welcome bonuses and incentives in thanks for their custom. These can range from Welcome and No Deposit Bonuses that increase players' bankrolls to Free Spins and even chances to win a free holiday.
3. You also get to benefit from daily or weekly promos
Online casino promotions are constantly changing to provide players with an interesting variety of game choices. Many promotions are focused on table games, including the most popular dice gambling games, where players can take advantage of special offers.
4. Enjoy the thrills of Live casino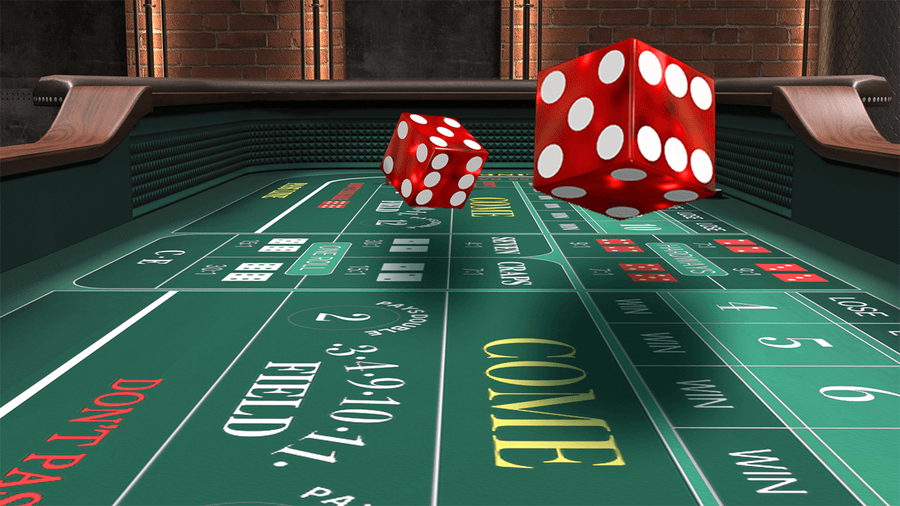 The most popular Dice games – including Jhandi Munda – are becoming increasingly available at online casinos through Live platforms. Live Casino provides the thrills of a land-based casino environment without the need to physically be there. Craps is currently the most popular Live casino dice game and is available to play practically worldwide.
Did You Know?
Apart from dice gambling games, there are other popular table games that are popular with players in India. Games like European Roulette, Baccarat and Blackjack.
3 Important Tips to Know Before Playing Dice Games Online
Dice games like Craps, Sic Bo, Jhandi Munda, and others are relatively easy to learn and play. For the more serious players – there's some math involved so you're in for fun.
Regardless of the games you choose to play, here are some basic tips –
1. Know basic rules, side bets and payouts
One of the main attractions of dice games is that they are fairly easy to learn. Getting a handle on the wide variety of bets and payouts can be intimidating for new players. Casinos know this and often provide simple-to-follow betting and payout charts, making it much easier for novice players to choose their preferred bets.
2. Learn all dice games betting strategies and variants
As players gain experience with online dice games, some may wish to apply betting strategies and variants – such as different Crap Variants for example – that can increase their chances of accruing winnings. Depending on the particular game or variant, a number of betting strategies are available to add challenges and profit potential.
3. Plan your budget and your time
Cash and time management should be the first consideration before starting a gambling session. Experienced players set maximum amounts of money to win or lose over a specific period of time. This approach prevents players from chasing losses and motivates them to bank profits consistently.
Did You Know?
The origins of 'craps', one of the most popular dice games, can be traced all the way back to the medieval times.
All the Other Games with Dice
Every part of the globe seemed to live Dice Games – each developing its very own version.
In one form or another, modern dice games can claim a heritage far older than playing cards and far more illustrious than most casino table games.
1. Chuck a Luck
Also known as Birdcage, Chuck a Luck dice game uses three dice spun inside an hourglass-shaped cage to generate a result.
Some consider it a variation of Hazard and the cage was added to present the game to players at carnivals and exhibitions.
2. Banca Francesca
Banca Francesca dates back to Portugal and can be considered a Baccarat Variant but with dice and it uses three dice and a betting table. The dealer rolls continuously until a Big, Small or Aces combination turns up.
Players place bets on which combination will be rolled first.
3. Bitcoin Dice
This dice game is played with cryptocurrency and is slowly gaining in popularity in India.
Bitcoin Dice sees players betting on a number between 1-100 and whether the dice roll will produce a combination higher or lower than the number chosen.
Simple to learn, players can still use different Dice game strategies for Bitcoin Dice.
4. Ricochet
Craps players will be instantly familiar with the Ricochet dice game, the table set up for betting and the nomination of a shooter.
Created by and for casinos, Ricochet uses three dice and offers a wide variety of side bets.
5. Under and Over 7
Probably this is the simplest version from all online casino games played with dice. As the name implies, players bet whether a roll combination will result above seven, below seven, or on seven. These are the only three betting options in the game.
Did You Know?
The word 'dice' comes from the Latin and old French words 'de' and 'datum'.
Play Dice Games Optimized for Mobile
Of course, just like other casino games, you can enjoy dice games on your mobile phones too. Most casino sites today are optimized for mobile phones and tablets. Some casino brands also offer dedicated mobile apps.
Learn more about Mobile Casinos.
Popular Dice Games Providers
We at India casinos are listing some top game providers for 5 different types of Dice games:
Craps: Playtech Gaming, Microgaming, NetEnt
Sic Bo: Habanero Gaming, Wazdan, Evolution
Jhandi Munda: mPlay, TopSpin
Bitcoin Dice: 4ThePlayer Gaming, OneTouch Premium Mobile Games
Live Dice Games: Evolution, Pragmatic Play
Conclusion – Bet, Roll the Dice, and Win!
Dice Games are the perfect sweet spot between slots and card games – they have the 'luck' factor of slots and 'skill' factor of card games. You can choose to play RNG-based games for some relaxed gameplay or take a seat at the live dealer table.
Dice Games, just like other casino games, can be played for free before you bet real money. Try casino games for free at our trusted casinos today!
Frequently asked questions
Craps is the most popular casino dice game not just in India but also across the world. Craps is offered in one variation or another by just about every online casino because it is easy to learn and offers thrilling gameplay. The wide variety of side bets constantly challenges players and keeps excitement levels high.
When it comes to online casino dice games that are fun to play and offer great returns to players (RTP), Craps and Sic Bo rank the highest with gamblers. Craps offers an RTP of 98.64% for basic bets. Sic Bo uses three dice and players can expect an RTP of 97.22% on the Big and Small bets.
Casino dice games are based on random chance. There is no way to predict the result of a dice roll. The best dice game strategies refer to methods of betting. These betting strategies depend on the particular game, the nature of the betting choices and players' individual appetite for risk.