One of the most popular card games in South Asia, Teen Patti first originated in the Indian peninsula from Three Card Poker.
Also known as 'Flush' or 'Flash', it is a staple at land-based casinos in India. Nowadays, this entertaining game is becoming more and more accessible through some of the Best Online Casinos which offer Live Teen Patti, an online version of the game that is as authentic as playing in a physical casino.
Indian players, might not be aware of the opportunities to play online Teen Patti, thus, we've put together this guide to share with you the rules of Teen Patti and introduce you to some of the best Teen Patti online casinos. So, keep on reading to discover more!
Best Live Teen Patti Casinos
If you are looking for a safe and rewarding online casino that offers a game or two of Teen Patti, then you might want to check out the above online casinos which come highly recommended.
Furthermore, they all offer a welcome bonus, which you can use to play free Live Teen Patti.
How to play Teen Patti online
Since Teen Patti is a simplified version of Three Card Poker, the rules of the game are not so hard to learn. The game is generally played between 3 to 6 players and uses a standard 52 – card deck with no jokers.
Although the game starts when players place their initial bets, in Teen Patti, a fixed amount has to be set before the game commences. Once everyone's bets have been collected, they are grouped together into a pot and placed in the centre of the table. Each player is subsequently dealt three cards face down.
The goal of Teen Patti is to have the best hand possible while increasing the pot substantially before the game ends.
In Teen Patti, it is important to know which cards are ranked highest and which are ranked lowest. In this instant, the Ace is the highest-ranking card and the two are the lowest. Below we have listed some of the hands you can have when playing Teen Patti with the highest first.
Trail or Set – 3 cards of the same rank. If they happen to be 3 Aces, it is the strongest hand anyone can have.
Pure Sequence or Straight Flush – 3 cards in sequence of the same rank
Sequence or Run – 3 cards in sequence of different ranks
Colour – 2 cards of the same rank but which are not in sequence
Pair – 2 pairs where the one deemed the ranking the highest wins
High Card – 3 cards that are not in sequence or of the same rank, and no two cards have the same value.
The Slide Show
The Slide Show is a feature that is unique to Teen Patti and can only be carried out if there are still players in the game and with a player that is playing 'seen'.
This term refers to the fact that in Teen Patti players can choose to either play 'blind', meaning keep their cards face down or else 'seen', play knowing what cards they have. The Slide Show allows you to compare your cards with another player and determine if you have a strong enough hand to continue playing.
The Slide Show is requested by one player of the previous player. The latter has every right to either accept or refuse. If the player accepts to do a Slide Show, he will show you his cards, allowing you to compare his hand with yours.
If on the other hand, he refuses the Slide Show, both of you continue to play without knowing who has the strongest hand.
It is worth mentioning that the Slide Show does not come for free, but the player who requests the Slide Show has to place a bet that is double the current bet amount.
How to win Teen Patti
Everyone plays to win Teen Patti and claim the pot sitting in the middle of the table. Although Teen Patti is a game of chance, there are a few things you can do to increase your luck and give yourself a better chance at winning.
Below we have shared a few tips which we are sure will come in handy when playing Teen Patti online.
Tip 1 – Always give your input when the initial stakes are being decided. This makes you seem like a professional and will tell the other player that you know what you're doing. Always start with low-value bets, and increase later on when you have good cards in hand.
Tip 2 – Play blind. This means, play the first few rounds without looking at your cards. Not only does this strategy often lead to an increase in the pot, but it perplexes the other players with your confidence.
Tip3 – Go for the slideshow option. This feature involves asking the next player for a slideshow. This is unique to Teen Patti and helps you determine if you have a strong enough hand to continue playing or not.
Teen Patti Payouts and Bets
Apart from knowing the rules, it is also important to know the dynamics of the bets and what kind of payouts you can expect.
If you are familiar with Poker, then you are probably familiar with terms like call and raise. In Teen Patti, these two actions are identical to those in Poker and refer to the option of continuing to play without raising your bet and raising your bet if you have a strong hand.
Although at first glance the betting structure of Teen Patti seems to be identical to that of Poker, there are some distinct differences that make Teen Patti a game in its own right.
For example, in Teen Patti all the bets must be of the same value. This means that if one player bets 2 coins and the next player bets 4 coins, the first player has to increase his bet by 4 coins, so they are the same.
As the game progresses, the pot continues to grow until finally, it is won by the player who stays in the game until the completion of the hand. He must also have the highest hand otherwise he takes only a small portion of the pot. Teen Patti pays really well if you manage to have a high ranking hand.
The below chart clearly shows how much to expect if you have one of the hands we mentioned further up in this article.
| Hand | Payout | Probability |
| --- | --- | --- |
| Trail or Set (3 of a kind) | 424:1 | 0.24% |
| Straight Flush | 459.42:1 | 0.22% |
| Sequence | 29.69:1 | 3.26% |
| Colour | 19.16:1 | 4.96% |
| Pair | 4.90:1 | 16.94% |
| High Card | 0.34:1 | 74.39% |
Best Online Teen Patti games
Regretfully, Teen Patti is not as popular as other card games, however, players from India can still find a few options at the best online casinos. These can be either virtual Teen Patti or else Live Teen Patti. 10Cric Casino is a good place to start as they offer a couple of options for both.
Virtual Teen Patti
Virtual Teen Patti is not such a common game to come across, however, there are a few options like Teen Patti Pro and Teen Patti Rapid.
The latter is so-called because of the speed with which the cards and overall maneuvers take place. The best part about virtual Teen Patti is that they often came accompanied by a demo option that allows players to play the game for free with fake money and to learn the rules of the game.
You can check out these two variants of virtual Teen Patti at 10Cric Casino.
Teen Patti by Ezugi
Ezugi is one of the game providers that offer Live Teen Patti at several online casinos including the new we mention in this guide.
The Ezugi version follows the rules we have mentioned in this article, however, this provider shakes things up a little by introducing 2 side bets into the gameplay.
These revolve around obtaining a pair or better, and a 3 + 3 side bet. The game offered by Ezugi is open 24/7 and can be easily accessible either from a desktop computer or else from a smartphone.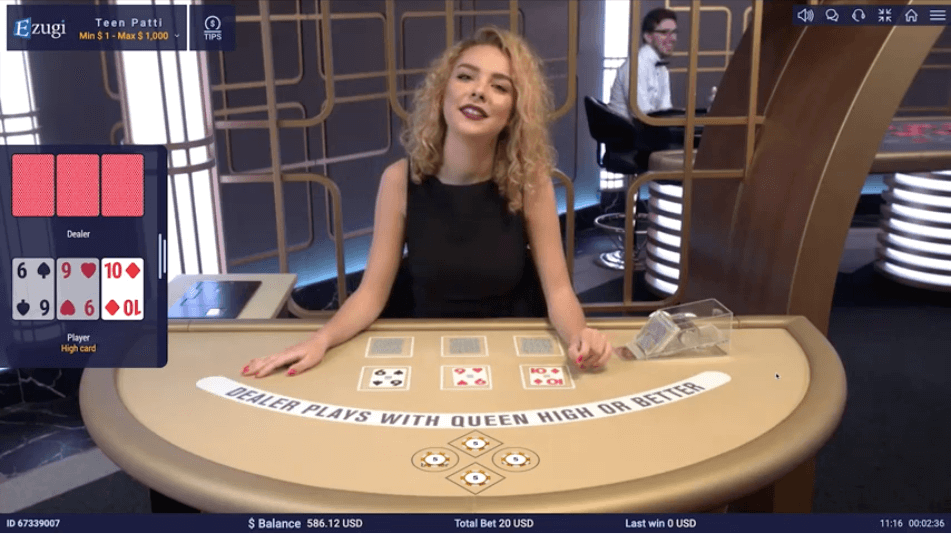 Teen Patti by Super Spade
Super Spade is an Asian based game provider and one of the few who offers Live Teen Patti. This provider offer 2 different kinds of Teen Patti, the standard version and a unique variant.
The standard version of Teen Patti comes with attractive payouts and a Pair Plus Bonus Bets to make things a little bit more exciting.
The game is played against a live dealer situated in a studio and offers a truly authentic experience.
Teen Patti 20 – 20 by Super Spade
In Live Teen Patti 20-20, the game is played with a standard deck of 52 cards and this time all players at the table are playing against each other.
The game starts by placing a bet on the table that matches the minimum amount for that table. The dealer deal 3 cards to both player A and player B, to be. compared at the end of the distribution. The strongest hand wins, and the winner receives his payout.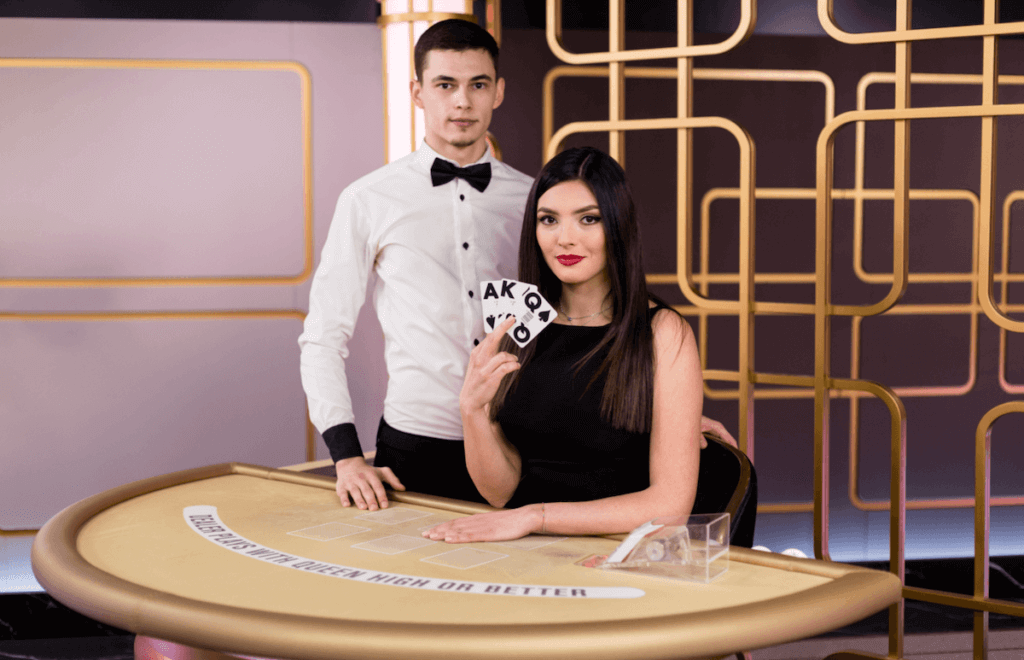 Can you play Online Teen Patti for free?
Certainly! If you succeed in finding a virtual version of Teen Patti with a demo mode, you can play free Teen Patti as many times as you want for as long as you want.
Regretfully, it is not one of the most common games under the Table Games section and many casinos do not offer virtual Teen Patti.
Another choice is to claim a casino bonus valid for Live Casino games and play Live Teen Patti for free with the bonus.
Since live games are managed by a real croupier and are streamed live, a demo option is not practical at all, thus the only way to play Live Teen Patti is by claiming a generous casino bonus. Playing with a bonus comes with its own advantages, especially as you can still win real money and maybe even take home a pot or two.
Play Teen Patti from India!
Now that you know how to play Teen Patti and have a list of some of the best online casinos where you can play this game, why don't you try your luck!
Every casino we've recommended is safe and reliable with plenty of rewards for Indian players who sign up. So, what are you waiting for!? Play Teen Patti from the comfort of your home! You never know when lady luck might be smiling down at you!