While gambling is an activity that has been practised for centuries, Indian states are still quite adamant about licensing operators to provide legalized gambling activities. As a result, gambling is heavily restricted in most areas, with small exceptions for lotteries and horse race betting in certain regions. Only the states of Goa, Sikkim and more recently Daman have abolished a decades-old law to allow operators to establish land-based and floating casinos.
In this article, we are going to discover the most popular legal casinos in India and how Indian players can enjoy gambling at a safe casino within the territory, while looking at other options for those players who cannot travel too far from home.
Are Casinos legal in India?
The online casino scene in India is changing! As of November 2020, 3 states (Andhra Pradesh, Telangana and Tamil Nadu) have banned online gambling and a 4th (Karnataka) is considering introducing it. This is in response to an increase in gambling-related suicides that have increased this year. Other states might move towards a ban as well!
Gambling laws in India require a deeper evaluation as each state is responsible for the licensing of operators. Most provinces prohibit any kind of gambling activity, with the exception of Goa, Sikkim and Daman. The Public Gambling Act, 1976, of Goa, Daman and Diu, states that casinos can be established either within a 5-star resort or else on board a vessel cruising the Mandovi river only. Permission from the government is also required, but it has not stopped operators from establishing casinos under these legal circumstances, leading to numerous floating casinos, as well as resort casinos, particularly in Goa. Let's take a look at a few existing Indian casinos within the country, to discover what they offer and where they can be found within the large Indian territory.
Goa
Goa is the richest region of India, with the highest GDPR in the country. Located on the coast with long stretches of sandy beaches, it is a prime tourist spot, attracting thousands of visitors each year. In terms of gambling, Goa is known as a primary location for casinos, with 4 floating venues and 6 land-based sites, offering a diversified range of games, entertainment and lavish dining options. The casino scenario is mainly dominated by two main companies Deltin Group and Pride Group. Deltin Group has earned a solid reputation over the last few years, with 3 floating casinos and a land-based venue in Goa, another one in Sikkim, and a newer one in the works at Daman. It is also the only listed gaming company in India.
Pride Group has also earned an excellent reputation, with two floating casinos that cater to every client's needs, be it excellent food, families, gambling and alternative entertainment. Their 2 ships; Casino Pride and Casino Pride 2 are amongst the most lavish floating venues one can come across and the company strives to deliver the best service any 5-star casino can give.
While the thrill of casinos in Goa is mainly found on the Mandovi river, all those who are not fond of the water, have a great choice of land-based ones. Based within 5-star resorts as the law requires, players will find plenty of choice in terms of games and entertainment, combined with a great level of hospitality too. But let's take a closer look at what the casinos in Goa has to offer.
Deltin Royale
Deltin Royale is the largest and most luxurious offshore casino in this part of the world. In Goa, it is considered as the most popular floating casino of the region with poker rooms, slot machines, board games, VIP halls, an amphitheatre and a bar. Passengers can choose amongst 50 classic board games, Blackjack, slot machines, Teen Patti, Baccarat, Indian Flush, American Roulette, and Poker. Players can indulge not only in the best games of chance but can enjoy live entertainment, unlimited drinks and a fabulous buffet dinner. Cruising down the Mondavi river at Panaji has never been done with so much style!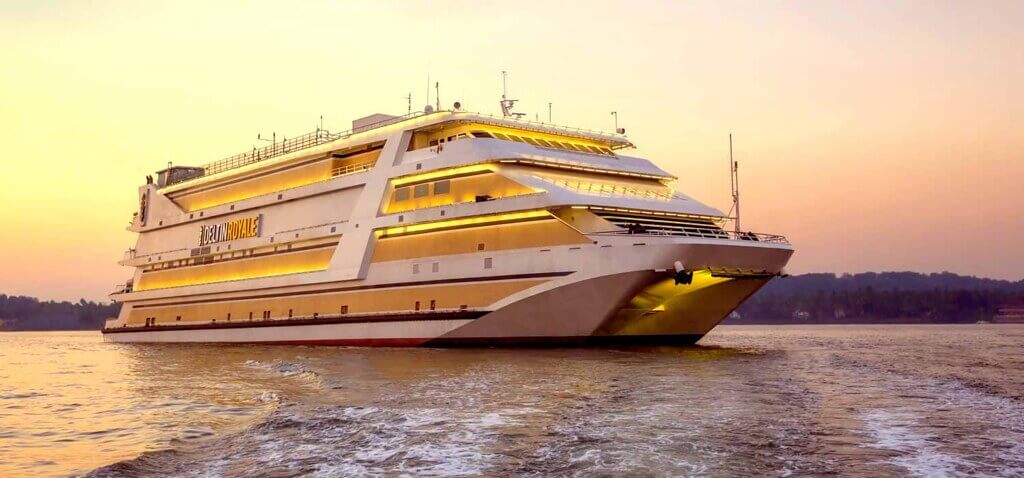 Deltin Jaqk
Another casino by Deltin Group, Deltin Jaqk is also another popular destination for both Indians and visitors. Anchored on the Mandovi river at Panaji, this casino offers a lot of fun for all the family. While gamblers need to be over 21 years of age to join any of the tables, children will find plenty of entertainment in a specifically designed room where they can enjoy games in a safe environment, while mum and dad, wine and dine and enjoy the numerous games of chance available. And what a choice of games! Baccarat, Roulette, Blackjack, Andar Bahar and much, much more, all dealt by a team of professional croupiers anxious to deliver an experience of international standards. 
Casino Pride
Casino Pride is known for its class and style. Owned by the Pride Group, it is their first casino to hit the Mandovi river, at the Goa capital city of Panaji. This wonderful gambling venue is spread over 30,000 square feet, divided amongst 3 floors, of the luxurious ship. An additional 10,000 square feet make up a weather deck, an ideal venue for private parties, establishing Casino Pride as a versatile venue, barely limited by its floating location. This extraordinary casino offers 40 casino tables, providing its clients with a wonderful selection of Roulette, Blackjack, Baccarat, 5 Card Poker, Casino War, Mini Flush, Flush, Texas Hold'em, and Andar Bahr. To complete the experience, this casino is fully equipped with a fully-stocked bar on each floor, a multi-cuisine restaurant and a barbeque on the weather deck.
Casino Pride 2
The second floating casino in the Pride Group fleet is the youngest floating casino in the Mandovi area. With a casino floor spread over three decks, players embarking on a night on the river will discover fully stocked bars, and endless delicious food, complemented by a dance troupe, performing numbers to popular music. The luxurious interior is home to a wide variety of games, some popular in the major casinos all over the world like Baccarat, Blackjack, Roulette, 5 Card Poker, 3 Card Poker, Casino War, slot machines, Tai Sai, and Mini Flush. For those who seek other options from the traditional games usually available at every casino in the world, this floating venue offers a number of games of Indian origins like Teen Patti, Andar Bahar, Paplu Rummy, and Mang Patta. The entertainment with this casino has no end!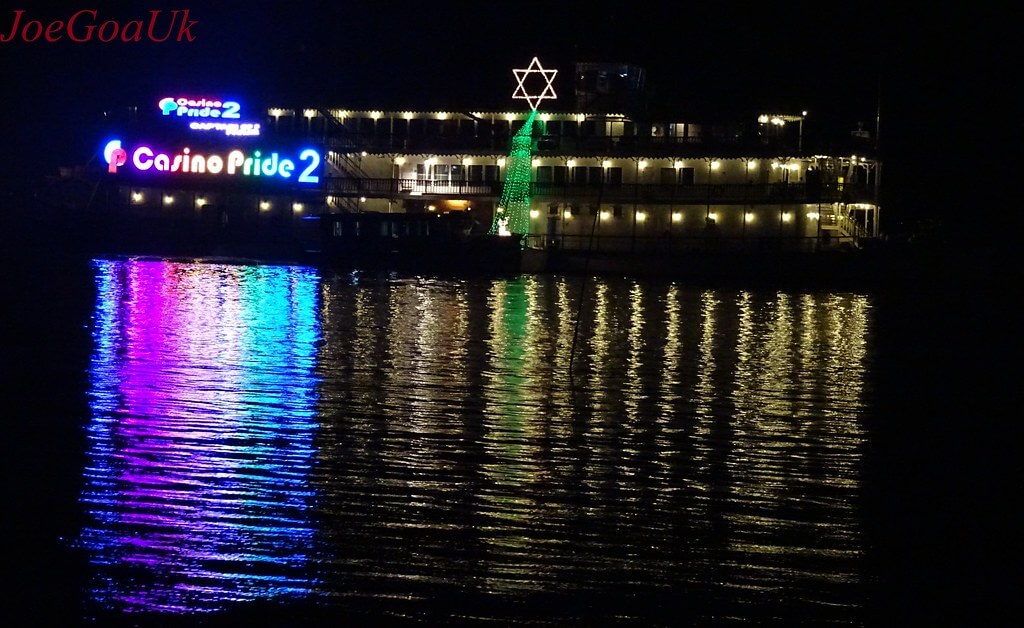 Casino Paradise
Luxurious, at best, Casino Paradise is a favourite destination for nightlife lovers. Hosted within the 5-star Neo Majestic Hotel in Goa's capital, the casino is spread over 5,000 square feet. What distinguishes this casino from other similar venues is the digital gaming experience. The posh decor of the casino hosts the latest state of the art digital equipment, enabling players to engage in digital Roulette or robotic arm Baccarat. For those who prefer to stick to the traditional tables, hosted by live croupiers, there is a good selection of Blackjack, Baccarat, Roulette, Tai Sai and Mini Flush. To complete the casino experience, Casino Paradise, offers a number of electronic slot machines, a perfect way to relax after a wonderful day at one of the nearby magnificent beaches!
Crown Casino
Known for its plush and niche decor, this land-based casino is hosted within the Crown Goa Resort. This modern casino offers the latest gaming technology, alongside highly trained staff to bring to their illustrious guests' video Roulette, Lucky 7, ultimate Texas Hold'em, Blackjack, Baccarat, Roulette, and 3 Card Poker. Customers, staying at the Crown Goa wishing to enjoy everything that the casino has to offer, will discover a whole range of special casino packages to add a little something to the whole experience.
Daman
The Daman region forms part of the Union territory of India, known formerly as Daman and Diu. Located on the west coast of the vast Indian territory, this particular area was under Portuguese rule from the 16th Century till 1961, when it was returned to the Indian government. Due to this prolonged exposure to Portuguese influence, visitors will notice several architectural and cultural spheres, still reminiscent of Portuguese culture. Although the neighbouring state of Gujarat is better known as a tourist destination, visitors to Daman will discover a quiet place with plenty of opportunities to relax, friendly inhabitants, and wonderful places to explore. The Daman government has tried in recent years to initiate developments to turn the region into a proper tourist destination, going so far as to change their gambling regulation to allow casinos into their territory.
The Deltin Casino
Owned by The Deltin Group, The Deltin Casino, is the first and only casino outside Goa and Sikkim, making it the first of its kind in the region of Daman. Integrated within a 5-star resort which is already operational, the casino was due to open in 2017. Nonetheless, the Daman government has so far held back the necessary permit for the 60,000 square foot casino. This gambling venue was meant to create some 1,500 jobs within the casino alone, with 150 casino tables to be expanded to 200 once it became operational. Should the situation change we will be amongst the first to inform you of any changes.
Sikkim
With an economy mainly based on agriculture, the Sikkim government recognized the importance of boosting tourism, leading to the establishment of the first casino in the region in 2009. The success and increase in revenue led the government to issue additional permits for casinos, sports betting and lotteries. In the last 10 years, 3 casinos have opened their doors: Casino Sikkim, Casino Mahjong and Deltin Denzong Casino. Located within the immediate area of Gangtok, the capital of Sikkim, the strategic location attracts hundreds of visitors, reeled in by the beauty of the location and the monasteries that still draw pilgrims to this very day.
Casino Sikkim
Casino Sikkim is located within the 4 star Royal Plaza Hotel in Gangtok city. The oldest casino in the state of Sikkim, it opened its doors in 2009, after obtaining the first casino license ever issued by the Sikkim government. A location that favours wonderful views of the Himalayans and easy access to everything they have to offer, the city and the hotel are a popular destination for tourists, climbers and religious people. This strategic location puts Casino Sikkim right on the path of all those who want to relax and enjoy a few rounds either at the slot machines or the casino tables featuring Roulette, Flush, Blackjack and Baccarat, before they embark on the expedition of a lifetime at the nearby Himalayas!
Casino Mahjong
Casino Mahjong opened its doors in 2011 and operates from within the Mayfair Spa and Resorts on the outskirts of Gangtok. Owned by Trio Venture Private Limited, the casino comes with a space of 7,000 square feet, hosting 15 live tables, a seven table poker room, and a VIP gaming lounge. Players can choose amongst Roulette, Blackjack, Baccarat, Flush, Poker, Marriage, Kitty, Mini Flush and a number of slot machines. The casino delivers a 5-star experience with live performances every night, and a lavish buffet, combining the best kind of entertainment.
Deltin Denzong Casino
The youngest of the three casinos available in Sikkim, Deltin Denzong Casino, is owned by the prestigious Delta Corp, the only listed gaming company in India, which also owns a number of casinos in Goa and the only casino in Daman. Located within the Denzong Regency, which is spread over 10 acres of stunning wooded property, this is one stunning mountain retreat that offers everything one would desire. Gamblers can join numerous tables amongst which Blackjack, Baccarat, Roulette, Indian Flush and Silver.
Online casinos vs land-based casinos
India is a huge country that covers a massive amount of territory with few regions allowing for gambling activities to take place in a safe and regulated environment. While travelling to Goa, Sikkim and Daman, might be an interesting idea, it is not always feasible, and let's face it, who likes to travel hundreds of miles for just one night of gambling? This is where online casinos come into play! Online casinos located offshore, are legally allowed to offer their services to Indian players, allowing them to play some of the most interesting slot games on the market, computer-generated table games, bingo, scratch cards and sports betting. Those who miss the social aspect of the casino would be pleased to discover that most online platforms offer a Live Casino, set in a real casino studio with real croupiers with whom they can chat and enjoy as real a casino experience as possible.
Licensed online casinos have a lot to offer Indian players in terms of games, bonuses, casino rewards, payment options and security. Although the idea of choosing an unknown casino over the internet may seem scary to some and might even prompt them to question the wisdom of such an idea, there are a few things to keep in mind to ensure you are choosing a safe casino that will payout.
First and foremost, it's important to choose a licensed operator. Online gambling sites with a license from the UK Gambling Commission and the Malta Gaming Authority are amongst the safest as these two are the strictest regulators out there, imposing hefty fines and strict standards. Checking a casino's license is easy as they are required to display the details at the bottom of their homepage. Reading a couple of reviews won't hurt either, as it will give you a good idea of what to expect from their payments department and their customer support team.
Online casinos come with numerous benefits too, in the shape of casino bonuses. The biggest of such bonuses are usually awarded upon registration, as part of a welcome package, available after the first deposit. Such welcome bonuses might not be restricted for the 1st deposit only, and might be extended for the 2nd, 3rd and sometimes even the 4th deposit. Typically this kind of bonus would consist of bonus money or free spins. Some online casino, might take their welcome package a step further and offer a combination of both.
The rewards with online casinos don't end with the welcome offer, as most gambling platforms provide additional promotions for their loyal customers in the shape of weekly and monthly bonuses, unlockable at a small deposit. Indian players can benefit from additional bonus money, free spins, or a combination of the two. And let us not forget the loyalty schemes that reward players with points, exchangeable for more freebies. Tournaments are also a thing with online casinos and often come with much-desired cash prizes, often reaching thousands or consisting of the latest tech gadgets.
Expand your casino opportunities!
Although land or water-based casinos offer a sense of adventure that can't compete with an online gambling platform, the latter might be a better option if gambling is prohibited in your region. With online casinos, you don't have to travel to the nearest region for a night of gambling, but you can do so from the comforts of your home. Online casinos India, has it all, slot games, Blackjack, Baccarat, Poker, Roulette, Andar Bahr and many other games. And, with a Live Casino, you don't have to miss out on an authentic casino experience!