A simple yet delightful card game that is said to have originated in southern India, Andar Bahar (also known as Katti), has now found a spot at several Indian live casinos, which means that it's now more widely accessible to players across the country!
Most Indian players these days already have an idea how to play Andar Bahar, yet may not be aware of the opportunities now presented online.
Best Live Andar Bahar casinos
If you're simply looking for an online venue where to try your luck at Andar Bahar, we can recommend the following casinos, which welcome new Indian players with a great casino bonus and offer an Online Andar Bahar game or two as part of their live casino collection.
How to play Andar Bahar Online
Andar Bahar is a straightforward card game, although rules may vary depending on the particular variant you're playing. Below, we've simplified the basic Katti / Andar Bahar rules for you:
The game is typically played with a standard pack of 52 cards, and involves two main bets: Andar and Bahar. There are also other possible side bets such as the rank or suit of the first card that is dealt.
The dealer deals out the first card, which is also known as the 'joker' or 'middle card'. Then, the player has to place a bet on whether a card of the same face value will end up on the left (Andar) or the Right (Bahar) side of the middle card. They can also place any additional side bets on the total number of cards that will be dealt.
Once bets are made, the dealer will deal more cards until he draws another card that matches the middle card's face value, alternating these cards by placing them left or right of the middle card. Normally, if the middle card is red, the first card is placed on the right (Bahar) and the next card on the left. If the first card is black, the dealer starts by placing the next card on Andar, then on Bahar.
How to win Andar Bahar
If the matching card ends up on the left and the player has made an Andar bet, then the player wins the bet. If the player has made a Bahar bet, he will lose.
Conversely, if a player has made a Bahar bet and the card ends up on the right, he will win.
The game ends when the matching card appears, and all bets and side bets will be paid out.
This means that the Andar Bahar game comes with 50/50 odds of winning, much like a heads or tails gambling game.
Players need only bet on Andar and Bahar, and wait in anticipation to see where the final matching card ends up!
Andar Bahar payouts and bets
Andar Bahar game payouts differ depending on where the first card is dealt (left or right). If the first card is dealt to the left (Andar), and you win the bet, you get paid 90% (0.9:1). If the card gets dealt on the right (Bahar), the payout will be 100% (1:1).
This, of course, varies depending on the variant of Andar Bahar that you're playing, as different game providers may come up with different payout structures.
Andar Bahar Side Bets
Besides the regular bets on Andar and Bahar, each of which come with odds of 50/50, an Andar Bahar card game may come with additional side bets which typically pay out more than the standard bets.
For example, Ezugi's Live Andar Bahar Game includes a side bet on the number of cards dealt until the game ends (a full list of payouts is presented in the table further down below).
Other Andar Bahar game variants may come with side bets involving the rank and face value of the middle card. It's worth knowing that on average, it takes 13 cards to end a game (not including the Middle card).
Best Online Andar Bahar Games
Plenty of Indian online casinos these days have included Andar Bahar as part of their game collection. You may find virtual Andar Bahar games powered by a Random Number Generator, as well as Live Andar Bahar games that can be enjoyed at the live casino. In this section, we'll take a look at the variants we've come across at our favourite casinos.
One Touch Andar Bahar
One Touch is a game provider that has come up with its own version of Andar Bahar that can be enjoyed both for real money and for free! This Andar Bahar game is designed to work on mobile phones in portrait mode, although it can also be enjoyed on your desktop.
What's more, the game offers numerous side bets, such as the suit of the final card and bets on the number of cards dealt until the game ends.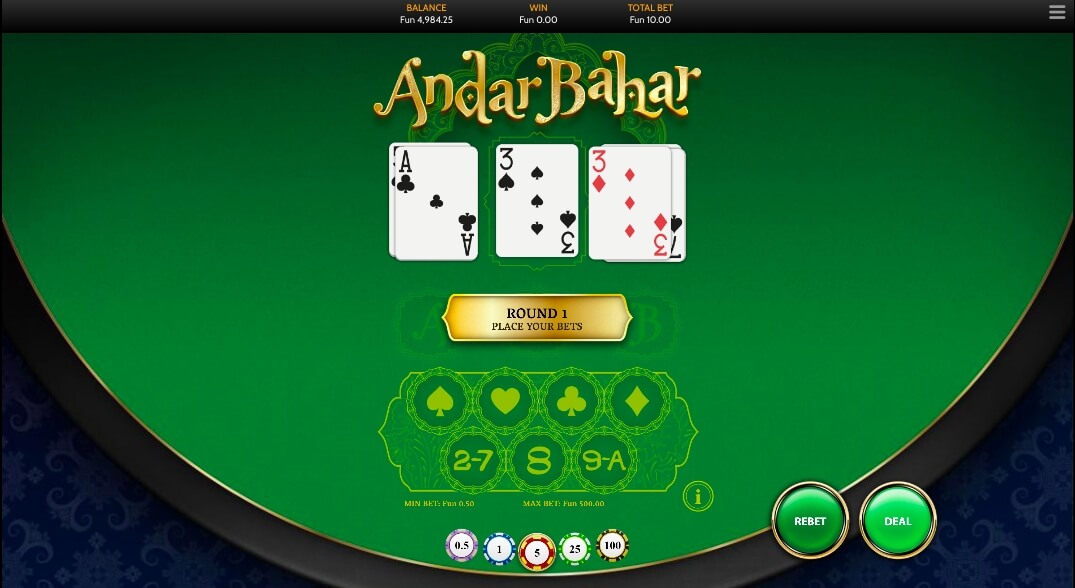 Live Andar Bahar (Ezugi)
Ezugi offers an exceptional live game of Andar Bahar, which we've also featured in the video above. The game includes 8 side bets, with the corresponding payouts detailed in the table below:
| Total number of cards | Payout |
| --- | --- |
| 1 – 5 cards | 3:1 |
| 6 – 10 cards | 4:1 |
| 11 – 15 cards | 5:1 |
| 16 – 25 cards | 4:1 |
| 26-30 cards | 15:1 |
| 31 – 35 cards | 25:1 |
| 36 – 40 cards | 50:1 |
| 41+ cards | 120:1 |
Live Andar Bahar is streamed from the provider's flagship studio in Romania. The best thing is, you can play Ezugi's Live Andar Bahar at any time of the day and night, and the table accepts an unlimited number of players, so you'll always find a seat!
You can play Ezugi's Live Andar Bahar at CasinoDays or at any of our hand-picked online casinos.
Live Andar Bahar (Super Spade)
Super Spade was the first live casino provider to offer Live Andar Bahar, and currently has two variants of the game.
No Commission Andar Bahar – This is played against a dealer with 30 seconds bet intervals.
Speed Andar Bahar – This is a fast-paced version of No Commission Andar Bahar, where players are only given 15 seconds to place their bet.
You can give Super Spade's Andar Bahar games a try by joining 10Cric Live Casino through the link here.

Can you play online Andar Bahar for free?
You can only play Andar Bahar free if you play the virtual version of the game, such as the one by One Touch. In this case, you can simply choose to play the game for fun or in demo mode. To do so, we recommend joining Pure Casino, where the game is currently on offer in demo mode.
Unfortunately, you cannot play Live Andar Bahar for free since every live casino game requires you to place at least the minimum bet per round to participate.
That said, betting options are pretty flexible these days, so you can enjoy Andar Bahar Live even on a low budget.
Time to play Andar Bahar from India!
And now that you know how to play Andar Bahar and where it's best to play it, why don't you take a chance? Every casino we recommend in this guide is perfectly safe and secure, and also welcomes new Indian players with a live casino bonus. Enjoy one of India's favourite card games from the comfort of your own home or on the go, any time of the day or night!