Evolution Gaming brings a classic board game to life in Monopoly Live
Keep rolling to receive incredible multipliers in the bonus game
The exciting Chance card brings instant cash rewards
Read our Monopoly Live review to find everything you need to know
The Monopoly Live Game Show is a ground-breaking collaboration between Evolution Gaming and Hasbro. In this Monopoly Live review, you'll discover how the creators brought your favourite properties to life in the bonus game and where to play Monopoly Live in India.
Monopoly Live Overview
Game Name
Monopoly Live
Provider
Evolution Gaming
RTP
91.30% – 96.23%
Features

Multipliers
Bonus game
Cash rewards

Min Bet
$/£/€0.10
Max Bet
$/£/€2,500
Max Win
$/£/€500,000,000
Where to Play Monopoly Live from India
It's all well and good to know about the game, but what use is it if you don't know where to play Monopoly Live? Fortunately, the game is available across a broad range of online casinos that welcome players from India. Evolution Gaming is among the most renowned developers in the world, making their games readily available at most live casinos.
So, when you look for where to play Monopoly Live, simply login to your favourite casino, visit the live section and search for the game. Below are a few of our recommended operators:
What Is Monopoly Live?
Live casino games are a favourite among online gamblers; they bring a sense of being in a live studio from the comfort of your home, and Monopoly Live is no exception!
As you can guess, the classic board game Monopoly is the primary inspiration behind this hit. Evolution Gaming combined the world of this family favourite game with the concept of a casino wheel of fortune.
A live presenter spins the wheel, while Mr. Monopoly reads a newspaper on a couch. Every once in a while, the wheel lands on a special segment which brings the Monopoly man to life, and he takes us to his immersive 3D Monopoly board or reveals the Chance card.
How to Play Monopoly Live
Playing the game show is easy, and it's quick to get the hang of it, as we soon found out as we prepared this Monopoly Live Review. Take a look below at your step-by-step guide.
Once the game opens from the casino lobby, enter your stake at the bottom of the screen. Select which token value you'd like to wager on each segment.
The host / hostess spins the wheel, and we wait for it to stop.
3. If the pin stops on a number, you'll receive your winnings if you wagered on it to land on the segment.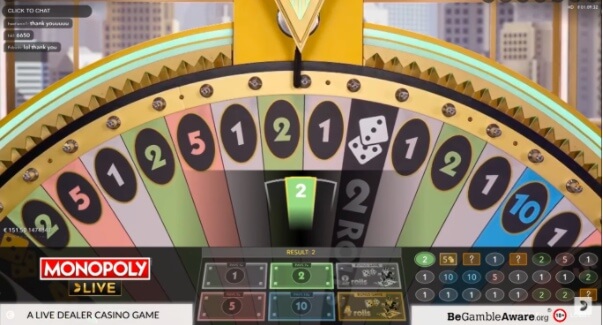 4. If you land on 2/4 rolls, the bonus game will trigger. If it's a Chance, Mr. Monopoly will present a card that either gives an instant cash prize or a multiplier.
5. In the bonus game, Mr. Monopoly takes us to his 3D board game world. The game will pan over so that you can see an overview of the multipliers across the properties.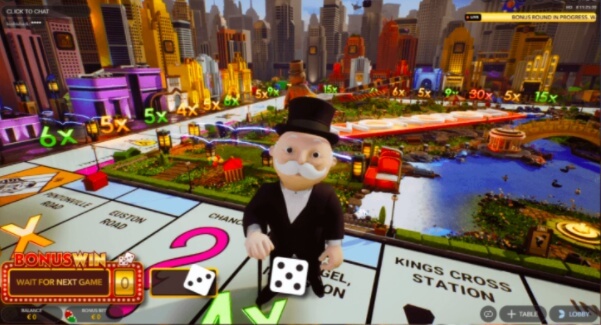 6. The screen will show the host rolling the dice, and once it ends, Mr. Monopoly will move the set spaces on the board. A double gives you an additional roll.
7. In the bonus game, properties have exciting multipliers, and the usual landings such as Community Chest, Chance, Jail, Tax, Utilities, and pass go to double all multipliers.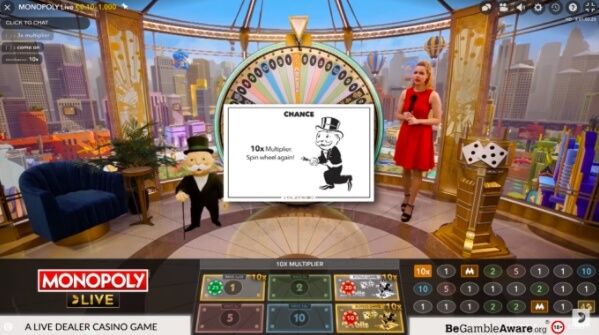 8. Once the bonus round is over, you'll collect the payout and return to the wheel.
Monopoly Live Payouts
The payouts in Monopoly live are relatively easy to remember. You have 54 segments that are split across seven outcomes; 1, 2, 5, 10, Chance, 2 rolls and 4 rolls.
1 – 1x stake
2 – 2x stake
5 – 5x stake
10 – 10x stake
Chance: Instant cash prize or multiplier up to 10x
2 rolls: a bonus game that has multipliers and cash rewards,
4 rolls: a bonus game that has multipliers and cash rewards, up to ₹500,000,000
Monopoly Live Strategy
Our team spent a long time trying various strategies to be able to provide an accurate Monopoly Live Review, but everyone prefers a different one. However, you need to remember that although strategies help, but they don't guarantee a win.
Your bankroll will also determine which strategy you use; it can become costly if you hit a bad run. Our favourite method is a low-volatile variation.
By placing a small bet on every possible outcome, you'll receive a win with every spin. However, some players prefer to avoid wagering on every possible outcome. In that case, our team got impressive results when opting on the 2, 5, and the 2 and 4 rolls.
Regardless of what you do, always have a bet placed on the rolls, because if you don't, you'll be excluded from the bonus game, which often has lucrative multipliers and cash prizes.
Graphics & Sounds
The live studio is set against a metropolitan backdrop, which we assume is the same city that you experience in the 3D immersive bonus round. An animated Mr. Monopoly sits by until things get more exciting.
The animations and graphics are exceptional, allowing you to dive into the family favourite board game. The live presenter interacts with players through the live chat, while a jolly jingle plays in the background.
Other Game Shows to try if you like Monopoly Live
Evolution's hit Dream Catcher is a close relative of the Monopoly Live Game Show, because it also takes the form of a live wheel of fortune, and is Evolution's first live game show. Another similar game is the funky Crazy Time.
There are countless Monopoly-themed slots that can bring you hours of entertainment too, such as Monopoly Multiplier, and Monopoly Megaways.
Monopoly Live Review – our Conclusion
Our team enjoyed playing the game as part of our Monopoly Live Review process; it kept us entertained as we dove right into it. The hosts are friendly, charismatic and add value to the experience thanks to their enthusiasm.
We couldn't have asked for a better live version of Monopoly. Spinning the wheel can become tedious after a while, but it's worth it when the bonus game kicks in. The game is jam-packed with multipliers and surprises as Mr. Monopoly makes his way around the board. Why not try it out at one of the live casinos that welcome players from India! Choose from our list above, or click on the link below to play it at LeoVegas!