Best 10 Live Craps Casinos
Indian players know how difficult it is to find good online casino platforms that include live craps in their game selection. Even when you find one, you might wonder if the platform is good enough, trustworthy and reliable.
In this live craps casino article, we'll cover those topics and much more, so you can make the right choice when it comes to throwing those dice remotely.
Below you'll find the best casinos offering live craps among their live game selection.
What makes a live casino the best?
When it comes to where to play live craps, you must carefully consider several factors to find the best ones. This includes some items we mentioned before, and of course, offering live dealer craps among other things. We'll cover those next.
Learn more about Live Casinos.
Different variants available

Live casinos currently only have one live craps version, which is not the best situation. This is because live craps is still very much a new live dealer game. However, it might be worth your time to also check RNG craps games, which do offer different variants.
Check our Craps Variants page for more details.
Overall good payouts ratio
Even if you play for fun, it's good to know the casino will deliver decent payouts while you are on a lucky streak. If you play craps live, it's essential to assess how quickly winnings are paid out, and the best casinos know this. They offer fast payouts for craps and other live games.
Suitable live craps bonus & offers
There aren't a lot of casinos that offer bonuses specific for live craps. Even then, you will find casinos with promotions from specific live dealer providers. One of them is Evolution and its tournaments. This company has a live craps game and you can win decent prizes when you participate.
Check out the best Casino Bonuses for you!
What is a Live Dealer Craps Game?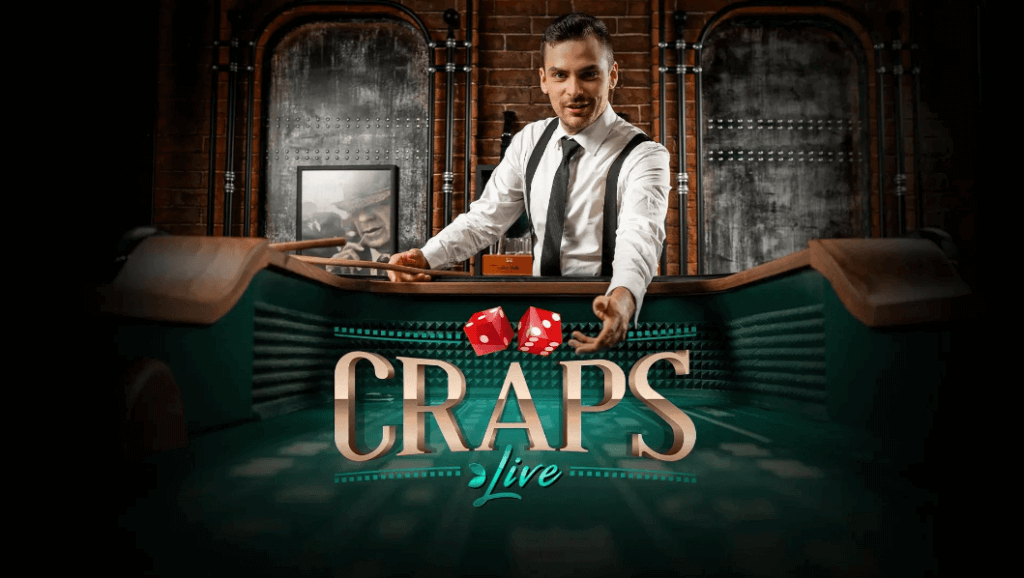 "God doesn't throw dice", Einstein famously said. However, machines do, at least virtually. If you ever played RNG craps, you might have missed the "human" factor. This is where casinos to play live craps come into play. You access a video live stream of a real table with a live dealer who 'throws' the dice via a special machine.
Differences between live dealer craps and online craps
This is a common issue when reading articles about craps and online casinos. Aren't all games "online"? Whereas the answer is yes, when people mention online craps, they usually mean RNG games.
When you're playing an RNG craps game, you're playing against specialised software which has a Random Number Generator. That is, results are computed by software.
On the other hand, live dealer craps involve a real dealer. This person is many times in charge of rolling the dice, so nothing is "virtual" except that you aren't physically there. A series of cameras in some titles allow you to watch the action from different angles, something that RNG games don't generally offer.
Since playing with other people isn't the same as going against the computer, it's a very different experience. You might want to try both types of games to find out which one you like best.
Looking for some casual fun? Check out Live Game Shows at online casinos.
Exclusive Features Available in Live Craps Games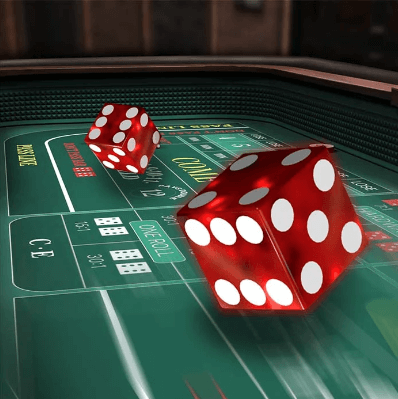 Besides obvious things like full HD video streaming, there are other features exclusive to the live version of craps. Below are the most important.
Mechanical shooters
Some people might argue that the dealer rolling dice represents a conflict of interest of sorts. This is why many games offer mechanical shooters. This device rolls dice automatically, but the dealer isn't completely eliminated since they still need to load the dice and activate the shooter in most cases.
Live chat with other players
To enhance the social aspect of live craps, most developers offer a chat room. This offers a nice way to connect with other players and makes the game much more enjoyable if you're looking to socialise on the side a bit.
How to Play Live Craps
When it comes to how to play live craps, players have valid questions. The most puzzling aspect is how you roll the dice as a player if you're not physically there. While we covered that before, there's more to it.
Basic rules – a quick summary
Even though there are variants, the basic rules remain unchanged for most. Like real-life craps, the game starts with the shooter placing a bet on the "pass" or "don't pass" line. The other players bet, and a puck with on/off positions is used to track the shooter's intention.
For in-depth info, please check our craps rules page.
The best live craps strategies
Craps is a game of chance, live or otherwise. It means there are no surefire ways to win. However, you can make use of some strategies to help you get more out of a game. This doesn't mean you'll be able to influence the game, but strategies can equip you with a better assessment of the situation.
One of the main recommendations is using a betting system such as the Martingale which can help to manage your bankroll properly.
Since live craps is played live, you don't have a huge amount of time to think. The best advice involves keeping a close monitoring of the action and being able to make fast decisions.
Check out Craps Strategy and level up your game.
Pass or don't pass in a live crap game, what's better?
This is a common question since these two are the most commonly placed bets in craps. You might wonder whether one offers an advantage over the other, and as it turns out, one of them does.
While the pass bet is the "default" bet in craps, the house edge is generally speaking a bit higher for this type of bet. When compared to the don't pass bet, the house edge is 1.41% while the don't pass offers an edge of 1.36% for the casino.
Even if don't pass is the better bet, this doesn't mean that you should wager a don't pass bet each time. An important factor when playing craps is fun and excitement. The don't pass bet means you're betting against the shooter, which can take away the fun since most people who are used to playing this game in real casinos consider it "betting to lose".
Learn more about other Dice Games at online casinos.
Advanced Live Craps Tips – Beat the Dealer
While there's no magical formula to win at live craps each time, there are some things to consider.
Avoid proposition bets
It's best if you try to avoid proposition bets in general. These are high-risk and very enticing because payouts are high but the odds are low. Use them at your discretion but don't rely on them.
Make use of odd bets
Among the many wagering options available, odd bets are interesting because they don't have any house edge, and some live craps games offer up to 100x for these bets.
Understand the odds
No bet is a good one if you don't understand what you're betting for. This means knowing the house edge and bet payouts to make an informed decision whenever you play. A good example is the pass vs. don't pass bet previously discussed.
The Top Live Craps Providers in India
Unlike roulette and other live games, there still isn't an incredible amount of live craps games in India, but that doesn't mean there are none. These are the top developers that bring quality craps and other dice-related titles:
Not only is Evolution one of the leaders in the iGaming industry, but the company also launched the world's first-ever online live craps game. It also offers exciting dice games like Lightning Dice.
This company specialises in live casinos, and its Live Craps is an excellent proposal for fans of the game, with zoom-ins after every roll.
Aside from the countless RNG games that Pragmatic Play has, the provider also a live games section loaded with live titles. You can find a
A Good Start for Indian Players
As you can see, playing live craps can be very rewarding and thrilling. In and out of India, however, there aren't still many options to choose from, which is something we hope will change, given the interest in craps.
The good news is that what's currently being offered is top-notch, and you can feel immersed in the action, just like in a real casino. There are several factors that make it a completely different experience from RNG counterparts, and the adrenaline rush you get whenever you see real dice rolling has no comparison.
Frequently asked questions
Currently, live crap games either use a mechanical shooter or the dealer to roll the dice.
Generally speaking, it's not possible to play live dealer craps for free. This is because the majority of games require bets to participate in each round. You can find demo versions of RNG craps to practise, though.
You can check our information on the best live casinos with craps. We only feature safe, trustworthy casinos with proper licences.
They are more or less as difficult as their real-world counterparts. However, some games like Live Craps from Evolution have an Easy Mode to get you started if you're not used to the bet types and want to familiarise yourself with the interface.