Money Cart 2 review
Money Cart 2 is a slot released by Relax Gaming on July 20th, 2021. The game is centred around the bonus of its previous iteration, Money Train 2. The bonus round is the only thing you'll find in this slot; no base game to keep you distracted. Read our Money Cart 2 slot review and win up to 5,000x.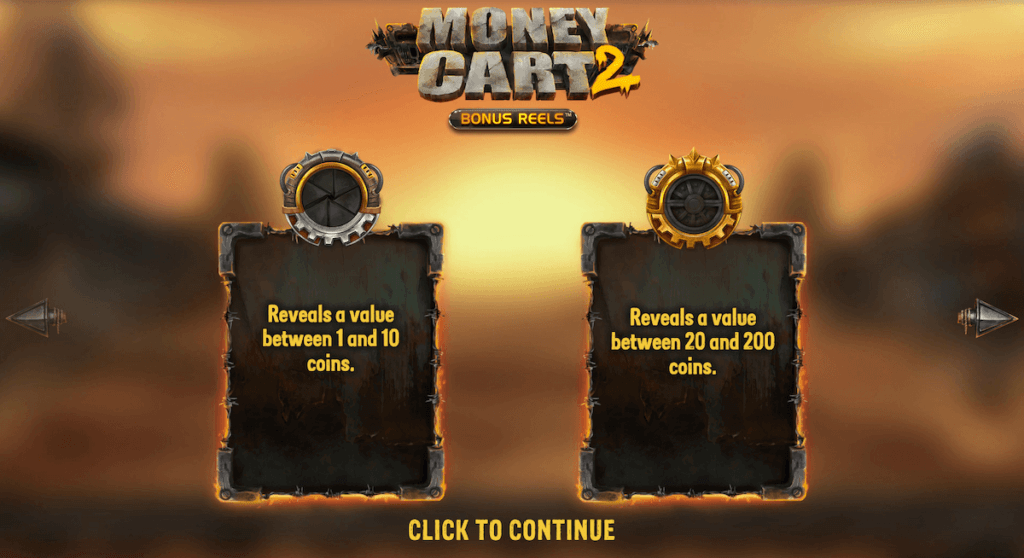 What you'll find in this Money Cart 2 Review
Our team of online casino experts extensively tests every game. Our goal is to provide honest and reliable reviews focusing on the online slots' ins and outs. Here's what our reviews take into account:
Symbols and payouts – What do the symbols look like? What are their payouts?
Minimum/maximum bets and Autoplay – What bets can you place? Does the slot have Autoplay and other features?
RTP and Volatility – How does the RTP rate compare to other games? What about the volatility?
Jackpot and maximum win – How much is it possible to win? Is there a way to trigger a jackpot?
Bonus game – What benefits does the bonus game bring? How do you trigger it?
Wilds, re-spins and other symbols – How do these symbols work? How do they improve gameplay?
Bonus buy – Is there a way to buy your access to the bonus game? How much does it cost?
Graphics and soundtrack – What is the slot theme and environment? Does it feel immersive?
Play Money Cart 2 with the best bonus
Bonuses are a major part of the online gambling experience. You can use our offers and promotions page to grab the best bonuses. Give it a look.
Money Cart 2 Symbols and Payouts
Money Cart 2 is an innovative slot that relies on unique mechanics. Learn more about this slot's symbols, paylines, and bets below.
The symbols
One of the best things about Money Cart 2 is that every symbol is an exciting addition. On top of their reasonable payouts, they're also responsible for triggering the game's bonus feature.
There are only two base game symbols in Money Cart 2 – the bonus and the golden bonus. The first pays between 0.1x and 1x your stake, while the second pays between 2x and 200x.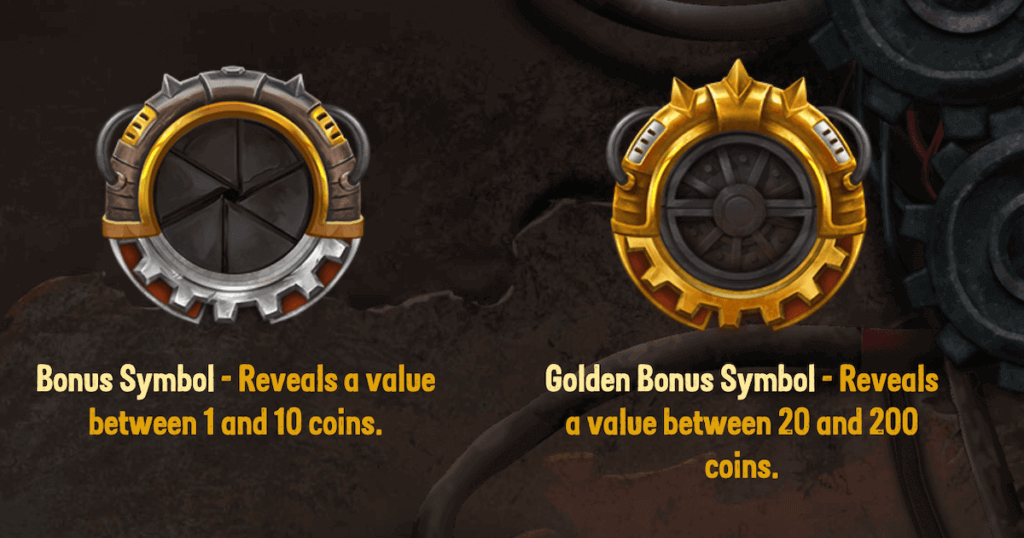 Paylines
Money Cart 2 discards traditional paylines in favour of a Hold & Win-like mechanic. Wins are paid after players land a minimum of three bonus symbols in each round. No matter where you land them, you'll receive a payout.
Min/max bet, autoplay option
This slot caters to every player style, beginners or veterans, due to its wide range of bets – ₹0.10 to ₹200. There's also a very welcome Autoplay feature where you can select an unlimited number of spins and create personalised limits. A Turboplay functionality is also present, increasing the speed of your game.
Money Cart 2 RTP
Money Cart 2 has an RTP rate of 98%, a noticeable increase over the industry average of 96%. RTP measures the theoretical return of casino games. In this case, there's an average return of 98 INR for every 100 INR placed. Please keep in mind that RTP is calculated based on millions of spins. As such, wins aren't guaranteed.
Volatility
Money Cart 2 is a high volatility slot. This means that wins are uncommon but have a higher value than medium and low volatility slots. This type of game is perfect for risk-takers that prefer waiting for bigger payouts.
Jackpot and/or maximum win
The maximum win in Money Cart 2 is limited to 50,000 coins, or 5,000x your stake. To achieve this prize, your symbol values must add up to this amount.
Money Cart 2 defies traditional slot mechanics while having an excellent RTP
This slot is great for those looking for a fun and innovative mechanic. Not only does it look different from anything else, but it also offers decent payouts and a competitive RTP rate of 98%.

Money Cart 2 is a good slot for every bankroll due to its amazing bet range. But remember that the high volatility may not be everyone's cup of tea.

Game Features
Money Cart 2 is a unique slot. Instead of featuring a base game and a potentially rewarding bonus round, the slot only features the latter. The only way to win is by triggering the bonus feature. To do so, you'll have to land a minimum of three bonus symbols. Learn more about this innovative mechanic below.
Wilds, re-spins and other features
Retriggers are essential in Money Cart 2. Once you start the bonus feature, you'll receive three re-spins. After landing two additional symbols or a multiplier, the number of spins will reset to three. This retrigger mechanic can keep you playing until you fill the grid with bonus symbols.
Wilds
Money Cart 2 doesn't have wilds. However, the slot benefits from nine multipliers that increase your wins and spins.
Re-spins
As mentioned, re-spins are an important part of this game. They're what keeps you going, increasing your winnings for every additional symbol landed.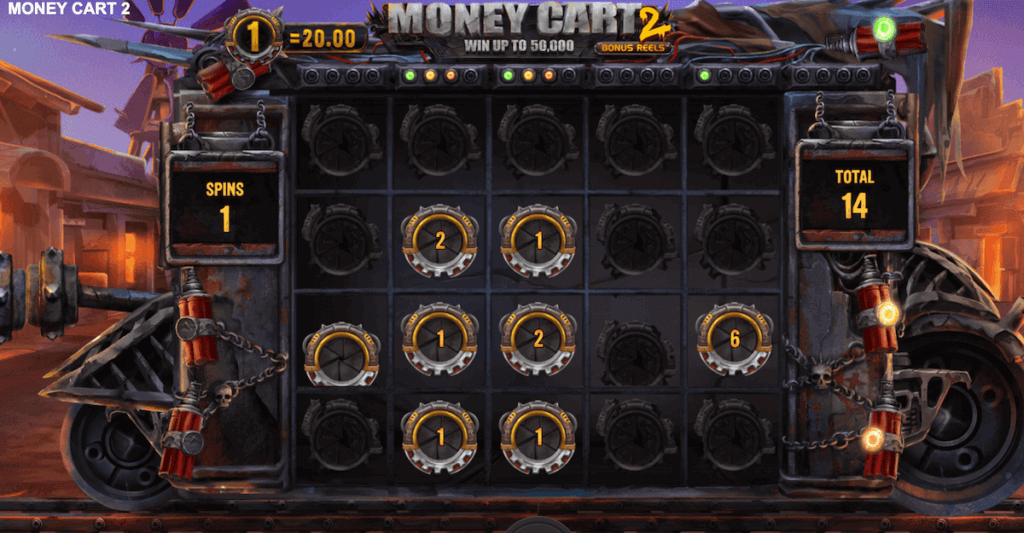 Multipliers
Money Cart 2 features nine multipliers that increase the payouts of the bonus symbols. Here's how they work:
Payer – Adds a random coin value to all the other visible symbols.
Collector – Reveals a random value and collects all the values from other visible symbols.
Collector/Payer – Reveals a random value and collects all the values from other visible symbols. Then, it adds its total value to all the other visible symbols.
Sniper – Reveals a random value and doubles the value of up to eight other symbols.
Necromancer – Reveals a random value and retriggers up to seven special bonuses.
Reset Plus – Reveals a random value and increases the number of spins by one.
Persistent Payer – Just like the regular Payer symbol, except it retriggers every spin.
Persistent Sniper – Just like the regular Sniper symbol, except it retriggers every spin.
Persistent Collector – Just like the regular Collector symbol, except it retriggers every spin.
Hold and Win
Essentially, Money Cart 2 is centred around the Hold and Win mechanic. The respin count will reset for every additional symbol you land, allowing you to collect more prizes. The round ends once you've used all your re-spins.
However, unlike the common Hold and Win feature, you won't win a jackpot if you fill all the spots. Filling the grid ends the current round, and 500 coins (50x your stake) are paid.
Money Cart 2 Graphics & Sound
See what Money Cart 2 has to offer regarding the graphics and soundtrack:
| | |
| --- | --- |
| Graphics | 2D |
| Optimised for Mobile | 👍 |
| Music | Western/Steampunk |
| Special features | Multipliers, Hold and Win, Re-spins |
Money Cart 2 is a fun Western slot with a Mad Max vibe to it
Mixing themes without creating a cluttered mess isn't easy. However, Relax Gaming managed to effortlessly combine two extremely popular themes – Western and Steampunk.
The result is an immersive dust-filled environment with a country/rock soundtrack to match.

Solutions if you have some issues with a game
No matter how well optimised a game is, issues can happen. If you run into problems while playing Money Cart 2, make sure you try the following solutions:
Restart the game to replay the current round.
If you can't replay the round, get in touch with your casino's customer support.
Bets affected by malfunctions are considered invalid, and all the wagers are returned to players.
Money Cart 2 Slot Verdict
Money Cart 2 is the perfect example of slots constantly evolving and new mechanics being introduced. The fact that there's no base game means you'll have frequent access to a potentially rewarding bonus game with an RTP rate to match.
There's only one thing we'd wish to see improved – the volatility. The lack of a base game paired with the high volatility leads to several tedious rounds where nothing happens. Overall, we rate Money Cart 2 an 8/10.
Other slots to play if you like Money Cart 2 slot
Looking for slots similar to Money Cart? Have a look at these alternatives: