Now, gambling in India is a pretty sensitive subject, and the rules and regulations keep changing – for both online and offline casinos. Make sure to check the local laws before starting on your favourite games.
The Biggest Land-based Casinos in India
From a floating grand casino on the Mandovi River to luxurious 5-star resort casino, here are top 5 Indian casinos you can step into:
1. Casino Carnival – Goa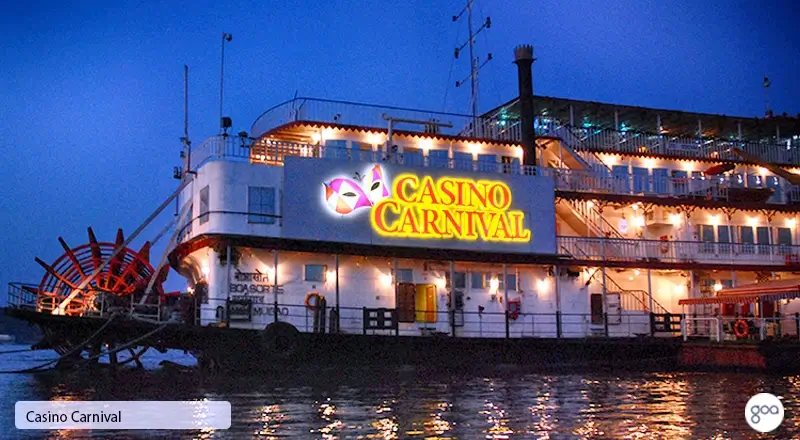 Located in Panjim, the capital of Goa, Casino Carnival is one of the biggest casinos that boasts a large collection of slot machines. It was built in 2001, which makes it one of the oldest casinos in the country. Casino Carnival has slot machines, and other table games like Roulette, Blackjack, Mini Flush, Horse race, and other activities.
Location: Panjim, Goa
Built: 2001
Size: N/A
Slot machines: N/A
Table games: N/A
If you love slots, then you can try BC.Game. This online casino has a huge selection of slots, table games, and even live games.
2. Deltin Royale – Goa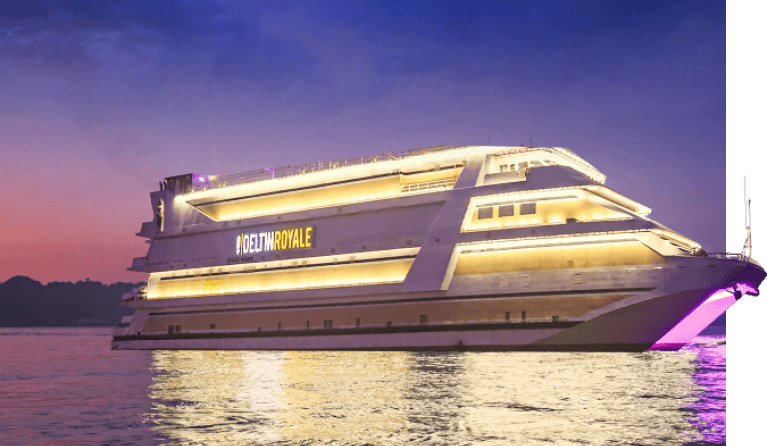 Spread over 40,000 square feet, the Deltin Royale is one of the biggest casinos in the country. What's more is that the casino is actually a cruise ship and it floats in the Mandovi river, making it one of the biggest offshore casinos. Here, you can play popular games like 3 Card Poker, 4 Card Poker, Flush, Texas Hold'em, Blackjack, Sic Bo, and other games.
Location: Goa
Built: 2013
Size: 40,000 sq. feet
Slot machines: around 1000
Table games: 123
If you like playing Poker and its variants, then you need to check out Leon Casino. This operator offers a lot of live poker tables and RNG-based games.
3. Casino Mahjong – Sikkim
Located in Mayfair Spa Resort & Casino in Gangtok, Casino Mahjong is one of the best casinos in Sikkim. The casino spans over 7000 square feet and features exclusive live game tables and poker rooms.
Location: Gangtok, Sikkim
Built: N/A
Size: 7000 square feet
Slot machines: [number of slot machines]
Table games: 15 live game tables, 7 poker tables
If you prefer playing live casino games, then you need to check out Glassi Casino – a desi casino featuring live games.
4. Deltin Daman Casino – Diu Daman

Deltin also has presence in Daman and Diu, and in fact, Deltin Daman Casino is a huge 60,000 square feet property with loads to offer. You can play your favourite card games, dice games, and even slots.
Location: Daman
Built: 2017
Size: 60,000 square feet
Slot machines: 1500 machines and games
Table games: N/A
If you want variety in your games like Deltin Daman offers, then you should check out JeetCity Casino.
5. Casino Paradise – Goa
Casino Paradise is a luxurious 5-star property located in Panaji, which is sure to give you a James Bond-like Casino Royale treatment. The casino is best known for its roulette offerings, along with the exclusive 'Robot Arm Roulette.' You can also enjoy Blackjack, Flush, Baccarat, and more.
Location: Panaji, Goa
Built: N/A
Size: N/A
Slot machines: N/A
Table games: N/A
If you're looking for a VIP experience, then check out PlayOJO. The online casino offers a lucrative VIP experience with OJOPlus.
Did you know
In India, you will find casinos in a select few states like Goa, Sikkim, and Diu and Daman, where gambling is legal.
Land-based casinos vs. Online casinos
Land-based casinos are often pitted against online casinos, and with good reason. In a real casino,
Online slots and slot machines
Physical slot machines will make you nostalgic with the whirring sound and cha-ching. But online slots make things more interesting with their 3D graphics and bonus features. Very often, online slots have higher RTP, and you even get a bonus to play the game with.
Table games
In physical casinos, you can take a seat at a table, interact with players, and have a blast. Meanwhile, you can play table games at online casinos anytime and anywhere. You can also choose between RNG games and live casino games.
Bonuses
Land-based casinos offer almost no bonuses, but online casinos are very generous with bonuses. You get a welcome bonus, weekly cashback, reload bonuses, free spins, VIP bonuses, and much more.
| | |
| --- | --- |
| Land-based casinos | Online casinos |
| Real-life games | Lucrative casino bonuses |
| Interact with players and dealers | Play anytime, anywhere |
| Casino loans | Wider game selection |
| | More payment options, including cryptocurrencies |
| | Live dealer games for immersive experience |
While physical casinos are certainly more lively and immersive, online casinos offer more ease, convenience, and accessibility. You can learn more about Online Casinos, their legality, and much more at IndiaCasinos.
Requirements for land-based casinos to operate legally
As mentioned earlier, in India, casinos are legal only in a few states. To operate a casino in the country, it has to follow strict regulations. Even with that, each state has its own legislation about casinos. For example, in Daman, casinos can be opened only at 5-stars resorts. But in Tamil Nadu, there is a complete ban on gambling.
To pick the best licensed casinos, check out our page on Gambling Licenses.
Did you know
Recently, Chhattisgarh and Tamil Nadu banned online gambling.
History of casinos in India
In India, gambling has always been a sensitive topic. It started with The Public Gambling Act of 1867, which banned casinos or "gaming houses". Then other acts like The Prize Competition Act of 1955 ban games that offer money as rewards. However, The Information Technology Act of 2000, has no mention of online casinos, which makes them kind of "legal." It should be noted that the laws regarding to gambling are left to the states.
Situation of land-based casinos in India now
At the time of writing, gambling and land-based casinos are banned in most of the Indian states, except for Goa, Sikkim, and Daman. Online casinos still need to be completely legal, but states like Tamil Nadu, and Chhattisgarh have placed outright bans on those. To replace the old 1867 act, the government is working towards a newer gambling bill. Along with that, the MeitY has come with a regulatory framework for online gaming.
Indian Casinos are Grandiose, but have severe limitations
One look at the Deltin Royale and you know you are in for a luxurious, opulent retreat. As of today, Daman has one casino, Sikkim has two, and Goa has ten of them. However, these casinos are subject to strict local regulations. And while these rules may not limit your experience, the online counterparts have loads more to offer to the players.
Frequently asked questions
Casinos in India are located in three states - Goa, Sikkim, and Daman. Together, these states have 21 casinos, with Goa topping the list.
Deltin Royale, India's (and Asia's) biggest casino, is located in Goa.
Casino Palms, located in Goa, is one of the smallest casinos in India.
Deltin Royale in Goa is Asia's biggest floating casino with an area of more than 40,000 square feet.