Tiki Fruits Totem Frenzy review
Let's go to the beach with the Tiki Fruits Totem Frenzy slot game from Red Tiger. Spin the reels to play for a shot at winning some cash!
Here's everything you need to know about the features, win rate and gameplay in our Tiki Fruits Totem Frenzy slot review!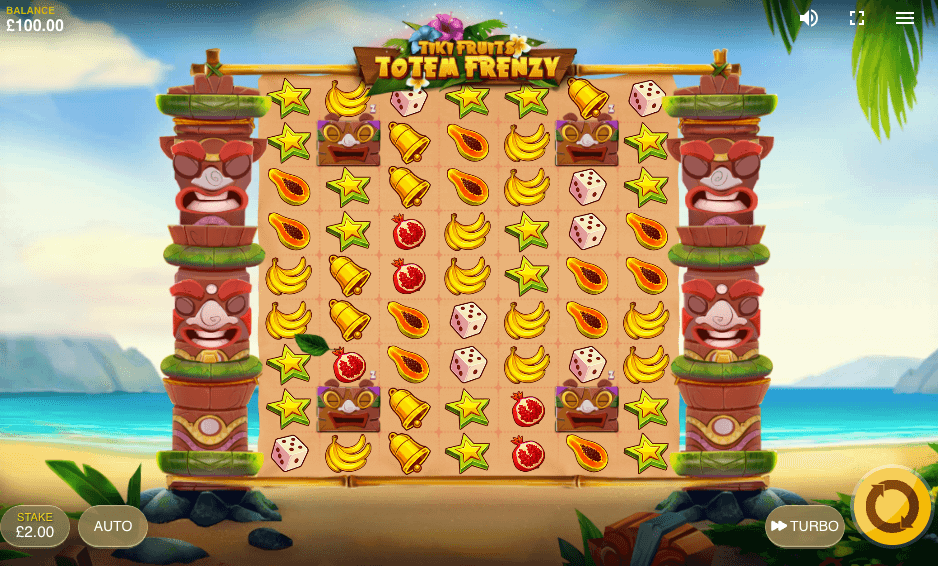 What you'll find in this Tiki Fruits Totem Frenzy Review
We make it a point to bring you honest, unbiased opinions and information in our reviews, to help you decide whether this slot is for you! Here's how we test the games:
The slot symbols: What slot symbols does the game have? What do they pay? Which ones do you want to see on your reels?
Minimum and maximum bet, autoplay option: What is the biggest and the smallest bet you can make on any spin? Is there an autoplay feature? How does it work?
The payout rate: What sort of return on your money (RTP) can you expect from the slot?
Volatility: Does the slot pay large amounts less often or small amounts more frequently?
Hit frequency: How often do winning combinations appear on the reels?
Jackpot and / or maximum win: Is the slot a jackpot slot? How much could you win?
Wilds, re-spins and other functions: Does the game have any wilds and scatter symbols? What about special features and functions?
Bonus buy option: Can you buy a bonus round feature, or do you have to keep spinning to trigger it?
Bonus game: Is there a bonus game?
Graphics & sound: What do the graphics look like? Do they work well with the soundtrack?
Play Tiki Fruits Totem Frenzy with the best bonus
A nice bonus amount to play with is always a great way to get going. To see more, you can visit our promos page to find the best casino offers for Indian players. 
Tiki Fruits Totem Frenzy Symbols & Payouts
This slot features 10 standard reels symbols that fit perfectly with the theme of summertime. Let's look at what the symbols are, how they pay and the paylines.
The symbols
Of the 10 symbols, five are lower-paying tropical fruit symbols, and the other five are images of gambling items (dice, stars, bells and diamonds) which pay more.
If you're looking for the highest paying symbols, keep a lookout for the Lucky 7 which pays 777x stake if you land a cluster of 25 or more symbols.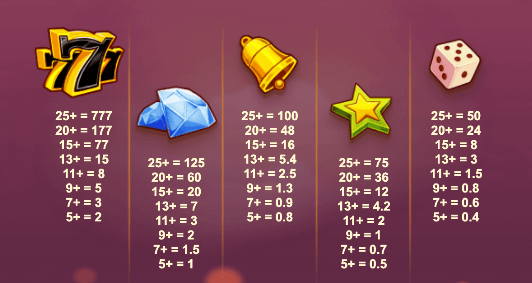 Paylines
The Tiki Fruits: Totem Frenzy slot plays out on a seven reel, nine row, cascading wins machine and uses a Cluster Pays engine.
To create a winning combination, you must land 5 or more matching symbols or wilds in a vertical or horizontal cluster, or if you have a combination of both.
Min/max bet, autoplay option
The lowest bet allowed is £0.20 (₹19.07), and the highest wager is £20 (₹1,906.83). The game comes with a simple autospin function where you can set up to 100 spins, a turbo spin and a loss limit button that players can use to control their spending.
Tiki Fruits Totem Frenzy RTP
A game's RTP is the amount of money you might expect to see returned on your bets over time.
Tiki Fruits Totem Frenzy has an RTP of 95.69%, representing a return of ₹956 on every ₹1,000 spent.
Volatility
Slot volatility indicates whether the game will make large payouts infrequently or whether you can expect small payouts more often.
Tiki Fruits Totem Frenzy is a highly-volatile slot which means that while you may wait a while between wins, they will be bigger.
Jackpot and/or maximum win
You can win one of the offered jackpot tiers when three or more jackpot symbols appear on the reels or when the jackpot is triggered by а game feature.
Тhe jackpot is triggered randomly and can be won by playing any of the linked jackpot games after spinning the reels.
The maximum win for this game is 3,319x your total stake per spin.
Our thoughts on this game's symbols and payouts
We believe that 10 standard reels symbols allow for more opportunities to win big for India players to win big!

This slot game's 95.69% RTP is another feature that makes for a better playing experience, as for every $1,000 spent, a player can get $956 back.

Another great feature is Tiki Fruits Totem Frenzy's high volatility. This means that although you have to wait a while longer between wins, each win will be bigger.

Game Features
This slot game has many interesting features, which we will go through one by one. These include all the special features, symbols and how you can win.
Wilds, re-spins and other features
The Tiki Fruits Totem Frenzy game has wilds, multipliers, free spins, and more. Each feature is linked to the other.
Wilds
Wilds work by having four Tiki masks on the grid that remain locked in the same position at all times.
If a win is registered next to them, they wake up, turning into wild symbols, and the nearest Totem heads on the side of the reels become active.
Wilds substitute for all paying symbols, and winning clusters can awaken more than one Tiki symbol if they are touching.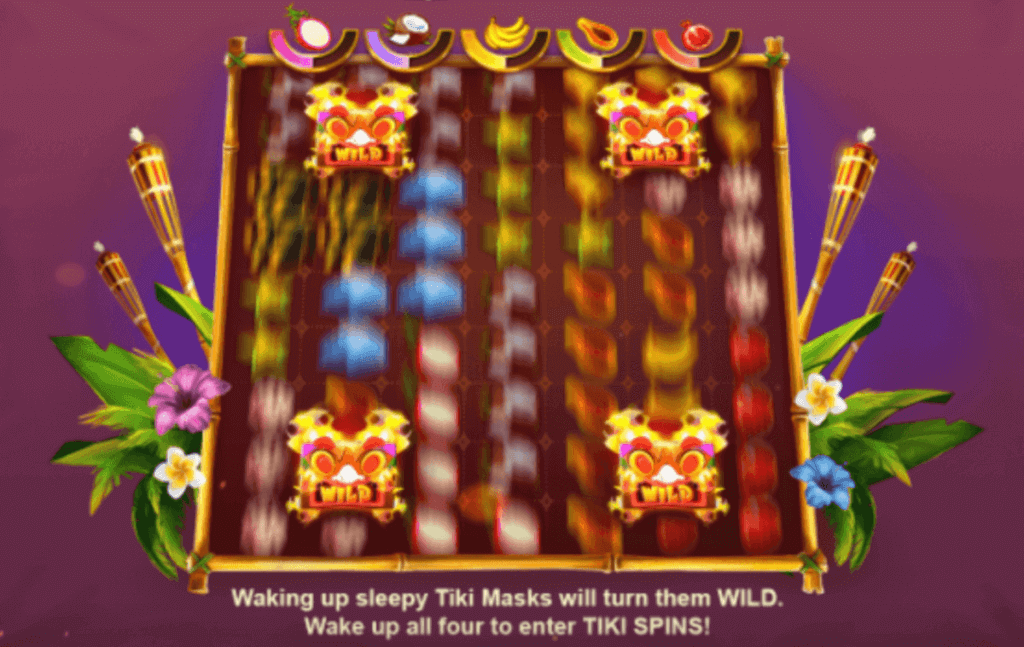 Free spins
If all four Tiki heads turn wild on a spin, then 10 Tiki Spins are awarded, with the chance of having five extra spins for a total of 15.
There is also the possibility that when three Tiki symbols are wild, the 4th is randomly turned wild. This activates Tiki Spins.
Multiplier
There are no multipliers in this slot game.
Tiki Fruits Totem Frenzy Graphics & Sound
| | |
| --- | --- |
| Graphics | 2D |
| Optimised for Mobile | 👍 |
| Music | Upbeat/positive/summer soundtrack |
| Special features | Wilds, Autospin, Free Spins, Modifiers |
Our thoughts on Tiki Fruits Totem Frenzy's game features
Having a wild symbol that substitutes for any other symbols makes for a fun way of playing, as it adds to the randomness of the game and the way players get their winnings.

The graphics and soundtrack work well together, and truly capture the summer theme of this slot game.

One feature we feel could be improved is to include a multiplier so that India players could benefit more.
Solutions if you have some issues with a game
No one wants to run into any problems, especially when they're playing. Fortunately for you, there are solutions available should any problems arise.
Any malfunction during play voids any affected pays and plays, and affected bets will be returned.
If you are unhappy with the game for some reason, you can contact the casino support team.
Let's go to the beach, and get some winnings each!
The Tiki Fruits Totem Frenzy slot game is packed with interesting features and bonuses, with an RTP of 95.69%. 
The graphics and soundtrack work well together, and truly capture the theme of the hot summer months.
While overall this is a great slot from Red Tiger, we would have liked to see a multiplier for this game, so that players from India could benefit more just like when they play other slot games.
Other slots to play if you like Tiki Fruits Totem Frenzy slot
If you enjoyed this game and want to play more like it, we invite you to look at these great options: