Also known as the 'chakri game' in India, roulette is quite popular. Just like Poker, Roulette has several different variants. To begin with, there are the three classic variants – Europe roulette, American roulette, and the French roulette. And now, we also modified versions like Mini roulette and the Lightning roulette.
To know which kind of roulette games you should be trying out, we compiled a quick guide to help you out. We have covered the classic as well as modified variants of roulette.
Where To Play Online Roulette India?
It's always smarter and safer to play at licenced casinos, so we picked the top-rated casinos for desi iGamers:
Classic Types of Roulette
The nuances of each variant may be small, but they could end up affecting the way you play.
Here, we will be discussing the three iconic regional roulette variants in European, American, and French roulettes.
European Roulette
Whereas payouts will not differ, the number of slots and the odds of winning is the most significant difference. European roulette has 37 numbered pockets with a singular green zero.
Despite the name claiming that it is Europe roulette, it exists in casinos worldwide and is one of the more popular wheel variants outside the United States.
The European variant is likely the one you would have the most experience with if most of your gaming experience comes from real-world casinos.
American Roulette
Unlike the European variant, American roulette has 38 tiles. The American variant has a zero and another double zero tile, both of which are the green pocket.
The addition of another green pocket would bring attention to the American variant. With the inclusion of yet another pocket for the ball to land in, the odds were increased against you.
Obviously, with yet another variable in which the ball can land, the house's advantage grows.
French Roulette
Another regional variant you may hear about is French roulette. French roulette is no different from European roulette, and the names are often used interchangeably.
Perhaps the most significant differences you will encounter will be some of the same terminologies used in European roulette will be translated into French, or the house may use more French phrases.

Roulette Variants for Indian Players
Roulette is one of the simplest games to play and that is what has led to all the roulette variations. All of the different variations will change the way you play the game in some way or another.
Here are some of the variations in online roulette India: 
Live Roulette
Mini Roulette
Multi-Wheel Roulette
Double Ball Roulette
Triple Bonus Roulette
Lightning Roulette
Roulette Royale
Astro Roulette
Double Action Roulette
Age of Gods Roulette
Pinball Roulette
Key Bet Roulette
Pinball Roulette
Live Roulette
Live roulette will have you playing roulette in the way you are used to, but within an online setting. The "live" distinction means that the table will be live-streamed by the casino. There you will have a dealer, who performs all the usual tasks. 
Mini Roulette
Mini roulette is a game mode intended to shake up the way it is played by making it faster-paced. Compared to its parent game modes' 37 and 38 pockets, mini roulette only has 13 pockets. The numbers range from 1 to 12, and then zero.
Naturally, fewer numbers lead to fewer bets, which leads to higher house advantage. Mini roulette is not as popular among many gamers for this reason. 
Multi-Wheel Roulette
Continuing the theme of bringing something new and fun to roulette, we have multi-wheel roulette. As the name suggests, the game adds the total number of wheels.
The standard version has 6, but some other variants, such as Microgaming's one, use 8 wheels. Multi-wheel quickly became a fan favourite because it allows you to play multiple wheels with a single bet.
The chances for you to win with this game mode are high compared to its other counterparts.
Double Ball Roulette
This game mode is developed by Evolution Gaming and supports both American and European styles. The name is also quite self-explanatory, whereby two balls are released on the wheel.
The interesting thing about this variant is that you can place two individual bets on either ball. Otherwise, the gameplay and chances remain much the same.
The double ball is popular because, like multi-wheel, increased variables increase the odds of winning.
Triple Bonus Roulette
Triple Bonus Spin Roulette is interesting, and it highlights the power of a large bonus multiplier. The biggest difference in the bonus spin's wheel is that it has a triple zero pocket.
One of the zero pockets is yellow instead of green and offers a massive x12000 bonus if the ball lands in its pocket.
This mode is more for the type of player that prefers huge payouts over smaller, more incremental wins.
Lightning Roulette
Lightning Roulette is a live roulette game developed by Evolution Gaming – and it's quite popular as far as online roulette India is concerned.
This model also gains appeal from its possible multipliers that come from some numbers on the wheel being replaced by "lucky numbers. Landing on one gives you a chance to earn between x50 and x500 multipliers.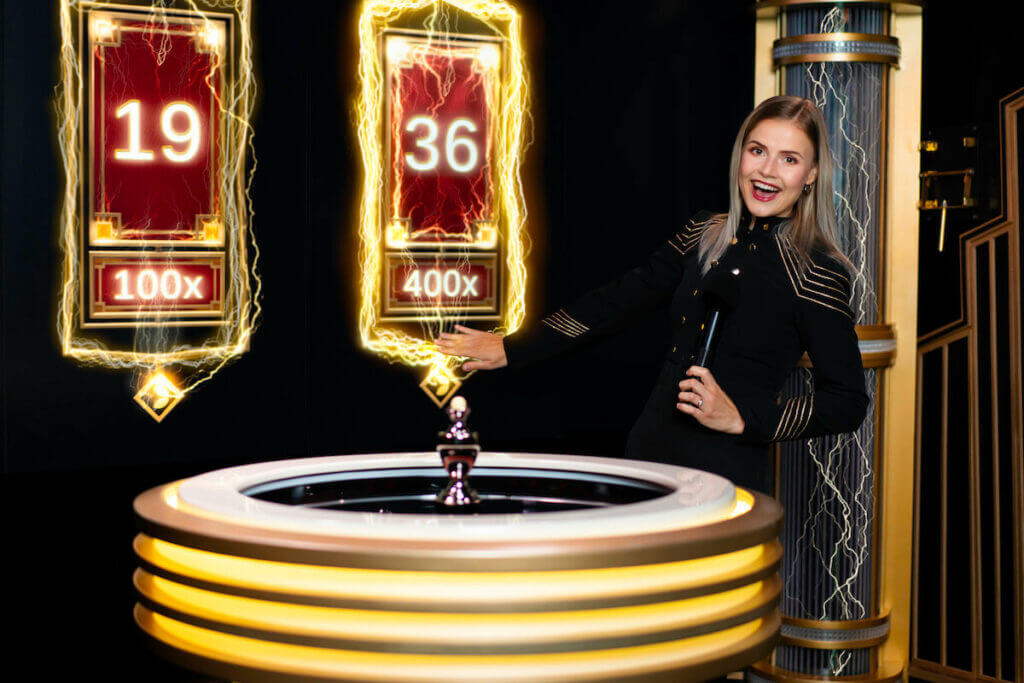 Roulette Royale
Microgaming developed this European-style game that's one of the few that offers a jackpot.
What you need to do to hit that jackpot is to land on a number 5 consecutive times. It seems like a rather slim chance, but it is also why the pot can also climb into the millions.
Astro Roulette
Astro Roulette is much like the traditional game types but with a fresh coat of paint on it. Developed by 1×2 Gaming, this game leans heavily on its ability to stand out with its strong visual aesthetic.
The game has fewer pockets for balls to land in, having only 36, but the numbers are all replaced with artistic symbols of the zodiac.
An infinity symbol returns zero.
Double Action Roulette
TCS John Huxley and its Mark VII roulette wheel are next. This wheel has two rings that spin concisely and opposite to each other, each sporting its own set of numbers.
Two balls are rolled, resulting in two different results. This one will test your knowledge of betting, as each ball carries its bets.
Age of Gods the Roulette
Age of the Gods, by Playtech, uses the European-style wheel but supports an extra field to bet upon. This field may grant house favour, but it also gives you a chance to earn more.
The bonus bet gives you access to three spins on a bonus minigame, which offers you a multiplier of up to x100 on your payout.
Pinball Roulette
Ash Gaming developed this unique take on roulette that's arguably the furthest from the traditional way to play. This game aims for fun and something different.
Instead of rolling a ball on the wheel, "rolling" is replaced with the ball being launched up as it would be in a pinball machine.
The ball will then fall, hitting pins along the way to move it around until it eventually falls into the socket. Other than that feature, the rulings and bettings remain the same.
Key Bet Roulette
Key Bet Roulette is nicely varied for both veterans and novices alike but resembles traditional roulette very little. Another game that offers an additional field is displayed by the key in the center of the table.
Placing a wager on this field gives you access to the key field, which grants you bonuses once the table has been spun.
The multiplier will spin alongside the roulette wheel.
Slingshot Roulette
Slingshot is for the player that enjoys the traditional ruling system but with the polish of a modern approach. The game is streamed live but oddly doesn't have a dealer present.
The rules remain much the same, with the same betting. It simply provides a fast and action-packed version of the game.
Which Roulette Variation Should You Choose?
Overall, we believe that you should choose European roulette. It is the most consistent table over all the game types, so understanding its rules will branch out into many games.
European roulette offers some of the lowest house advantages statistics, meaning that you receive a payout is far more likely.
You do not need to adjust your strategy as much as you do with American roulette!
Roulette Variants with the lowest house edge
Europe Roulette Variants have a lower house edge due to having fewer variables for the ball to land on.
Multi-wheel roulette offers several wheels that end up  using the same bet, increasing your odds of winning. 
Double ball roulette has two balls that spin at once, allowing for increased chances.
Roulette Variants that payout the most
Triple bonus spin roulette can be the highest paying variant, with a multiplier of up to x12000.
Key bet roulette is similar, with large multipliers capable of being achieved.
Age of the Gods offers multipliers but is packaged in a fun minigame.
Roulette royale is the only variant we spoke about that offers a jackpot, which can often climb to incredible values.
The best variants to try out when you're new to a casino
You should seek out the America and Europe roulette tables to better understand how other players make their bets.
If you are looking for something to learn but still want your experience to be exciting, you could try Age of the Gods, Lightning Roulette, or Astro Roulette since their gimmicks don't distract from the core gameplay.
Roulette types if you're a pro!
If you are more seasoned and have good knowledge of betting strategy, you should try games that are faster pace or have a larger payout.

Slingshot roulette is designed for people who have experience, as the pacing helps keep all players on their toes.
Triple Bonus, Double Action, Double Ball, and Multi-Wheel all benefit from knowing more about betting and the strategies behind them. The game's mechanics add a whole layer of gameplay that could be challenging to a newer player.
Roulette Versions you should avoid
The least popular variant of roulette appears to be mini roulette. It just seems that there is far too much of a house edge for it to appeal to players.
To play roulette online real money India, check out our casino review. The experts at IndiaCasinos have researched casinos thoroughly to get you the top-rated, licenced casinos. Pick the one that you like the best, and start spinning the chakri game!
Frequently asked questions
No, some tables are automated, but this depends on the online casino you've chosen to play at.
It depends on your preference, but it does have worse odds!
There is no big difference besides a few minor rule changes. Actually, the names are used interchangeably.
Most of the online casinos that cater to India will have the classic as well as modified variants of roulette. Just make sure that you're playing at a licenced casino, and you're good to go.