When it comes to dice games in India, players will already be familiar with popular games such as Sic-Bo and Jhandi Munda. However, craps online remains a popular choice for players at leading online casinos in India. Our in-depth guide covers craps rules, craps odds and bets, and even craps payouts so that Indian players can learn the basics and perfect their game!
Master the Rules of Craps
Craps online is a casino game that is quite straightforward in terms of gameplay. And yet, many Indian players seem reluctant to try this game out since they often get overwhelmed when they start to read about craps odds and craps bets.
In general, craps rules are quite basic and can be mastered with relative ease. Players must bet on the potential outcome of the roll of a pair of dice. Craps rules stipulate when and how wagers are to be placed. We definitely recommend to players in India to learn some popular craps bets so that they can start playing this exciting game at their favourite casino India online.
The Objective
Craps is a dice game that is entirely based on probability, akin to being just a bit more complicated than guessing the outcome of a coin toss. Having 6 faces and multiple dice increases the possible outcomes in craps, but also makes craps payout quite lucrative in some cases. As with most online casino games in India, players must wager on the expected outcome from a round of craps.
The Craps Table
As is custom at most land-based casinos, table games such as baccarat and roulette can get quite rowdy! These types of casino games are heavily dependent on chance, but make for some nail-biting action for both the players and the spectators.
Craps tables are very popular playing spots at casinos, and they are no different when playing at an India casino online. These craps tables are generally designed to cater for standing players, and the table top shows the various craps bets that can be placed, including sections where chips should be placed.
The Dice
Craps online in India is played using two dice. When playing online craps, dice will be automatically generated with each turn of the game. When playing Craps Live, the shooter must choose two dice from a bowl of five kept at the table to ensure randomness. In land-based casinos, the die is a central part of this game. In fact, if one happens to roll off the craps table, the Stickman must examine it for damage and check with the Shooter to see if they want to change it with another.
The Puck
In such an animated table game, the dealer uses two carefully labelled pucks on the craps table to signal the start of the round. These two discs are labelled with the words "ON" and "OFF", the latter which signifies that the round is about to begin. If a shooter happens to roll a number that ends up becoming the point number for future rolls, the dealer places the ON puck on the table over the corresponding number. This stays there until the shooter rolls a 7, which ends his turn.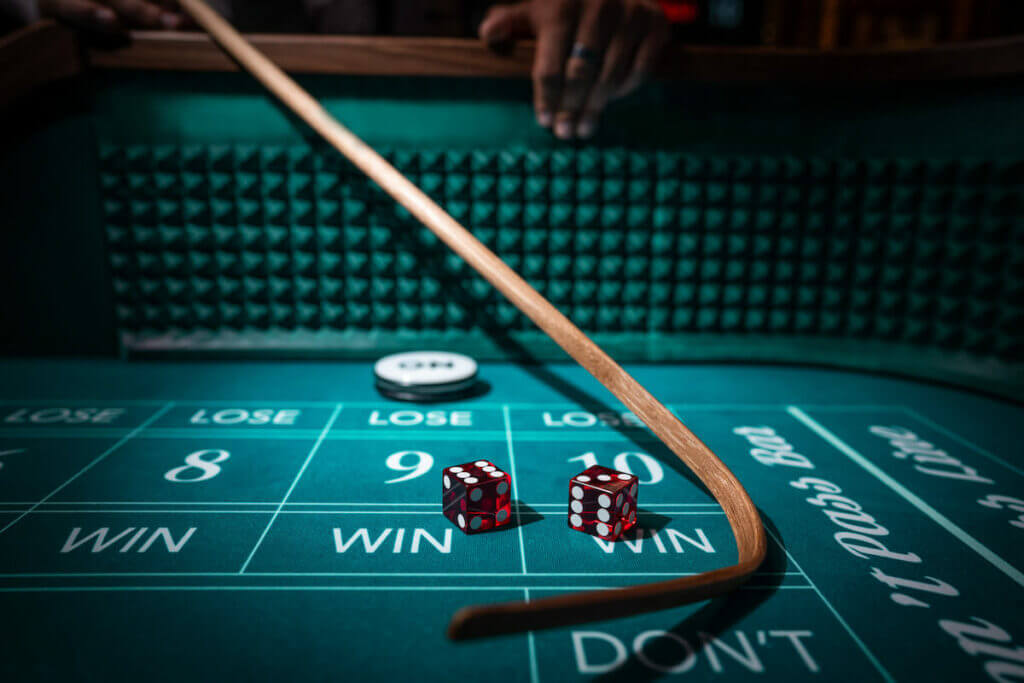 The Stick
The stickman in craps online is a person who holds a tool called 'the stick'. The Craps stick is a tool used by the stickman to recover thrown dice from the end of the Craps table and return them to the shooter.
The Shooter
The shooter is a key role in a game of online craps India. Players will take their turn in the position of shooter at either end of the craps table. At the start of each new round, the shooter will roll the dice after placing a bet on the number they expect to land. Other players around the craps table will either place a bet with the shooter or bet against them – different wagers have different craps payouts. There is also the possibility for players to skip being the shooter entirely when it's their turn.
The Box Person
Each game of online craps will have a Box Person who will supervise the entire course of the game, to ensure that craps bets are placed properly, winnings chips are distributed to the right winning players, and so on. This individual also has the key task of ensuring that the game of craps is being played in a fair and random manner – online craps software do not have a box person, as such games are tested for fairness by independent and accredited companies.
The Stick Person
The Stick Person in a game of craps is the one who calls out the outcome of a dice roll. They also collect the dice and return them to the shooter. This person also has the task to place and pay out any proposition bets.
The Dealers
In a game of online craps, players in India can always expect to see three Dealers – the box person and two others next to them, including the stick person. This team of croupiers are responsible for paying out most craps bets, retrieving chips from lost bets, and marking the point with the puck.
Possible Combinations
When it comes to craps odds and craps payouts, these all rest on the outcome from rolling a pair of dice. One six-sided die is market with dots that represent the numbers 1 until 6.
When it comes to one die, there are six possible outcomes in a roll. With a pair of dice, there are a total of 36 outcomes. A combination of 7 has the highest craps odds of being rolled by the shooter.
Craps odds and payouts
As with most table games that include roulette and blackjack, it is important for players to get a sound grasp of the different types of craps odds and craps payouts. Given the large variety of betting options in a game of craps, which will also differ when different craps variants are involved, it is imperative to have this information down! In fact, we suggest that Indian players keep a chart of craps odds and potential craps payouts handy when testing out their skills!
Craps House Edge
In any online casino game, house edge is definitely as the theoretical advantage that a casino has over the players in any given game. This is generally expressed as a percentage, and is calculated on the basis of the amount that a player is expected to lose in a game of online craps India over a specific timeframe.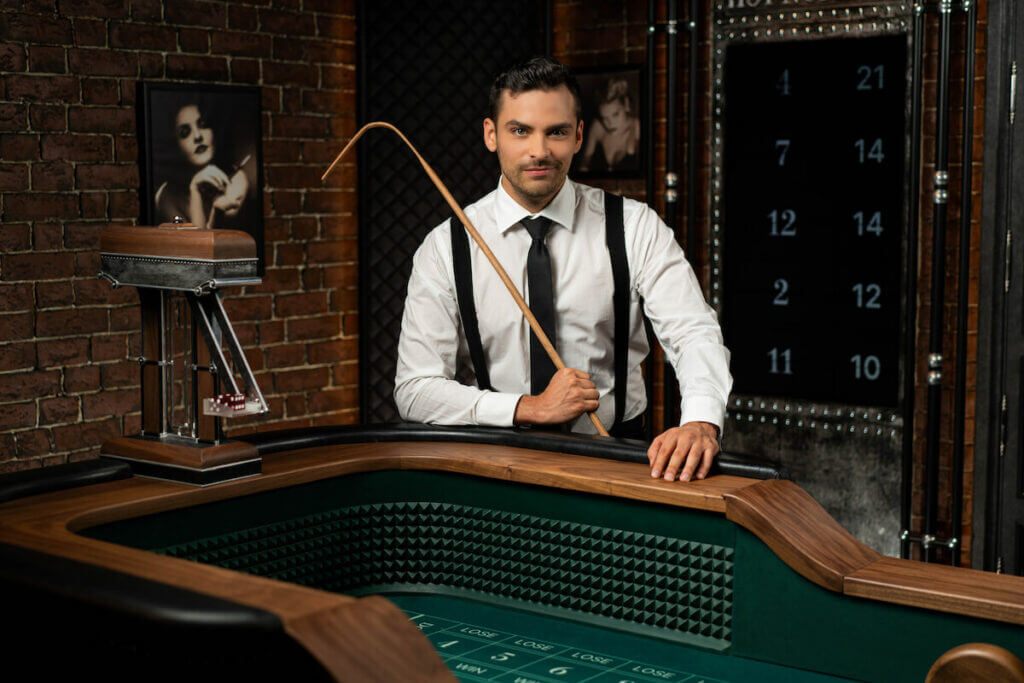 Understand all the bets
There is no shortage of variety of bettings options in a game of online India craps. Some wagers can be quite easy as suited to beginners, while others can be intricate and require years to master.
In general, craps bets are categorized as Proposition (Prop) Bets that only consider the roll of one die, and Multi-roll bets. Our honest advise for beginners of this game is to first learn about the main types of bets, and the key craps odds and craps payouts. Once there is a basic mastery of these factors, players in India can strat developing their own strategy through practice. Here are some main bets to test out next time you visit your favourite India online casino:
1. Pass Line
The Pass Line bet is a staple wager is possibly the most popular craps bet out there. Players must wager on the Pass Line on the Come Out roll. If a 7 or 11 is landed, the bet wins with a craps payout of 1:1. In addition, the Pass Line bet also carried a low house edge of 1.41%.
2. Don't Pass (Line Bet)
In the Don't Pass Bet, players will bet against the shooter. A roll of 2 or 3 results in a win for players, while a 7 or 11 results in a loss. Despite having a low house edge of 1.36%, this wager is not very popular as most players don't like to place bets on a loss outcome.
3. Come Bet
When the shooter has already thrown a come out roll, players can wager that the shooter will land a 7 or 11 before throwing the Come point again. The House Edge for this bet is 1.41%
4. Don't Come Bet
This is the exact opposite of the Come bet, which means that the players wagers that the shooter will land a 2 or 3 before hitting a 7 or 11. Should the shooter land a 12, this is considered as a tie and a 7 needs to be rolled for the bet to payout. The House Edge for this wager is set at 1.36%
5. Field Bets
During the course of the game, players in India can make a Field Bet, which is one-roll bet that either wins or loses on the roll. This particular wager wins on a 3, 4, 9, 10, or 11, and has a craps payout of 2x for a 2, and 3x for a 12. The house edge for a filed bet is set at 5.5%, as a loss is landed if the roll amounts to 5, 6, 7, or 8.
6. Place Bets
Place Bets a type of multi-roll bets in craps that can be made at any point during gameplay but are usually wagered after the Point number has been decided by the shooter. Players bet on the expected outcome before a 7 is rolled. This particular bet comes with a varied house edge of 1.52% on 6 or 8, 4% on 5 or 9 and 6.67% for a 4 or 10.
7. Hardways Bets
There is a chance for the shooter to land a pair of numbers as an outcome, and these are generally referred to as a Hardway – a pair of fives are informally called a 'Hard 10'. Hardways will only pay out if they are landed before a 7 comes up, and the numbers 2 and 12 are excluded since they form part of another type of bet. The House Edge is quite high for hardways, being 9.09% for a 6 or 8 and 11.11% for a 4 or 10.
8. One Roll Bets
Most players in India actually prefer a fast-paced style to playing online craps, which is why one roll bets are popular! These single dice wagers may appear to have low craps payouts, but they can lead to some big rewards.
Despite the fact that 7 is the most common outcome of a dice roll, it has an equal probabilty as any other number to emerge in a game of online craps India. In fact, the Any 7 bet has a House Edge of 16.67%
The numbers 2, 3 and 12 are colloquially referred to as 'Craps numbers' in this dice games. Players can wager that the shooter will land any of these three numbers, or 'Any Craps', at a House Edge of 11.11%
Statistically speaking, 2 and 12 are the most difficult numbers to land in a dice roll since there is only one number combination for each. As such, players that wager on these two numbers being rolled by the shooter can expect a rewarding 30:1 craps payout. This high-risk wager carried a House Edge of 13.89%.
A 3 or 11 bet is another wager that has a generous craps payout of 15:1 – or exactly half the 2 or 12 bets since there is double the chance of landing a 3 or 11.
Horn Bets are special types of one roll bets that are located in the middle of the Craps table. This wager is split over the numbers 2, 3, 11, or 12, and is a sort of combination of the former two bets. The 2 and 12 have a craps payout of 30:1 and the 3 and 11 carry a craps payout of 15:1.
Big 6, Big 8 Bets can be made during the course of the game, and such wagers have a craps payout at a clean 1:1 craps odds. As implied, these bets result in a win if the shooter lands a 6 or 8 before rolling a 7, and the house edge here stands at 9%.
Free Odds/Laying the Odds Bets
Despite their very long name, 'Free Odds' or 'Laying the Odds' bets are types of wager that apply after a Pass or Come bet. Here, players must wager that the shooter will land a 7 before a specific point number is rolled. In fact, these types of bets are classified as being statistically fair, so they carry very favourable craps odds and have a house edge of 0% – which makes them some of the most popular Craps bets.
On a more complicated note, buy bets are types of craps bets where a player wagers that the shooter will roll a specific Point number before landing a 7. Should a win arise, the casino online India pays out at true craps odds, but takes a 5% commission on the winnings. Some online casinos India will calculate the commission on the bet either way, while others only apply it to winnings.
How to play Craps – Breakdown of a Round
There is no difference in the approach to playing craps when you compare a land-based or an India online casino! In general, a single game of craps online can host up to twenty players. For those that prefer to play from the comfort of their home, they can still engage in the social element of craps online when playing a live casino version of the game!

To start a game of online Craps begins, the dice must be rolled.
1. Placing the Pass/Don't Pass bets
Upon commencing, players must wager whether the shooter will throw a 7 or 11 to win/pass the line, or roll a 2, 3, or 12 and lose/don't pass the line. The dealers responsible for taking and placing bets will do so on the areas marked on the craps table, while this is done automatically when playing craps online.
2. The 'Come Out' Roll
The shooter's first throw of a new game is the Come Out roll. A 7 or 11 is a win for Pass Line bets, while a 2, 3, or 12 is a win for Don't Pass bets. Any other number combination that emerges from the come out roll sets a 'Point' on the Craps table. If this occurs, then one of the dealers will place a puck on the Point number.
3. After the Point
If a game of online craps reaches a situation when a point has been set, which means that the shooter rolled a 4, 5, 6, 8, 9, 10 in their come out roll, the players can wager on the outcome of the next throw. They can bet that the shooter will land the point number, roll different numbers, or automatically lose the round by rolling a 7.
4. Hitting the Point/Sevening Out
The shooter continues to roll the dice, and bets are placed before each throw until the shooter either lands the point number or a 7 (sevens out). Should the latter two scenarios occur, then the dice are transferred to another player who becomes the new shooter and a new round begins.
Once you get used to the different craps odds and potential craps payouts, and also the variety of bets that can be placed, craps online becomes an exciting game! So if you're itching to test out your newfound skills and craps strategy, we suggest heading over to your favourite casino online India, grabbing a bonus offer, and start playing!
Frequently asked questions
When visiting your favourite online casino in India, there are four main steps to take into account if you want to play craps online. Players must first place the pass and don't pass bets, and then they must wait for the shooter to make the come out roll. The game will continue after the point and end when the shooter hits the point or sevens out.
As with most online casino games India, Craps is a game of chance. The outcome of the roll of a dice cannot be manipulated, so players are advised to take craps odds and craps payouts into account when placing their bets. However, we do recommend adopting a craps strategy when playing.
In general, the most ideal craps strategy is one that reduces the House Edge and increases your craps odds of landing on a winning number. Typically, this is the Pass Line betting strategy. It is the most popular Craps strategy employed by players at the casinos and pays out at 1:1.