Cupid's Scratch review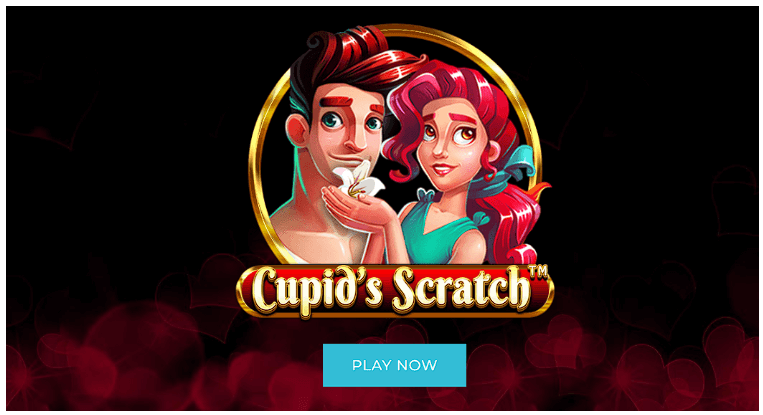 Cupid's Scratch, by Spinomenal, has an RTP of 91.83% and a maximum prize of 4,000x. You can scratch symbol per symbol or reveal them all at once. Read about its most important features below.
What You'll Find In This Cupid's Scratch Review
All games we look at follow strict guidelines and criteria that ensure a high standard for our reviews. Here's what we took into consideration while testing and analysing Cupid's Scratch.
The slot symbols: A woman, a man, a teddy bear, clinking champagne glasses, a gift box, a diamond ring, and other romantic symbols
Minimum and maximum bet, autoplay option: The minimum bet is $0.1 and the max bet is $10. The game has an autoplay option, but doesn't offer
The payout rate: 91.83%
Volatility: High
Hit frequency: N/A
Jackpot and / or maximum win: The max you can win is 4000x your stake
Wilds, re-spins and other functions: Free Play
Bonus-buy option: N/A
Bonus game: N/A
Graphics & sound: Romantic theme, with lovey-dovey symbols and background melody
Explore Hold & Win Slots.
Play Cupid's Scratch With The Best Bonus
You can find this game on countless online Indian casinos, and that's why you can take some time to choose the best one for you. Compare bonuses and promotions here before making up your mind.
| Casino | Bonus | Grab the Offer |
| --- | --- | --- |
| JeetCity | Bonus Up to 70,000 | |
| Parimatch | Bonus Up to 1,05,000 INR | |
| 9Winz | Bonus Up to 1,49,000 INR | |
Explore more Licenced Casinos and Casino Bonuses at IndiaCasinos.
Cupid's Scratch Symbols & Payouts
Cupid's Scratch is a scratch game like no other. There are 11 symbols and even a free play, which is the equivalent of a slot's free spin.
The Symbols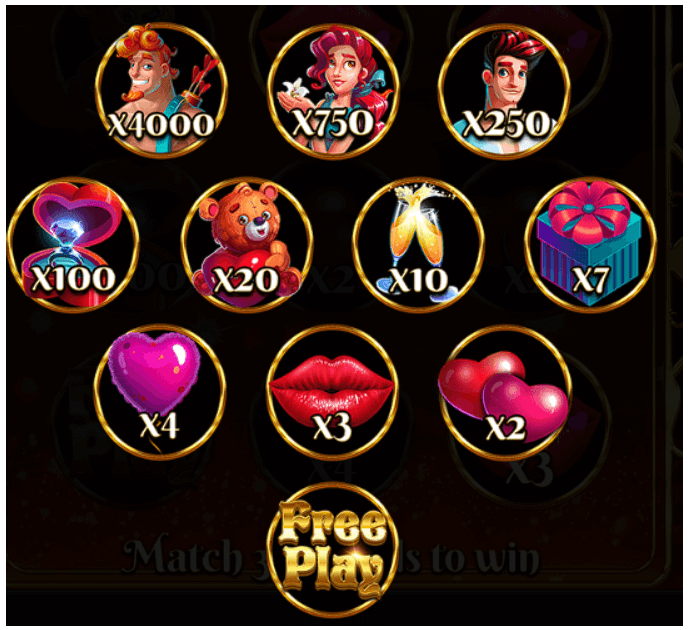 There are 10 paying symbols and a Free Play symbol that grants a new chance when three or more of them appear on the card. Cupid is the highest paying symbol, and he's worth 4,000x your initial bet.
Paylines
There are no paylines on this game. Winning combinations are awarded when three or more of the same symbol appear on the screen.
Try Megaways Slots for free!
Min/max bet, autoplay option
Bets on this game range between $0.01 (₹0.81) and $10 (₹812). You can tap and hold the Play button to activate the autoplay mode. However, this mode has no preset options.
Explore Progressive Jackpot Slots.
Cupid's Scratch RTP
This game has an RTP rate of 91.83%, which is about average for a virtual scratch card.
Check out High RTP Slots.
Volatility
Cupid's Scratch is considered a high-volatility, which is normal for this type of game.
Check out High Volatility Slots.
Maximum Win
Lucky winners can bring home 4,000x of their original bet when three or more Cupids appear on the screen.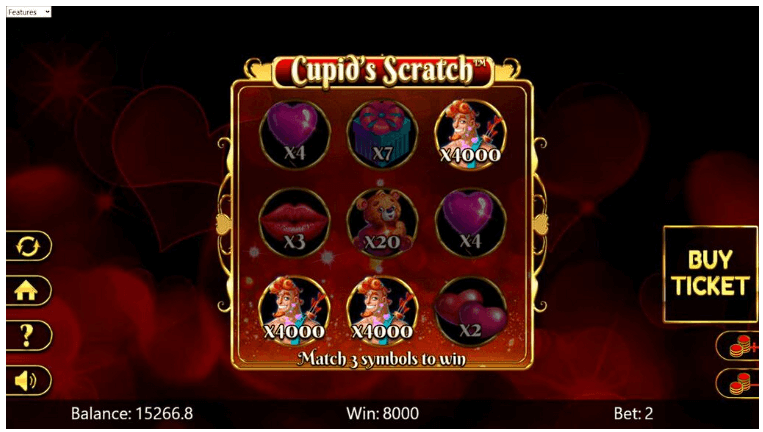 Straightforward, with a few quirks
Overall, Cupid's Scratch doesn't reinvent the scratchcard wheel, but it does spice things up with the addition of the Free Play bonus.
Game Features
Cupid's Scratch is a very straightforward game, as there aren't many features available nor complex combinations of symbols. Here's what you need to know about its features.
Wilds, re-spins and other features
Cupid's Scratch looks like a slot and, quite often, feels like one. However, it means it has no wild symbol or bonus features apart from the Free Play symbol, which is the equivalent of a re-spin or free spin.
Free Play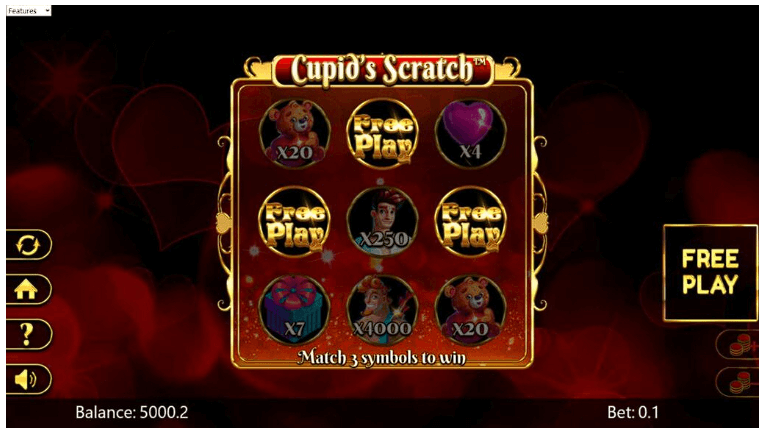 You win a free game when three Free Play symbols land on the screen.
Check out Bonus Buy Slots.
Cupid's Scratch Graphics & Sound
Learn more about the secrets of love and what Cupid's up to with the table below.
| | |
| --- | --- |
| Graphics | 2D |
| Optimised for Mobile | 👍 |
| Music | Romantic soundtrack, with magic-like sound effects |
| Special features | Animated symbols |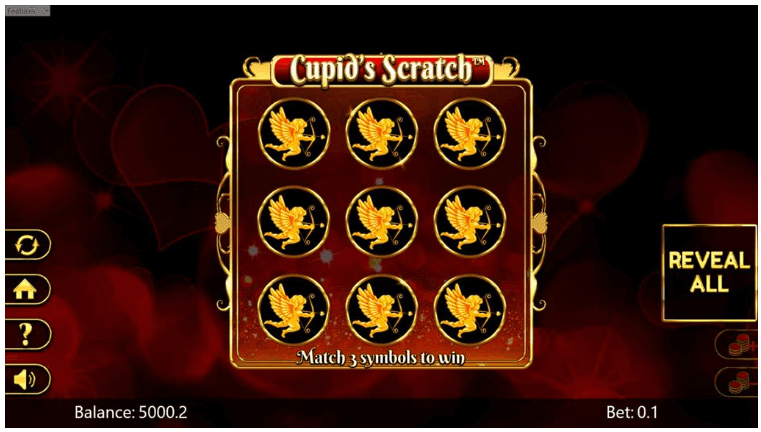 Cupid's Scratch has a high-quality level of graphics and sounds
There's a nice soundtrack rolling throughout the game, mixed with the sound effects of the winning combinations. All symbols are colourful, neatly drawn, and presented against a dark-red background full of hearts.
Solutions If You Have Some Issues With A Game
Love isn't always perfect: miscommunication and mismatches can happen to anyone. Here's what you can do if an error occurs during the game.
In case your game is interrupted, there's a possibility to replay the game when the system recovers
If replaying isn't possible, the player will be refunded, and all wins will be nulled if there are any.
It's Eternal While It Lasts
Cupid's Scratch only has one special feature (Free Play), but the 4,000x max win is quite enticing.
It has incredibly simple gameplay, where hoping for three of the same symbols to appear is pretty much everything a player can do. Nevertheless, you aren't likely to get bored with this love story.
Other Slots To Play If You Like Cupid's Scratch
FAQs
Here are some FAQs about the Cupid's Scratch game…
1. What's the highest-paying symbol on Cupid's Scratch?
The highest-paying symbol in this game is Cupid himself, who awards the max payout.
2. Is there a bonus round on Cupid's Scratch?
There are no bonus rounds in this game. However, there's a Free Play symbol that grants an extra round when three of them land on the screen.
3. What's the maximum payout on Cupid's Scratch?
The top prize in this game is 4,000x, the initial bet.
4. What's the betting range on Cupid's Scratch?
Players can bet between $0.01 (₹0.81) and $10 (₹812) in this game.
5. What's the RTP on Cupid's Scratch?
The return to player rate (RTP) for this game is 91.83%.
6. Can I play Cupid's Scratch for free?
You can find the demo version of Cupid's Scratch on a range of Indian casinos. Check our reviews to find out which ones we recommend!