A roulette wheel might make you think that it's a simple 'spin the wheel' game – so if you're lucky, you might win a bet or two. However, casino veterans will tell you otherwise. If played smartly, roulette can actually get you some big wins. To master these roulette tricks, you would have to employ some maths and betting strategies.
If you want to learn more about the best roulette betting strategy, continue reading this page!
Most Popular Roulette Strategies
Now, let's something clear, right off the bat – there are no " roulette tricks " or "winning strategy for roulette" that would make you a champ at the game. The 'tricks' here refer to betting strategies and bankroll management.
Roulette strategies come in different forms, and there are lots of strategies you can choose to use. Since there are various roulette bets with different rules, odds, and payouts, the strategy you should pick should be in relation to the kind of bets you want to place.
Keep reading to see some of the best roulette tips and strategies.
Roulette strategy n°1: Martingale Roulette Strategy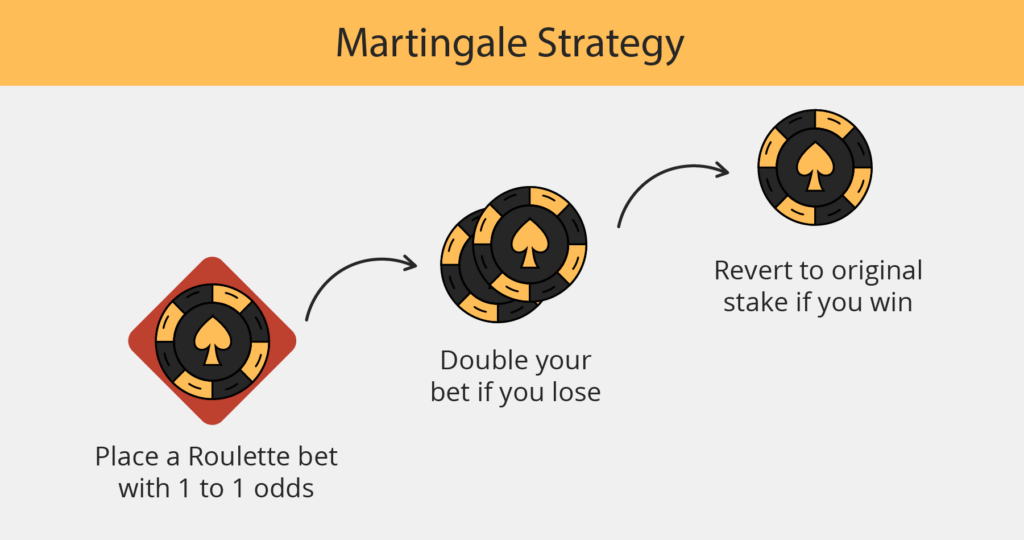 Regular iGamers will be all too familiar with the Martingale strategy. You can use it for any casino game – including roulette.
The Martingale Roulette Strategy is quite easy to understand and execute. All you have to do is simply doubling your bet for every loss with the hope that you would hit a win to regain your previous bet amount so that you can start again.
The problem here is that a losing streak can lead to big losses. So use the Martingale Roulette strategy carefully, and don't go chasing losses!
Roulette strategy n°2: Reverse Martingale Strategy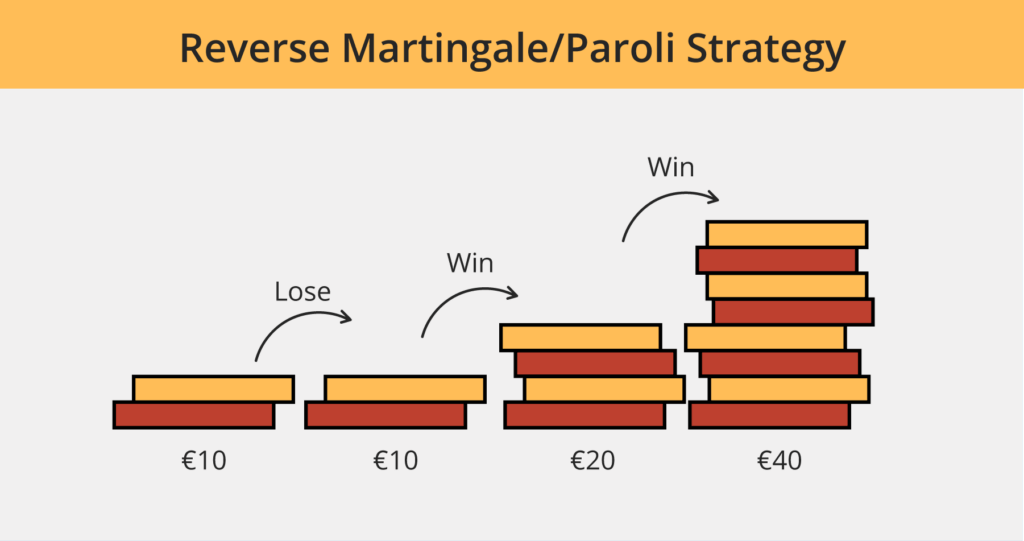 Reverse Martingale is exactly the opposite of the Martingale Roulette Strategy. Here, you double your bets on every win so that you can return to the initial stake on the previous loss.
This strategy works well, especially for players with low bankrolls, since you only increase your bets positively.
Roulette strategy n°3: Fibonacci Strategy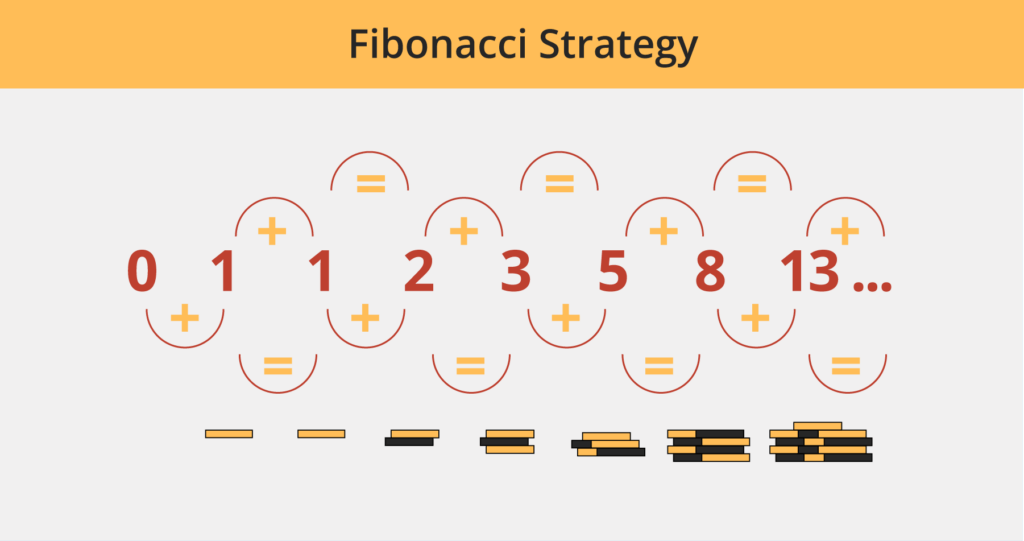 If you are familiar with the mathematical formula Fibonacci square, then the Fibonacci strategy would be easy for you to understand.
The strategy is derived from the formula, where it creates a sequence by including two last numbers to make a fresh one. In simple terms, all you need is to move up the sequence a step with each win and a loss.
The goal here is to build a flow when you place bets, making it perfect for adding purpose to your bets.
Roulette strategy n°4: The D'Alembert Roulette Strategy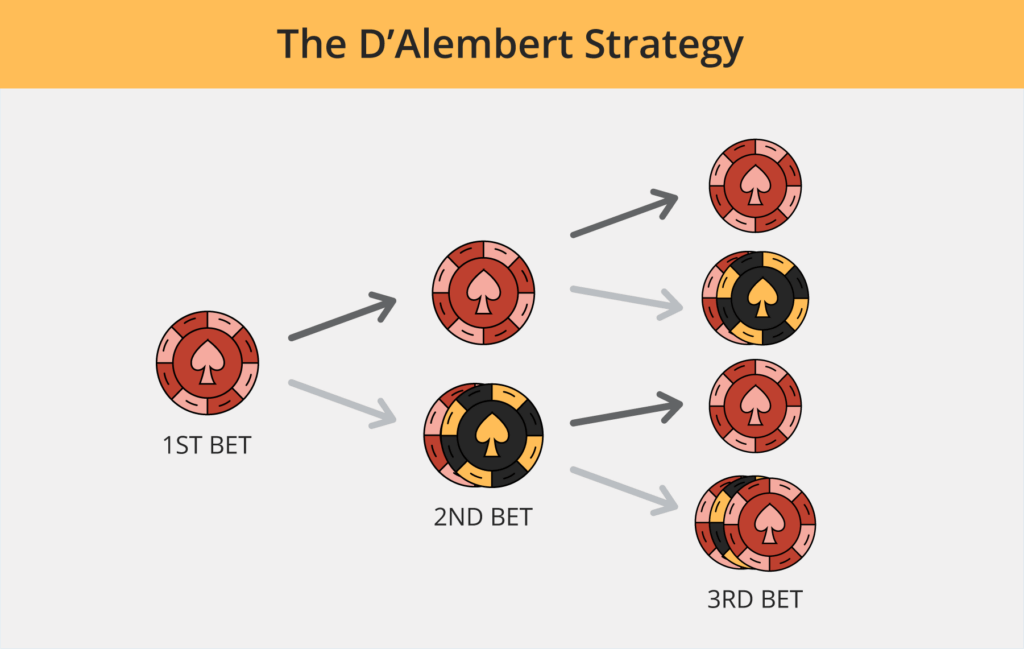 The Gambler's Fallacy or D'Alembert strategy makes use of the theory of balance. For instance, if red numbers have won for a sequence of games, there is a chance that a black will come out soon.
Although it is a more superstitious belief of maintaining balance in results, it is a valid strategy while playing roulette.
Roulette strategy n°5: Contra D'Alembert Roulette Strategy
Another strategy that you can try is the Contra D'Alembert strategy or the Reverse D'Alembert strategy, and it uses a positive progression betting pattern with "even" bets.
With this strategy, the bet needs to be raised on each win and reduced on any loss.
Similar to the original D'Alembert strategy, the system provides the advantage of a slow bet progression that is easy on the bankroll.
Roulette strategy n°6: The James Bond Betting Strategy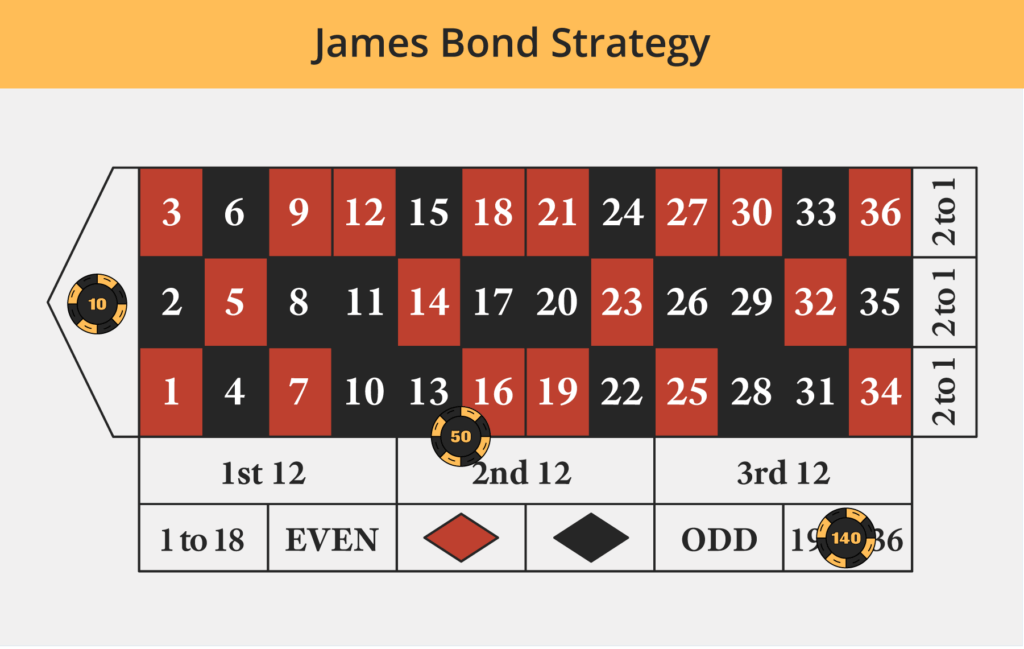 If you are looking for long-term profits, then the James Bond Betting strategy is your best bet. With this strategy, you need up to 20 bets, which will be placed on various numbers and sections.
The idea behind this strategy is that when you cover possible outcomes, you can get a better long-term profit.
Roulette strategy n°7: Fisher Roulette Strategy
If you are looking for a less aggressive strategy, you should give the Fisher strategy a try. Although this is not a progressive betting system, it requires increasing the bet amount.
The Fisher strategy needs you to take notes and track all your previous wager amounts and sessions.
The idea is to place four bets with the same amount, and if you lose everything, you need to use the total of the previous three to place your fifth wager.
Roulette strategy n°8: Labouchere System
Our next strategy is the Labouchere system that uses a cancellation system. With this system, you will need to get rid of numbers on the win by building a sequence.
You should add the first and last number, then bet on that number unit. If you win, you will need to remove those two numbers from the sequence.
On the other hand, if you lose, you have to include the sum of those numbers. Once the sequence is over, you can start over or make another new sequence.
Roulette strategy n°9: Reverse Labouchere System
If you are familiar with the Labouchere system, then the Reverse Labouchere strategy is easy to understand. It is the complete opposite of the regular Labouchere system.
In this system, you need to decide on a sequence of numbers on to base the strategy on. After that, your bet should be the same as the sum of your sequence's first and last numbers.
If you win, add the amount wagered to the end of your sequence. If you lose, you have to remove the first and last numbers from your sequence.
Roulette strategy n°10: Andrucci System
The Andrucci System is based on the combination of high risk, high reward bets, and the mathematical probability of the chaos theory to choose lucky numbers.
It needs you to be aware of frequently recurring numbers for a session of 30 to 37 roulette rounds. After that, pick the hot numbers for your next wager. If you are good with picking lucky numbers, this might just be a perfect strategy for you.
Roulette strategy n°11: Paroli System
The strategy is based on the premise that wins and losses come in streaks, and a player can increase profits by betting less during losing streaks and more during winning streaks.
In addition, a Paroli betting strategy makes sure that no bet will risk more than one unit from the player's bankroll.
Without a doubt, the Paroli system offers much more in terms of stability and consistency compared to negative betting progressions.
Roulette strategy n°12: 3/2 System
Another strategy to try is the 3/2 roulette system developed to get high wins with modest profits.
It's a combination of the red/black bets with column bets to improve the likelihood of achieving one or more wins per wager for each round while having a healthy bankroll longer than other strategies.
Roulette strategy n°13: 1-3-2-6 System
The 1-3-2-6 system is a simple roulette strategy that involves repeatedly betting on 1, 3, 2, and 6 units in each consecutive round. However, you should only do this when you have winnings.
The strategy is perfect for even bets, and you only bet one unit and keep wagering a single unit if there are losses. Also, if you discover that you are on a losing streak, you should walk away from the table.
Lightning Roulette Tricks
Lightning Roulette is a sped-up version of roulette by Evolution Gaming. It's quite popular, and there a few things you can do to get that extra edge.

Here are a few Lightning Roulette Tricks:
1. Make multiple single number bets to boost the chances of hitting the lightning multiplier
2. Focus on the inside bets and activating the multiplier
3. Finally, play a few demo games to get comfortable with the rules of Lightning Roulette
Which Roulette Strategy Should You Choose?
To pick a roulette strategy, you need to consider some things, including what roulette variants you want to play.

This is because some of the roulette strategies are better suited for a particular variant.
Some popular roulette variants that you can decide to play include American Roulette, European Roulette, Classic Roulette, French Roulette, Lightning Roulette, etc.
The best roulette strategy to try when you're new to a casino
As a new player at online casinos, there are different easy-to-understand and implement roulette strategies to use.
These top-notch strategies have proven to help increase winning chances even though roulette is a complete game of chance. So, if you are new to roulette, you can try the best roulette strategy below.
The Martingale Roulette Strategy: This strategy is best for new players because the basic principle is easy to grasp and implement. Since it only works with even bets, eventually, you will end up winning back the value of your original bet, which is good for a start.
The Paroli Roulette Strategy: Although this contradicts the Martingale system, it is undoubtedly a good choice for new players. The reason is that, in this case, you are taking advantage of win streaks, and that way, the level of risk is reduced, which is what a new player needs early on.
The James Bond Roulette Strategy: This is a top-choice roulette strategy for new players because the entire idea is placing multiple bets on a single spin. With that, the possibility of getting a win is almost 100%, meaning that no matter the outcome, you will get back some of your original stakes.
The D'Alambert Roulette Strategy: As a new player, you want the safest strategy, which the D'Alambert strategy offers. However, you need to understand that the rewards are also small since it comes with much less risk.
Roulette strategies to play if you are a pro
Professional players are more experienced with the roulette game and various strategies that can help improve winning chances.
So, if you want to join the top roulette players, below is a list of the best roulette strategies that you should be familiar with to increase your odds of winning.
The Laboucherie System: This is a complex roulette strategy known as the cancellation system and the Split Martingale. However, since it is an advanced kind of the Martingale system, the entire goal is to recoup losses with as many wins as possible. In that case, it is perfect for pro high rollers with enough bankroll to make as many bets as possible.
The Reverse Laboucherie System: This is the opposite of the Laboucherie system that can help pro players use a winning streak to cash out big. In addition, the system gives almost the same outcome as Laboucherie, but it is another way to beat the odds.
The Fibonacci Roulette Strategy: This strategy is perfect for experienced players that are grounded in mathematics. In addition to that, this strategy is for players with higher bankroll because the strategy is risky, and you can end up losing lots of money but eventually, you will end up with a profit.
The most successful roulette strategy
Players have used roulette strategies for many decades. The most successful roulette strategy is the one that is developed over years with practice. It's about figuring out what works out well with you playing style and bankroll.
Some of the best-recorded roulette winners in history are:
Charles Wells: He won almost 2 million francs at the Monte Carlo Casino Resort. History has it that he won 28 out of 30 consecutive spins.
Ashley Revell: Ashley Revell bet his life savings on red in Las Vegas and won around $270,000 (20,144,970 INR).
Chris Boyd: Chris Boyd also bet $220,000 (16,415,047 INR) on red at the Horseshoe Club in Las Vegas and won a huge sum of $440,000 (32,890,094 INR).
General Beginner Mistakes That Are Easy to Avoid
As a beginner, mistakes are bound to happen; however, you can easily avoid them if you know about them beforehand. Here are four common beginners mistakes that are easy to avoid.
One of the most common mistakes beginners make is that they go on to choose a roulette game without doing any research. This is a mistake because a few roulettes are not profitable, for example, American Roulette.
New players always get way too excited and jump right into placing bets without setting a budget and betting limits.
Many beginners start with high wagers right off the bat since roulettes have a low house edge, but this can lead to a depleted bankroll early in their journey.
Some newbies mistake placing too many bets in a single roulette game since there are many betting options.
Conclusion
There's no winning strategy for roulette that guarantees wins. However, with betting strategies, bankroll management, and a little luck, you have slightly better chances of winning.
Frequently asked questions
There is no specific answer to this question because there is no one size fits all betting strategy. In that case, you should look at the different roulette strategies and pick the one that suits your style best.
From our research, we discover that the d'Alembert system is the safest roulette strategy to implement.
Even with an online roulette strategy the house always has a slight edge, but some systems can help to improve the odds of winning.
The most successful roulette strategy (and also the most popular one) is the Martingale system. If we take out the zero, this strategy gives almost 50% chance of winning.