PhonePe started in Bangalore and is now widely used across India. Our guide to PhonePe will go over everything about this payment system. Learn about whether it's safe to use, how it compares to other known payment methods and how to deposit and withdraw at your favourite casinos. Maybe PhonePe will be your next preferred payment option!

Always Put Safety First!
The safety of every casino and payment method is important to us. We've summarized some of the main security and legal points of PhonePe below.
About PhonePe – PhonePe is an Indian digital payment method founded in December 2015 and based in Bangalore.
Safety and Security PhonePe related – PhonePe has a license from the Reserve Bank of India, so it's definitely a secure and legitimate payment method, that doesn't require you to share your banking details with the merchant, adding another layer of security.
Safety and security Casino related – You can use PhonePe for all kinds of payments and transactions online, and it's a great option for casinos too.
About safety, KYC, GDPR – Information collected by PhonePe includes your name, gender, age, picture, ID, phone number and contacts.
You can learn more on their privacy page. Our readers can be assured that we only feature casinos that are safe and licensed on our site.
Did you know?
Digital payment options and e-wallets are the preferred payment method among many players for their quick transactions and security.
How to use PhonePe at Online Casinos?
Here is where we'll go over how to use PhonePe at your favourite online casino. It includes step-by-step instructions on how to deposit and withdraw and information about fees you might experience.
Are there any fees when depositing and withdrawing at the PhonePe casino?
One of the great things about PhonePe that users enjoy is that there aren't any fees with the service itself. However, PhonePe is linked to your bank account, and some banks may charge a small fee.
Casinos typically don't charge fees anymore when making a deposit or withdrawal. If you find one that does, you can try looking for another. So overall, you shouldn't have any fees when using PhonePe.
How to place a deposit and withdraw your winnings using PhonePe?
PhonePe is mainly used as an app on your phone, although you can use the desktop version too. If you don't have the app already, you'll have to download it first.
You can find the PhonePe app on the Google Play Store and Apple Store, whether you have Android or iOS. After you download it, follow the provided instructions to complete your setup. Once you have the PhonePe app and registered for the service, you can follow the instructions below to start depositing:
1) First, log in to your casino account, then go to the cashier section.
2) From here, choose the deposit option, which will take you to the deposit page. Often, it'll be the default page on cashier already.
3) Choose PhonePe from the available deposit options.
4) Choose how much you want to deposit at the casino. Afterwards, you'll have to continue on the PhonePe app.
5) From your PhonePe account, choose where you want to pay from (for example, which bank account).
6) Confirm the notification you receive from the casino, and you should be all set.
When you're ready to withdraw your winnings, you can follow these easy steps:
Return to the casino's cashier section, but this time, select withdrawal.
Choose PhonePe from the list of options again.
Enter the amount you wish to withdraw and then confirm the transaction.
Did you know?
PhonePe works like many other e-wallets and is a simple payment method to use. Ultimately the general process for many of these is the same.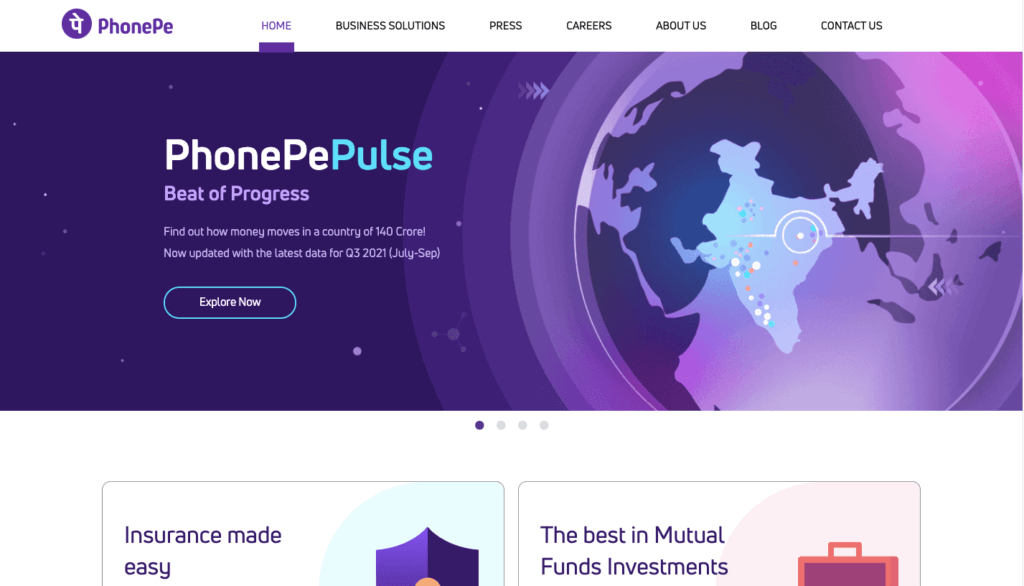 Solutions to common issues when using PhonePe at Online Casinos
When using PhonePe or any other payment method, you may run into some issues. Below are answers to common problems you might encounter.
1. I can't withdraw my winnings
Usually, when someone can't withdraw from the casino, they haven't met the wagering requirements yet. Each casino has certain wagering requirements with their bonus that you have to complete before you can cash out any winnings. You can check the wagering requirements in the bonus terms.
2. I can't remove PhonePe from my casino account
In some cases, a casino may not allow you to remove your only payment method from your account. This is especially true if you have any money owing to the casino.
3. I can't verify my PhonePe account
There's no need to verify your PhonePe account with the casino in most cases. However, you may be required to confirm your identity by uploading an ID before you can withdraw.
4. It's been a while, and I still don't see my withdrawal? 
Casinos can take at least a day to process a withdrawal and, in some cases, even up to three days. However, once it's sent to you, you should see the money in your PhonePe account right away. If it's been more than several business days, you should consider contacting customer support.
5. I don't see PhonePe as a withdrawal option
In many cases, casinos require players to use the same deposit and withdrawal methods. This is to help fight money laundering and make sure funds are coming and going from the same place. So, in order to use PhonePe as a withdrawal method, you would have to make a deposit using the method first.
6. I was charged a fee, I thought PhonePe didn't have any fees?
PhonePe itself doesn't charge any fees, but there could be a few explanations. Depending on the bank that you linked with PhonePe, you could be charged a fee from the bank. Some casinos may also charge a fee if you exceed a certain number of withdrawals in a particular time period.
Pros and Cons of using PhonePe
Now that we've gone over how to use PhonePe at your favourite casino let's talk more about how it compares to other payment methods. We'll start off with some pros and cons of PhonePe first.
| PROS | CONS |
| --- | --- |
| No transactions fees from PhonePe | The registration process for PhonePe can be complicated |
| Works with most casino bonuses | Not every casino accepts PhonePe |
| Multiple languages are supported | |
| Fast transactions, deposits appear instantly | |
| PhonePe is safe and secure | |
| Reserve Bank of India regulates PhonePe | |
| You don't need to share any financial information with the casino | |
PhonePe vs Other Payment Methods
PhonePe has several advantages and compares favourably to other popular payment methods. There are also relatively few, if any, serious drawbacks to using PhonePe. Compared to the popular debit/credit card options like Visa, PhonePe doesn't require that you share any banking details with the casino.
In this way, you can be assured in the case of any kind of security breach, your information can't be stolen. PhonePe deposits are quick and should appear in your casino account right away. This is the same as PayPal and other e-wallets as well as for cryptocurrencies. Debit/credit cards are a little slower, and bank transfers typically have the longest processing time.
When it comes to security and regulation, PhonePe ranks well with the competition. It's fully regulated by the Reserve Bank of India, so there are no safety concerns. The only major payment options that aren't regulated are cryptocurrencies.
| Features | PhonePe | Visa/MasterCard | PayPal | Bank Transfer | Bitcoin |
| --- | --- | --- | --- | --- | --- |
| Fast Deposit/Withdrawal | ✔ | ✖ | ✔ | ✖ | ✔ |
| No Fees | ✔ | ✖ | ✔ | ✖ | ✖ |
| No personal information shared with the casino | ✔ | ✖ | ✔ | ✔ | ✔ |
| Security | ✔ | ✔ | ✔ | ✔ | ✔ |
| Regulated | ✔ | ✔ | ✔ | ✔ | ✖ |
| Popular | ✔ | ✔ | ✔ | ✔ | ✔ |
Conclusion
PhonePe is an Indian payment method that works across many platforms. It's supported all over the country and is available in several different languages. It's ideal for casino players for numerous reasons and has several advantages over other popular payment options.
With PhonePe, you can quickly complete your deposits and withdrawals without any extra fees. Since it functions as an e-wallet, that means you don't have to provide any sensitive banking information to the casino, making it very safe.
If you're not using PhonePe, it's certainly worth a look. It could very well be your next preferred payment method when you play at your favourite casino.
We recommend reading our casino reviews to find out which Indian online casinos support PhonePe payments!
Frequently asked questions
Yes, PhonePe is safe to use, and it's fully regulated in India.
No, with PhonePe, there are no fees to worry about. Although rarely, casinos may charge fees themselves.
No, not every online casino accepts PhonePe. Currently, it's limited to the Indian market.
Yes, when you deposit with PhonePe, you can still qualify for the welcome bonus and other promotions.
While many online casinos in India do accept PhonePe, there are also some that don't.
Not at all; one of the main advantages of PhonePe is having quick deposits and withdrawals.