Where to Play the Best American Roulette Games in India?
Doesn't matter if you're going for RNG-based roulette or Live Dealer roulette, it's necessary to play at a trusted casino.
We saved you some time and effort – here are some of the top-rated casinos in India along with their latest bonuses!
| Casino | Promotions | Grab the Offer |
| --- | --- | --- |
| HappiStar | ₹80,000 + 30 Free Spins Spread Over 3 Deposits | |
| BoaBoa Casino | ₹40,000 in Bonuses + 200 Free Spins | |
| BC.Game | Up to 240% Bonuses Spread Over 4 Deposits | |
| CasinoDays | Up to ₹100,000 in Bonuses | |
| 9Winz Casino | 9Winz Sign Up Bonus – 450% Up to 3,00,000 INR | |
Master the Rules & Odds of American Roulette
To have the best chance of success, it's essential to know the basic American Roulette rules. You don't have to be an expert to enjoy the game, but it helps to know what you're doing when joining an American Roulette table.
The objective
Your main objective in American Roulette is to accurately predict which of the 38 numbered pockets the ball will land in when the wheel stops. Players place their bets before the table host sets the wheel in motion.
Types of Bets in American Roulette
While you can simply predict the numbered pocket you think the ball will settle into, you can also place many other bets. We separate these bets into two categories: inside bets and outside bets.
Inside bets for American Roulette
These are some of the inside bets that can liven up your roulette experience.
Straight-up Bet – You bet on a single number and place your chip directly on that number.
Split Bet – You predict the ball landing on one of two adjacent numbers and bet by putting your chip on the line between these numbers.
Street Bet – You can choose to bet on a row of three numbers and place your chip on the line at the end of the row.
Corner Bet – You wager on four numbers in a square and put your chip where all four numbers touch.
Five Bet – A Five Bet is a wager on the numbers at the top of the table: 0, 00, 1, 2 & 3. Your chip goes on the edge of the board where the 0 and 1 meet.
Line Bet – A bet on two adjacent rows of three numbers. To bet, place your chip at the end of the rows on the line between them.
Outside bets in American Roulette
You can take your betting further with one or more of these outside bets.
Column Bet – You bet on a column of numbers and put your chip on the 2:1 block at the bottom of the column.
Dozen Bet – A bet on either the first 12 numbers, second 12, or third 12 on the American roulette table. Your chip goes on the block corresponding to the group of 12 numbers that you chose.
Colour Bet – A common roulette wager is a bet on either red or black to win. You place your chip on either the red or black block.
Odd/Even Bet – You wager on whether the ball will land on an odd or even number and put your chip on the relevant block.
Low/High Bet – Predict whether the ball lands on a low number (1 to 18) or high number (19 to 36). Your chip goes on the corresponding block.
American Roulette Payouts, RTP and House Edge
The table below shows the Return to Player and house edge of the different bets, and how they payout.
| Bet Type | Bet Payout | Bet Probability | House Edge | Return to Player |
| --- | --- | --- | --- | --- |
| Straight-Up | 35/1 | 2.63% | 5.26% | 94.74% |
| Split | 17/1 | 5.26% | 5.26% | 94.74% |
| Street | 11/1 | 7.89% | 5.26% | 94.74% |
| Corner | 8/1 | 10.53% | 5.26% | 94.74% |
| Five | 6/1 | 13.16% | 7.89% | 92.11% |
| Line | 5/1 | 15.79% | 5.26% | 94.74% |
| Column | 2/1 | 31.58% | 5.26% | 94.74% |
| Dozen | 2/1 | 31.58% | 5.26% | 94.74% |
| Red/Black | 1/1 | 46.37% | 5.26% | 94.74% |
| Odd/Even | 1/1 | 46.37% | 5.26% | 94.74% |
| High/Low | 1/1 | 46.37% | 5.26% | 94.74% |
RTP in American Roulette
The RTP stays relatively steady at 94.74% for most bets. The anomaly is a Five Bet, where it drops to 92.11%. This indicates that it's harder to win this bet than any others.
Payouts in American Roulette
The payouts differ according to which bet you place. Inside bets pay better than outside bets, but are harder to win.
The bet with the best payout is a simple Straight-Up bet, a prediction of the winning number. This pays a ratio of 35/1, so you win 35 times your stake if your number is correct. For example, if you bet INR 1,000 and the ball lands on your number, you win INR 35,000.

House edge in American Roulette
While the RTP indicates how much is paid back to players over time, the house edge is the percentage that the house keeps back. The house edge in American Roulette is 5.26% across all bets apart from a Five Bet where it's 7.89%.
American Roulette vs. Other Roulette Variants
American Roulette vs European Roulette has always been a debate. And of course, then there's French Roulette. While the core game is the same, the variants have some important differences.
American, French and European Roulette differ in the number of pockets on the wheel, the RTP and house edge. The table below summarizes the primary differences between the three variants.
American Roulette
European Roulette
French Roulette
Layout
38 pockets
(0-36 + 00)
37 pockets
(0-36)
37 pockets(0-36)
Bets
Inside and outside bets
Inside bets, outside bets and call bets
Inside bets, outside bets and call bets
RTP
94.74%
97.30%
98.65% – 97.30%
House Edge
5.26%
2.70%
1.35% – 2.70%
Difference between American and European Roulette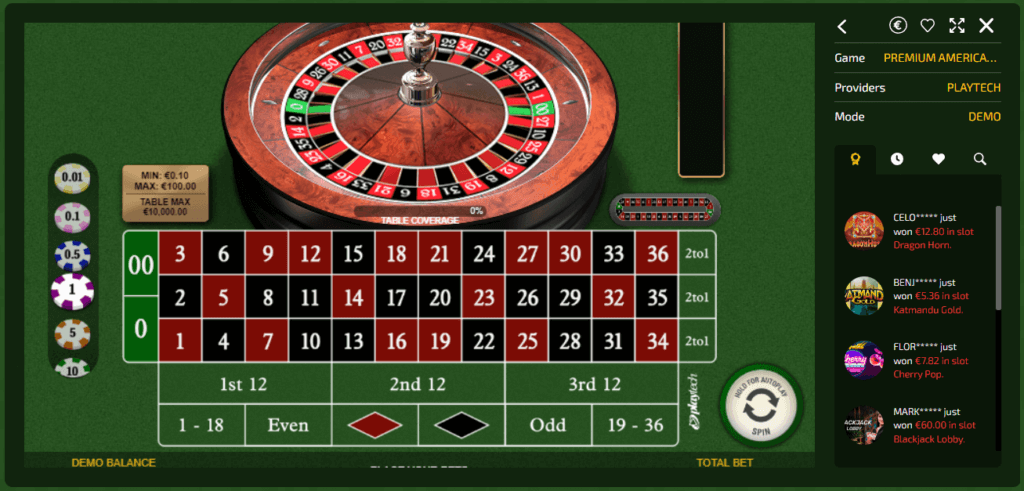 The main difference between American and European Roulette is the number of pockets on the wheel. While both have numbers 0 to 36, the American Roulette wheel also has a double zero pocket. This means that it has 38 pockets, compared to 37 on the wheel in the European variant.
The American variant also pays less back to players, with an RTP of 94.76% compared to 97.30% in European Roulette. The difference in RTP and subsequent increase in house edge is due to the extra 00 pocket on the roulette wheel.
Difference between American and French Roulette
The American Roulette wheel layout also differs from the French variant with the addition of the 00. The French wheel mirrors that of European Roulette with 37 pockets, which has a similar knock-on effect on the RTP and house edge.
French Roulette features a couple of rules that you won't find in other variants. These are the En Prison and La Partage rules, and affect you if you make an even-money bet and the ball lands on zero.
How to Play American Roulette – Breakdown of a Round
Once you get the hang of the basic American Roulette rules, it's time to see how a round is played. The best way to try roulette is to play it for free by practising on free games.
Are you ready to get started? A round of American Roulette generally plays out like this.
Log on to your preferred online casino and choose your table.
If you're still getting to grips with the game, find a virtual table where you can play free American Roulette before wagering your hard-earned cash (live dealer tables don't usually have free-play options).
Select your stake size, decide which bets to place, and position your chips on the corresponding blocks.
The table host calls for no more bets, spins the wheel and drops the ball into it in the opposite direction.
The wheel speed lessens, and the ball falls into one of the 38 pockets.
The table host issues payouts to winners.
Strategies for Advanced Players
American Roulette doesn't have fantastic odds, but is one of the most exciting casino games. The thrill and anticipation are possibly why so many players are happy to place their bets randomly. There's no way to accurately predict where the ball lands, but there are some strategies that can increase your chances of a payout.
The Martingale System
The Martingale system is a progressive strategy based on the idea that, sooner or later, you'll eventually win. When you lose, double the size of your next bet. Each time you win, bet the same amount again, and your winnings should cover all your previous losses and deliver a small profit.
Straight-Up bets work well for this strategy. They have the best odds and a chance of the most significant rewards.
Reverse Martingale strategy
This is the opposite of the Martingale strategy and relies on you doubling your bet after every win and betting less when you lose. You take advantage of your winning streaks by doing this, but when you lose, you lose a larger amount. Your best bet with this American Roulette wheel strategy is to hit a winning streak and quit while you're ahead.
Fibonacci strategy
Fibonacci numbers are a sequence of numbers where each is the sum of the two preceding numbers: 1-1-2-3-5-8-13-21-34-55-89-144 etc. After each loss, bet the value of your two previous bets added together. If you win, revert two bets and wager that amount. It's easy to end up with a profit, even if you lose more bets than you win.
D'Alembert strategy
The D'alembert strategy is best when betting on red/black, odd/even, or a number. You increase your bet by one after a win and decrease it by one after a loss. It's a pretty safe strategy and easy to ride out the losses until you hit a winning streak.
The James Bond strategy
Here, you bet the same amount on each spin and cover all numbers apart from the lowest block of 1 – 12. You need 20 units to make this strategy possible, which suits bettors with a substantial bankroll.
Using INR 2,000 as an example, bet INR 1,400 on the high numbers (19-36), INR 500 on the middle numbers (13-18), and INR 100 on the 0. Although you don't cover the lowest numbers, you could register a decent win.
Conclusion
American Roulette is essentially a game of luck that you can play without much forethought. However, it's infinitely more enjoyable when you have a basic understanding of the rules and apply different strategies to your game.
To get the most mileage from your bankroll, play free American Roulette to test out the strategies. This way you decide which is best for you without risking your money.
Frequently asked questions
American Roulette has an RTP of 94.74% for all bets apart from the Five Bet, where the return to player is 92.11%.
A Straight-Up bet is a wager on a single number, and your chip goes directly on that number.
The main difference between the two games is that the American Roulette wheel has 38 pockets, whereas European Roulette has 37.
You can play RNG-based American Roulette online free at any online casinos - just make sure that the casino is licenced. Many casinos let you play the free demo games without signing up. However, to play the live games, you will have to sign up.