10 Most popular Poker Variants you can play online
Most players know two or three variations of poker. But did you know there are over a dozen regularly played versions of poker? Besides a common goal, they're all different. Take a look at the most popular versions and how to play them.
1. Texas Hold 'Em
Texas Hold 'Em poker is the most popular version of the game, whether online or offline. It's the version nearly everyone begins playing. In this variation, players are given two cards, which is their hand. Then, five cards are placed face-down on the table by the dealer.
The cards are turned over in three phases: flop, turn and river. Between each step, there's a betting turn.
The goal is to have the highest-ranked hand or make opponents give up, also known as 'fold'. Each turn, two consecutive players are given the roles of 'small blind' and 'big blind'.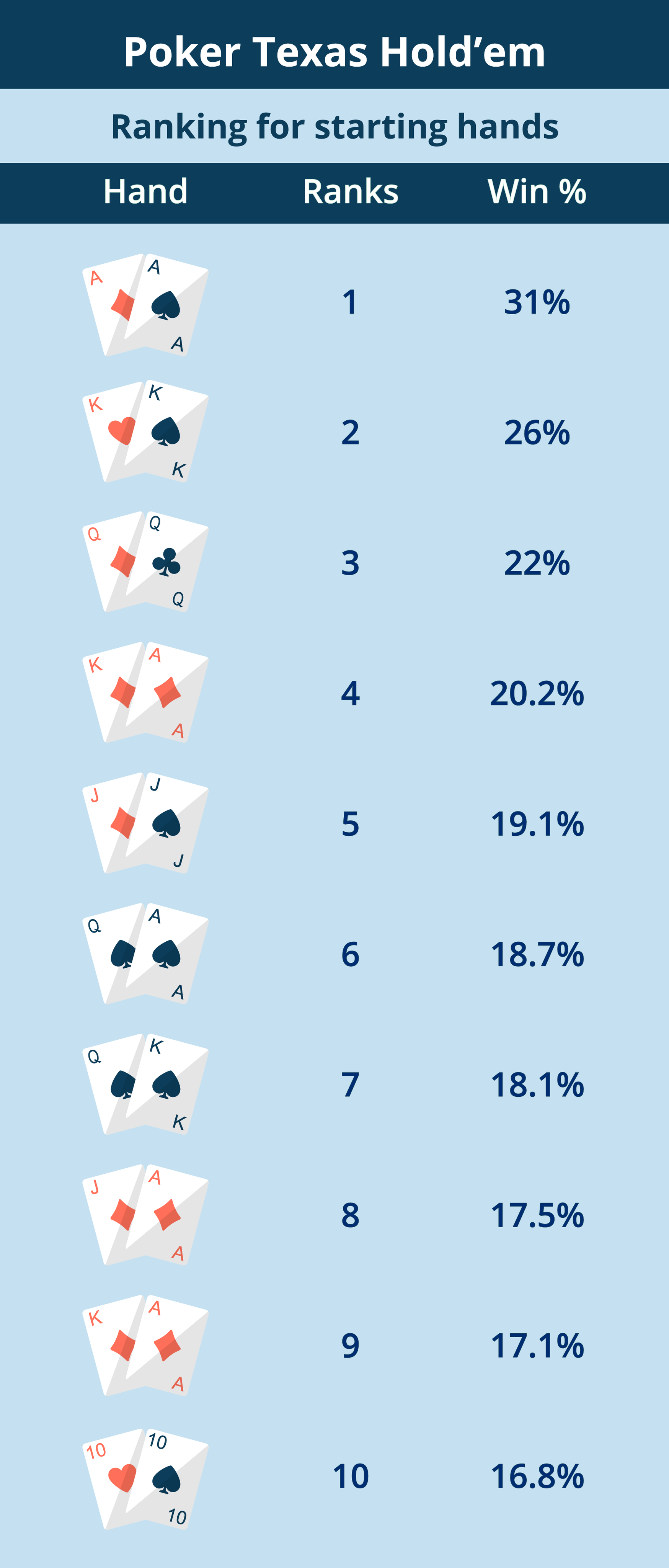 2. Omaha
The main difference in Omaha poker is that players receive four cards instead of two. Players must use two of these cards to create combinations with three out of the five cards on the table.
3. 7-Card Stud
7-Card Stud is incredibly different from other variations of poker. Here, players are given two cards face down and one face up at the start of the round. In the next round, players receive three more cards face up and one card face down.
In the final round, players must turn their cards and pick five out of the seven to create a combination.
4. 5-Card Draw
5-Card Draw is a fast-paced game that's also pretty popular in offline and online casinos.
The game starts with each player receiving five cards face down, followed by a betting round. Then, each player can pick which cards they want to discard, replacing them.
5. 3-Card Poker
In 3-Card poker, players can place two types of bets before the game begins: an 'ante bet' or a 'pair plus' bet. The latter means players are betting they'll have a hand containing a pair or better.
The dealer gives each player three cards face down. From there, the player must decide if he wants to place a 'play wager', putting his hand against the dealer.
The player bet is returned if the dealer has a hand of Jack-high or lower. On the other hand, if the dealer has a Queen-high or higher, both the ante and plays wager bets are paid 1 to 1.
6. Caribbean Stud Poker
In Caribbean Stud poker, players go up against the dealer. Players must pay the ante bet before receiving five cards face down. Then, the dealer gives himself four cards face down, and an additional card face up.
Players can view their last card and pay an additional ante if they want to continue. Once every player has paid, the dealer shows his whole hand. If the dealer qualifies (Ace-King or higher), the players' ante is paid 1 to 1 on top of the hand they have.
7. Ultimate Texas Hold 'em
Ultimate Texas Hold 'em lets players play against the dealer. In this variant of poker, players must place an ante bet before starting. The dealer must qualify by having at least a pair; otherwise, ante bets are returned.
Additional bets, such as trips, allow players to bet they'll have a three-of-a-kind hand or better.
8. Follow the Queen
Follow the Queen is similar to 7-Card Stud. The main difference is that it includes wildcards, which are turned after a Queen is flipped.
9. High Chicago
The highest face-down spade card takes half the final pot in this poker variation. If the player with the best hand owns the card, they take the total pot.
10. Low Chicago
Low Chicago is like High Chicago with a slight difference; instead of the high spade taking half the pot, the lowest spade takes it. As per usual, if the player with the best hand has the lowest spade, they take the entire pot.
Which Poker Variation Suits You Best?
If you're new to poker, you're probably wondering what's the best variation to play. Choosing the right one can be tricky, with many variants available. Therefore, we'll show you the best poker variants to play and how they stack up against each other.
We'll teach you about the best-paying poker types for beginners and professionals alike.
Poker Variants With the Lowest House Edge
Many poker variations don't have a house edge, as they don't put the player against the house. These include 7-Card Stud, Texas Hold 'em, and many others where players face one another.
The house has an edge in games where the dealer also plays. Find it out below:
Poker Variant
Bet
House Edge
Caribbean Stud
Ante
5.22%
Ultimate Texas Hold'Em
Ante
2.19%
3-Card Poker
Ante & Play
3.37%
Pair Plus
2.32%
Poker Variations That Pay Out the Most
Texas Hold 'em is the highest-paying poker variation because it's the most played in casinos and tournaments.
Nearly every major tournament, like the World Series of Poker and European Poker Tour, is for the Texas Hold 'em variant. The payout depends on the size of the pot, as it increases with bets.
Omaha also pays well since it's one of the high-rollers' most popular poker variants.
However, in Ultimate Texas Hold 'em, players can be paid 500:1 if they hit a royal flush. This makes it one of the highest-paying types of poker games you can play.
The Best Variants To Try When You're New To Casinos
If you're getting started in poker, we recommend you play the following variants:
Texas Hold 'em: The classic experience and most accessible games to learn.
Razz: Playing this is a great way to learn about Lowball poker games, and Razz is the simplest of all.
3-Card Poker: This poker game is the most straightforward, as players only need to make bets and look at their cards.
Types of Poker To Play if You're a Pro
Funny enough, the best poker type for beginners is the same for professionals. If you're looking for the ultimate, professional experience, you should try one of the following:
Texas Hold 'em – Most tournaments worldwide are for the classic game, so this is where most pros are at.
Omaha – This poker variant is popular among high rollers, which means you'll need a lot of skill to take the pot. It's also one of the hardest to bluff.
Ultimate Texas Hold 'em – Often regarded as one of the most complicated poker variations, Ultimate Texas Hold 'em isn't for the faint of heart.
Poker Variations You Should Avoid
If you're looking to maximize your profits or lower the house edge, you should avoid the types of poker below:
Caribbean Stud – This poker variant has the highest house edge, which might cost you money in the long run.
5-Card Draw – It's tough to develop a strategy for this game since your opponent's hand is changing with every round.
Conclusion – Poker is a game of skill
Unlike other casino games, poker demands dedication, wits, and a lot of practice. Regardless of the variant, the game needs some serious attention from your side. Of course, some variants are easier to learn than others.
So if you're a beginner, you can start off with Five Card Draw, the easiest type of poker. Once you get the hang of the basics, you can head on to some advanced poker versions.
Thankfully, most online casinos let you play casino games for free in the demo version. Try them out and practice before you bet real money!
Frequently asked questions
Many poker types don't have a house edge, as players aren't against the dealer. However, in the variants where the dealer also plays, the ante bet in Ultimate Texas Hold 'em has the lowest edge.
Many players consider Omaha and Ultimate Texas Hold 'em the most complicated poker types. Omaha is difficult because players must use both hand cards to make a combination. Ultimate Texas Hold 'em is complex due to its additional bets and house edge.
The best poker types for beginners are Texas Hold 'em and 3-Card Poker. Texas Hold 'em is perfect for learning the ropes about this classic game. 3-Card Poker, on the other hand, is the most simple poker variant you can play.