While most of the world has been waylaid during the course of this year, Evolution Gaming has forged ahead, releasing one exciting game after another.
During ICE 2020, this leading B2B provider revealed that it has 12 new games planned for this year, and so far it has released most of them as intended.
For all Live Casino enthusiasts, these new, exciting games, have provided a treasure trove of entertainment, and we can't wait to see what else Evolution Gaming has in store for us, during what is left of 2020 and for the upcoming year of 2021. 
In this article, we are going to shed some light on the games that have left us perched on the edge of our seats in excitement this year, and why you should give them a go at some of the best casinos in India! So, keep on reading to learn more!
Evolution's games for 2020!
This year, Evolution Gaming has truly blown us away with some exciting additions, the likes of which we've never seen before. Having achieved an excellent reputation through stellar games over multiple years, it comes as no surprise that many of us get excited the moment Evolution announces some new, extraordinary game. And 2020, have certainly been remarkable!
Throughout the course of this year, Evolution Gaming has enhanced its First Person series of games, added one new addition to their Lightning range, 2 new thrilling Blackjack games, a unique Roulette table, and 3 new Game Shows.
Many of these games are already being featured at some of the most prominent online casinos in India, who offer a welcome bonus for Live Casino to all new players. But let us take a closer look at the live dealer games that stole the show in 2020! 
12 new Live Casino games
Speed Blackjack – this game is perfect for those players who love the classic version of Blackjack but hate waiting for other players to join the table every time they sit at a Live Blackjack game. Speed Blackjack is the fastest game of Blackjack ever created, and it is the perfect table to join if you want to jump right into the action!
Power Blackjack – as the name of the game suggests this game, gives each player some incredible opportunities that enable them to triple or quadruple their bets on any two initial cards. 
Lightning Baccarat – featured amongst Lightning Roulette and Lightning Dice, Lightning Baccarat consists of a classic version of Baccarat but with an electrical multiplier option. 
Instant Roulette – this is one of the most innovative Roulette games ever released and amongst the fastest versions, you will ever find online. The game features multiple synchronized auto Roulette wheels, no croupier and an unlimited betting time. 
First-person games – first-person games offer a superior 3D animation experience, additional features and a "Go Live" button that takes you directly to the live version of the game. Games released within this range include Baccarat, Craps, Dragon Tiger, Mega Ball and Football Studio. 
Craps – a very old and popular dice game, this version is the first-ever live version to be found online.
Mega Ball – this game combines two of the most popular games in the world: lottery and bingo. In the game, players must form lines, bingo-style, for a chance to win 1,000,000x their bet. 
Crazy Time – Crazy Time has been dubbed by Evolution Gaming as the most entertaining casino game ever created. It comes with bonus rounds and huge multipliers.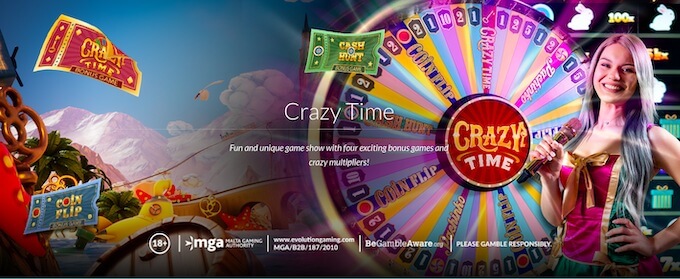 Evolution Gaming in the future!
With so many thrilling games released this year, we have to wonder what Evolution has in store for us during the course of 2021. At this point, however, we can only speculate and enjoy the live dealer games this clever provider game us for this year.
After all, there are plenty of games to try out just from the above list and each one sounds more exciting than the next! So why don't you visit one of the below recommended online casinos and give one or two a go!?