What Will You Learn from Our Baccarat Strategy Guide?
Baccarat is a simple game, but that doesn't mean you can't use certain strategies to improve your chance of winning. Learning the rules means you will have more control over the game.
We will kick off this guide with some important tips. Along the way, we will get into the specifics on how you can be a world-class Baccarat player.
Know the basics
Get high on the basics. Even though you might be already familiar with Baccarat, mastering your basics will give you all the necessary fundamentals to make the best out of this game. To master a game, you need to know how is Baccarat played.
1. Get to know all the Baccarat Game rules, odds, bets, and payouts
This is solid advice for any casino game you play – before you put your money out there and start betting, you should know what it's all about – all the rules, the ways to win, the odds, the wagers and the payout options.
Thankfully, Baccarat is one of the easiest to learn, and there are many free online versions available where you can get some practice, too.
Learn the basics with our in-depth Baccarat Game Rules guide.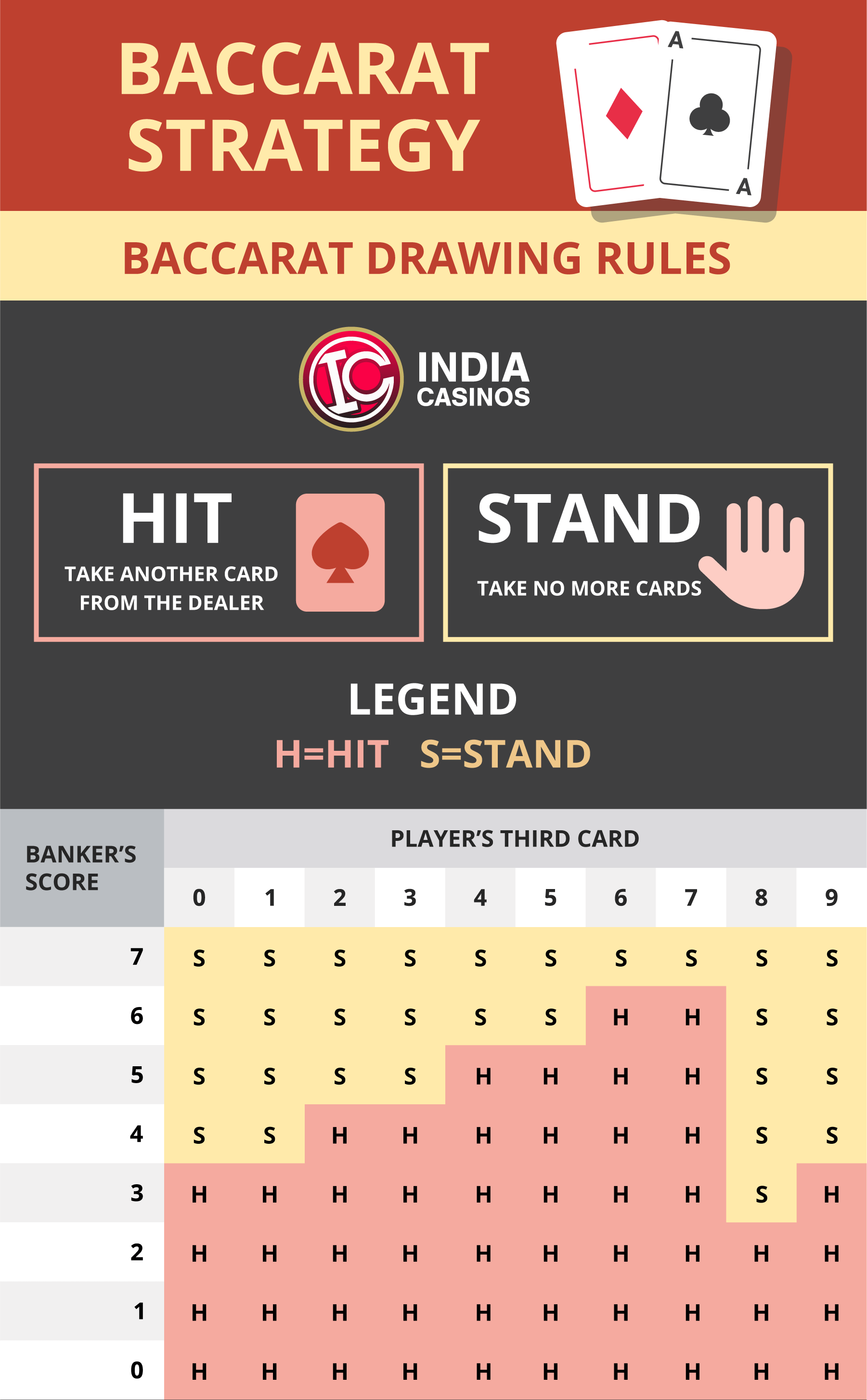 2. Choose a baccarat variant smartly
Like all of its sister casino table games, Baccarat has several variations. Top mentions include Punto Banco, Baccarat Banque, Chemin de Fer, European Baccarat, and Mini-Baccarat which has been gaining popularity – its low stakes make it attractive to the more casual players.
3. Plan your budget
Know your wallet and get real on your budget before indulging in the Baccarat game.
4. Allocate time
Cliché alert – time is money. Plan out your time per game. Are you playing for fifteen minutes or for a straight hour? Planning your time to play helps you manage the game more properly.
Popular Baccarat Strategies
Baccarat is essentially a luck-based game. Unlike poker, where you can use certain tactics like bluffing, baccarat strategies largely revolve around how you'll place your bets.
We shall be going over all the main strategies, including what they are and how to use them.
1. The One-Sided Baccarat Strategy
The One-sided Baccarat strategy gets its name from the fact that you'll place your bets on one side only. You should choose either player or banker to play against, then stick with that throughout the whole game.
Pros
A simple strategy to use.
The odds between the two choices are roughly similar.
Cons
It doesn't account for a string of losses.
2. The Trend Switch Combat
The Trend Switch combat strategy is the opposite of what we discussed above. In this Baccarat version, rather than always betting on the same side, you can switch around depending on the outcomes.
You as a player start the game by betting against the banker. If you lose more than twice, you then switch against the player.
Pros:
This strategy is also simple to play.
Unlike the one-sided strategy, it takes losses into account.
Cons
No guarantee you'll win if you switch trends.
3. Breaking the Doubles
Breaking the doubles strategy is a Baccarat variation that combines the Trend switch with the Martingale Strategy.
The rule goes as follows – if you lose, you switch to the other trend and also double your bet to make up for the previous loss.
Pros:
There is a strategic plan to counteract losses.
An easy strategy to use.
Wins sometimes occur in player/banker clusters.
Cons
It can require a high bankroll to sustain if several losses happen in a row.
4. Card Counting
Card counting is a popular card game seen in movies. In real life, this baccarat technique is quite complex and generally played by professional players. How does it work? You add +1 to your card count when an ace or numbers 2 and 3 are dealt.
Pros
Can work when properly learned and employed.
Works better for live/in-person baccarat.
Cons
It is complex when compared to other strategies.
5. 1-2-3-4 Baccarat Strategy
The 1-3-2-4 strategy is ideal for classic card games like Baccarat and Roulette, where the odds are close to 50%. Each time you win, your bet moves to the next number within the sequence. You then return to the first number only if you lose a round, or if you've completed the series.
Pros
A simple strategy to use. It doesn't need specific skills.

The strategy has a plan for both wins and losses

.
Cons
A series of losses can throw things off balance.
6. The Martingale System
The Martingale Baccarat is one of the most known strategies used for both Baccarat and Roulette.
The strategy dictates that If you lose a round, you double your wager in your next bet so as to win back your losses.
This strategy can work fairly well but may require a sizable budget to pull it off. A long losing streak is statistically unlikely as well.
Pros
Can recoup losses from the previous round.
The Martingale system is very straightforward.
Cons
Too many losses in a row can be devastating.
May require a large bankroll to take full advantage of the strategy.
The Baccarat Attack Strategy
The Baccarat Attack Strategy was created in an online forum dedicated to the casino game. The strategy resembles the Martingale system. Players have to place increasing bets on the "right opportunity" – which is a winning streak. And after a loss, players should cut back their bets.
7. The Fibonacci Strategy
The Fibonacci system is similar to the Martingale but it's considered less aggressive and more manageable. For example, you won't be doubling your bet after a loss, but you would gradually increase it with each bet.
The Fibonacci is based on a sequence of numbers, where each number is the sum of the previous two.
Pros
It can be an effective way to manage losses.
This strategy requires less funds to use than the Martingale.
Cons
A losing streak can still throw this strategy off.
8. The Paroli System
With the Paroli system, you essentially double your bet with each win and finally naim to get three wins in a row.
The Paroli is one of the oldest card game strategies – with a history that goes back to the 16th century.
Pros
Your wins from the previous round are invested into your future bets.
Can be considered lower risk than the martingale and other related systems
Cons
Getting three successive wins may not always play out
9. The Labouchere System
The Labouchere system was originally created by Henry Labouchere and was originally meant for roulette.
The system goes like this – first you decide on the total amount you want to win, then you write down a sequence of numbers that add up to this total.
With each round, you make a wager equal to the first and last numbers, and then cross them off. As long as you keep winning, the flow of the game continues like this. If you lose, however, you add the total wager from that round to the end of the sequence.
Pros
A fairly popular roulette strategy that also works for baccarat.
It's a somewhat safer system.
There's a plan of action for both wins and losses.
Cons:
Hitting an unlucky streak can throw you off strategy.
10. The Alembert System
This system is named after Jean-Baptiste le Rond D'Alembert, an 18th-century French mathematician. The D'Alembert is a strategy where you increase your wager after each loss by one unit. If you win, you decrease your wager by one unit.
This system is much related to the Martingale and Fibonacci systems.
Pros
Less risky than some other similar systems.
You don't need as much money to use it.
Cons
This strategy is largely based on the gambler's fallacy.
Which Baccarat Strategy Should You Choose?
So before you take a seat at the Baccarat table, you should determine the Baccarat strategy in your head. To begin with, you need to decide if you want to attack or go defensive.
If you prefer to play safe, you might want to use a different strategy from someone willing to take more risks.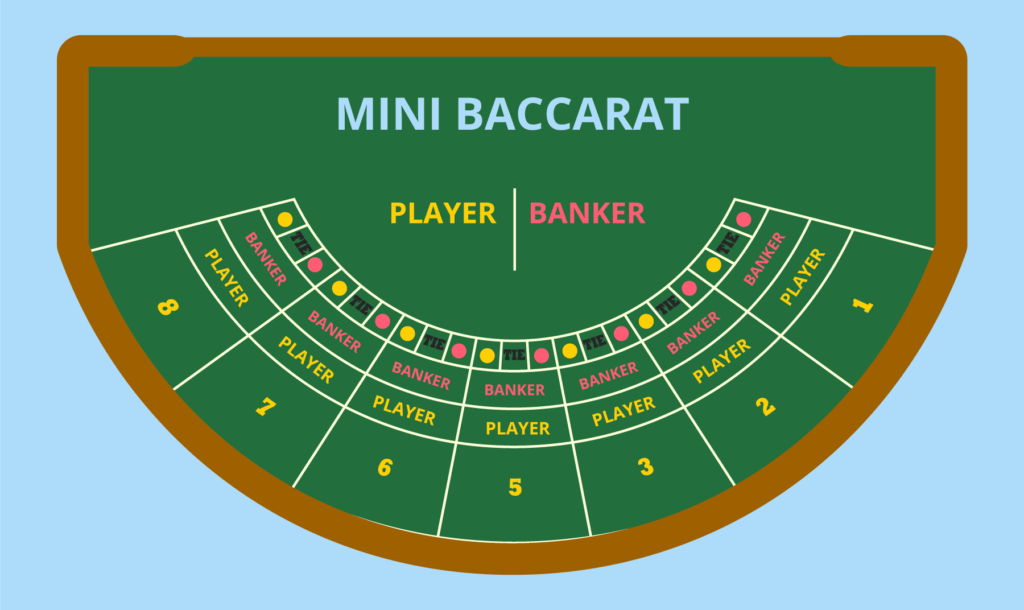 There are a few different versions of Baccarat too, and some strategies may be better suited for a particular type of player – from newbies to professionals.
Compared to other online table games, Baccarat used to be known as a higher-stakes game. However, with the introduction of other. game variations such as Mini-Baccarat, the games have reached popularity with more casual players.
We'll start with some of the best strategies a beginner may want to use, followed by those better suited to pros. Finally, we'll highlight some of the biggest wins in baccarat and what strategies were applied.
Best Baccarat strategies for the newbies
As a new player, you want to try and maximize your winning amount whilst keeping in mind your current budget. For a starter, the one-sided baccarat strategy is the simplest strategy you can experiment with. The Paroli system is another good strategy to get you familiarised with Baccarat.
Best Baccarat Strategies for the Pro
You're a pro gamer and you're verbal with Baccarat's basic rules, odds and winning possibilities. Therefore, your choice for different strategies is wider and yet, you want that extra thrill that you can afford compared to those players who have as yet started their journey.
The Martingale is popular for all gamers, for example – it's known for its strategy in regaining losses, but it works best with pros who can afford higher bankrolls.
Card counting is definitely the most complex strategy and therefore better suited to those with more experience. The Labouchère system is also fairly popular with the top gamers.
Mini Baccarat Strategy
Just like the name suggests, Mini Baccarat is like a quick, short version of the original casino game. Many pros would suggest sticking to 'Banker only' betting strategy. This is because for Mini Baccarat, the house-edge for the banker bet is low.
So players should keep betting on banker, until they lose. Then, switch to the player bet until you lose before switching to banker again.
Winning Baccarat Strategy: Pros Who Won Millions
1. Akio Kashiwagi – $15 million (~₹1,115,030,600)
Akio Kashiwagi was a Japanese real estate dealer and well-known in the world of baccarat. It's estimated he won more than $15 million over the course of his career. One of his most famous games happened at Donald Trump's Atlantic City Casino. What strategy did Kashiwagi use? It appears he used something similar to the Martingale, making large bets which he could afford.
2. Phil Ivey – $9.6 million (~₹713,770350)
Phil Ivey was a top poker player who decided to try his hand at baccarat – this paid him off with a $9.6 million win. His strategy was so singular and complex that most people wouldn't be able to replicate it.
Ivey was an expert in spotting certain imperfections in the card backs, allowing him to gain an advantage.
3. Kerry Packer – $13 million (~₹966,660,400)
Kerry Packer was an Australian media mogul famous for his high-stakes gambling. During a trip to MGM Grand, he won $13 million in baccarat. Due to his photographic memory, he was skilled at counting cards and calculating odds in his favour.
These are examples of a few big wins in baccarat. Generally, such huge winning strategies require the use of unique skills and abilities to win.
Play wisely and enjoy the game
First of all, don't play a variation with high stakes until you're confident with the rules and your skillset.
Ultimately remember that playing baccarat should be about having fun, so stay safe and enjoy the game.
Frequently asked questions
Many baccarat pros believe that outcomes of the game can be predicted by analysing trends and patterns. There are a few books that explain how to predict future outcomes based on the previous ones. However, keep in mind that these predictions are not 100% accurate - they just show the results that are LIKELY to appear.
Mini Baccarat has gained in popularity in recent years because it's a low-stakes game. This is also good for beginners, as it's easier to get the hang of the game.
Ultimately, no strategy is perfect; it'll be up to you to pick a strategy you enjoy. After all, Baccarat is a game of luck, just like every other casino game out there.
Yes, it's possible to play for free at many online sites with no risk at all. Just make sure that you are playing at a licenced casino. You can check out Casino Reviews, put together by our experts at IndiaCasinos.